Study Finds People Living Near Green Spaces Less Prone to Factors Associated With Obesity, Heart Disease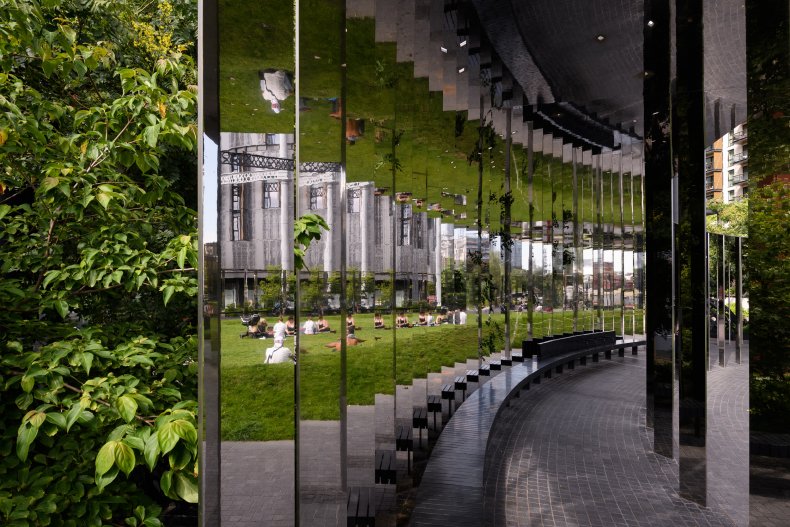 A study has found that middle-aged and older adults who live in greener neighborhoods have a decreased risk of developing metabolic syndrome — a cluster of conditions that includes obesity, hypertension and high blood sugar.
The study, published in Environmental Pollution, was conducted by the Barcelona Institute for Global Health (ISGlobal). It differed from previous studies on the health benefits of green spaces in that it examined all of the symptoms of metabolic syndrome together collectively rather than as individual components.
Having metabolic syndrome increases a person's risk for heart disease, stroke and type 2 diabetes, according to the National Heart, Lung, and Blood Institute. The Centers for Disease Control and Prevention lists heart disease and stroke as the first and fifth most common causes of death in the United States, respectively.
The U.S. Environmental Protection Agency defines a "green space" as "land that is partly or completely covered with grass, trees, shrubs or other vegetation." Parks, cemeteries and community gardens are considered green spaces.
The study from ISGlobal examined data from clinical examinations of over 6,000 British adults who were between 45 and 69 years old when the study began. The data was derived from four examinations participants went through between 1997 and 2013 that included blood analyses, blood pressure and measurements of weight circumference. The "greenness" of their places of residence was determined through satellite imaging.
"These findings suggest that long-term exposure to green spaces can play an
important role in preventing metabolic syndrome as a whole," according to a press release published by ISGlobal.
The correlation between proximity to green spaces and better health could be associated with the expanded opportunities for physical recreation and lower exposure to air pollution, according to Carmen de Keijzer, ISGlobal researcher and principal author of the study.
Female subjects were more likely than males to exhibit the study's association between living in greener neighborhoods and having fewer metabolic symptoms.
"Women tend to spend more time in their residential neighborhood, which could explain this gender difference," de Keijzer said.
Payam Dadvand, another ISGlobal researcher who also authored the study, noted that the study found a direct positive correlation between a person's health and the amount of tree coverage of their neighborhood. That, he said, is cause to investigate which specific plants positively impact health.
"We need greener cities if we want healthier cities," Dadvand added.
Participants for the study were chosen because they were already being examined as part of another survey called Whitehall II, which studied British civil servants to determine how social factors affect health.