Study Shows Legal Weed Could Bring Montana Nearly Quarter Billion in Tax Revenue as State Set to Vote on Ballot Measure
A new study shows that Montana could garner nearly a quarter-billion dollars in new tax revenue if it legalizes recreational marijuana, an issue that will be on the western state's ballot in the upcoming election.
The study, carried out by the University of Montana's Bureau of Business and Economic Research, showed that the state would bring in an estimated $236 million in new tax revenue through 2026. As the study noted, similar tax revenue windfalls occurred in Colorado—the first U.S. state to legalize recreational cannabis—and in others that followed suit.
"The experience of other states has shown that legalized cannabis does have potential to generate significant tax revenues from its activities. This report offers support for the truth of this in Montana as well," the report's conclusion explained.
Complementary ballot measures I-190 and CI-118 will be presented to Montana voters during the general election, Great Falls Tribune reported. The first measure sets up the framework for legal recreational weed, including a 20 percent tax on cannabis products. The second amends the state constitution to allow individuals aged 21 or over to purchase and possess marijuana. Medical cannabis was previously approved by a majority vote in 2004.
In a statement emailed to Newsweek, Dave Lewis, a former Republican state lawmaker and state budget director, said that the additional revenue could be vital in addressing the economic fallout of the novel coronavirus pandemic.
"Montana has taken a serious hit from the pandemic," Lewis said. "By voting yes on 118 and yes on 190, Montanans can create a new source of revenue that will help support important state programs for years to come. These initiatives could not be coming at a better time."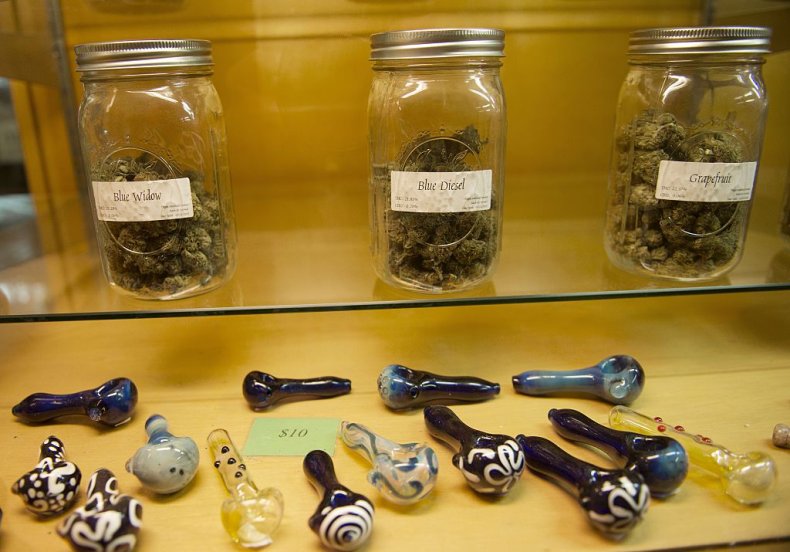 Although marijuana remains illegal under federal law—and continues to be classified as a Schedule 1 substance alongside heroin—11 states have moved forward with recreational legalization: Alaska, California, Colorado, Illinois, Maine, Massachusetts, Michigan, Nevada, Oregon, Vermont and Washington. The nation's capital Washington, D.C. has also legalized marijuana, while more than 30 states have legalized the plant for medical use.
Polling conducted in 2019 by the Pew Research Center showed that just over two-thirds (67 percent) of Americans believed that cannabis should be legalized. That marked a dramatic increase from the early 2000s, when just over 30 percent thought legalization was a good idea. Notably, majorities of both Republicans and Democrats support legalization as well.
An April survey by YouGov also found that the majority of U.S. adults believe that legalizing cannabis in the states that have already done so has largely been successful. In that poll, 55 percent said legalization had either been successful or had been more of a success than a failure.