Stun Grenades Deployed Against Ottawa Protestors: 'We Told You to Leave'
In an effort to clear out "Freedom Convoy" protestors, police in downtown Ottawa began implementing new tactics and tools on Saturday.
Confronting the main portion of truckers and general protestors amassed outside of the Canadian parliament building and prime minister's office, police deployed stun grenades and pepper spray in an effort to disperse the crowd, according to The Guardian.
During the crackdown, police also used loudspeakers to warn protestors to disperse or face arrest. This came a day after authorities cleared out a portion of the protest blockage on Friday, resulting in roughly 100 arrests.
In an official statement posted to Twitter, the Ottawa police force did not mince words about the situation.
"We told you to leave," the post read. "We gave you time to leave. We were slow and methodical, yet you were assaultive and aggressive with officers and the horses. Based on your behavior, we are responding by including helmets and batons for our safety."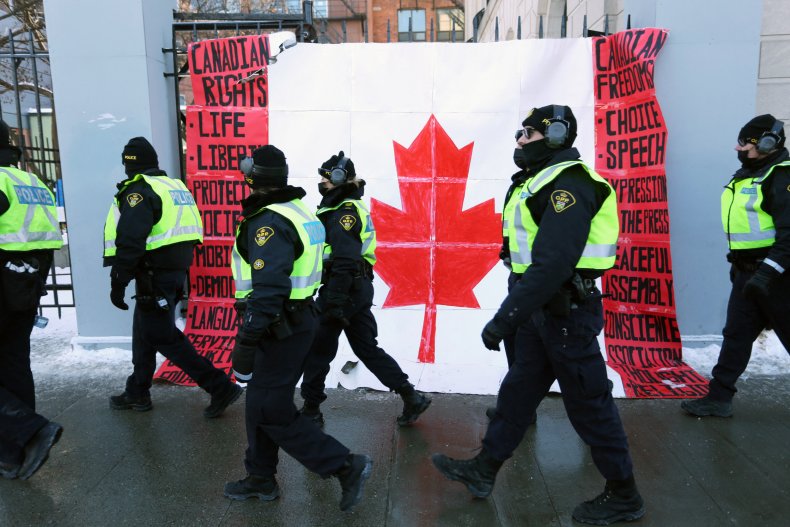 Witnesses reported hearing loud bangs in the area and seeing people being pepper-sprayed as officers moved in on the blockade, The Guardian reported. Shortly afterward, some trucks that had been parked in the area for upwards of three weeks began to depart, allowing police to move in.
While police began to make arrests for those who remained in front of the government buildings, including some prominent leaders of the "Freedom Convoy" movement, most protestors had already left. Police reported no injuries among their own ranks, despite some concern over officers mounted on horseback.
"We hear your concern for people on the ground after the horses dispersed a crowd," the Ottawa police confirmed. "Anyone who fell got up and walked away. We're unaware of any injuries."
The protests have been ongoing in Canada for roughly three weeks. The protests initially demanded the end to cross-border vaccine requirements for truck drivers, but eventually ballooned into a general protest against vaccine mandates, COVID lockdowns, and Prime Minister Justin Trudeau's government. They were boosted considerably by forces in the U.S., including conservative news outlets like Fox News and donations from American conservatives. The movement has been consistently unpopular amongst the Canadian general public.
The escalation of tactics in Ottawa came a week after police in Windsor, Ontario, also took heavier measures to clear protestors off the Ambassador Bridge, which leads to Detroit. Law enforcement on the scene deployed "tactical teams" and positioned snipers on rooftops to clear out the vital economic thoroughfare.