Stunning Photos: Surfing Under the Northern Lights Inside the Arctic Circle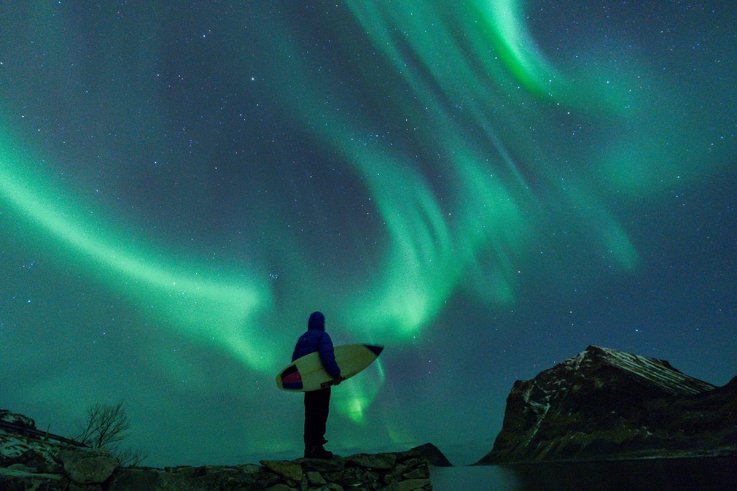 When you think of surfing destinations, you may picture the turquoise waters and white beaches of Hawaii, Tahiti or California. You probably don't think of the Arctic, but northern Norway's Lotofen Islands are popular with surfers even during winter—and the snow-covered beaches are certainly white.
AFP photojournalist Olivier Morin spent several days photographing surfers braving the waves around Unstad, situated inside the Arctic Circle. He was also rewarded with several sightings of the Northern Lights (Aurora Borealis).
Morin says he shot the action both from the beach and from the water, bobbing up and down in the waves in a wetsuit. "There is something addictive about surfing in cold water, he wrote in a series of blogs for AFP. "Yes, it can be harsh, but as soon as you walk out, all you can think about is getting back in again. And it's not as cold as you might think."
The waters in Unstad are indeed warmer than you might think, as the Gulf Stream keeps the sea clear of ice all year round. It's not exactly tropical, however—the sea temperature in winter is around 43 degrees Fahrenheit (6C), while the air temperature hovers around 32F.
Unstad Bay offers spectacular scenery for cold weather surfers: a vast open horizon with a series of snow-capped peaks on either side of the beach. Morin says some locals argue there are even better waves there than in southern Europe or Bali. "Surfers who come here tend to fall in love with the place. Unstad is surrounded by mountains. You can ski in the morning and then surf in the afternoon," Morin says.
Instead of encountering sharks and tropical jellyfish, surfers here are more likely to see seals and killer whales, and—if they are lucky—maybe even the Northern Lights.