Stunning Pictures of White Wolf Named After Gandalf
A 'white' wolf named after The Lord of the Rings character Gandalf has been photographed roaming the Minnesota wilderness.
A University of Minnesota research group, the Voyageurs Wolf Project, captured the stunning images in a camera trap set up in the Voyageurs National Park, in December 2022.
The gray wolf is a breeding male known as Wolf V083. In older photos taken in 2019, the wolf's fur appears completely gray in color, as is usual for the species. But over the years, his fur has changed color from gray to white.
Voyageurs Wolf Project lead Thomas Gable told Newsweek: "Wolves' fur often does get lighter colored as they get older, and sometimes this can give wolves a "whitish" appearance. So it is not necessarily a rare occurrence for a wolf to get lighter-colored fur as they get older."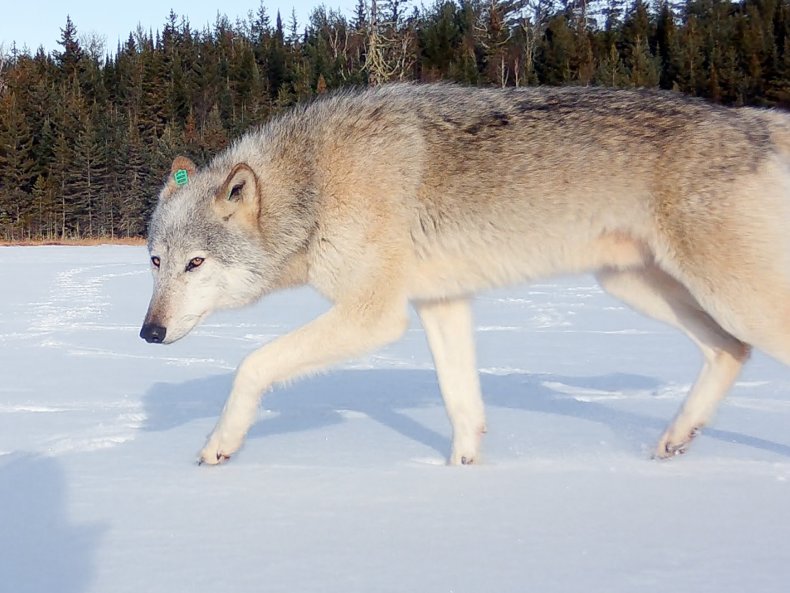 The project said in a Facebook post they will call the wolf Mithrandir, as he was "once gray but now is white." This is in reference to The Lord of the Rings character Gandalf. In the fantasy franchise, Mithrandir is an Elvish name used for the wizard, meaning "Grey Pilgrim or Wanderer."
This particular wolf belongs to the Cranberry Bay pack, that roam a territory to the northwest of the national park. He has been the breeding male of the pack since 2019 and is aged between 7 and 8 years old, the Voyageurs Wolf Project said in a Facebook post. On average, gray wolves live between 6 and 8 years.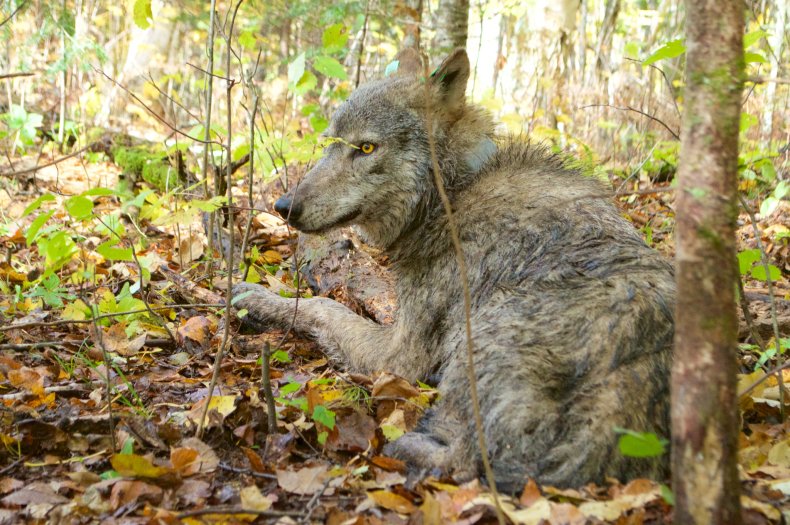 It is not just his white color that makes the wolf notable.
In 2020, this wolf drew the attention of researchers when he killed 42 beavers that summer. Although it is not uncommon for wolves to hunt beavers as prey, this was a particularly rampant hunting spree. This was "the most we have documented by any wolf by far." After this, he has become somewhat notorious in the area, as a "beaver killer."
The research group sets up camera traps in remote areas of the Voyageurs National Park to study the wolves and their behaviors. They also attach GPS collars to the wolves to monitor their movements.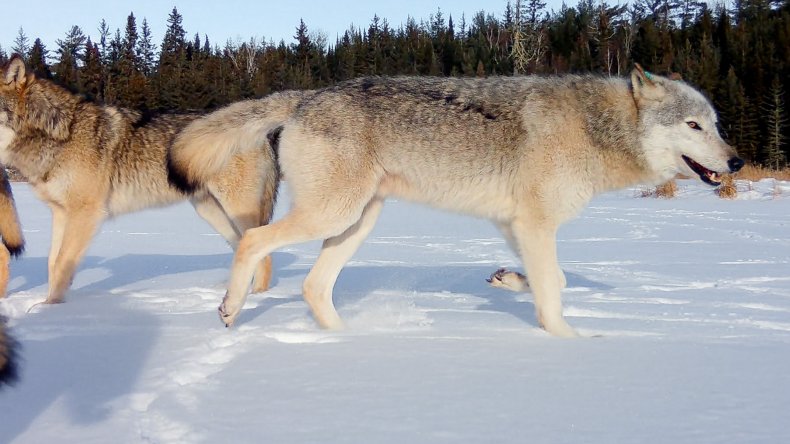 The project focuses on one of the "biggest knowledge gaps in wolf ecology," i.e. tracking what wolves do during the summer. But the footage is captured all year round.
The project often posts interesting observations on its Facebook page.
In July 2022, the project noted that the Cranberry Bay pack was seven wolves strong, which is much larger than the average size for a pack in this area. This was because all four pups born into the pack in 2020 survived the winter, which is incredibly rare.
Do you have an animal or nature story to share with Newsweek? Do you have a question about wolves? Let us know via nature@newsweek.com.