Stunning Utah Canyon Image Wins 2018 Astronomy Photographer of the Year Competition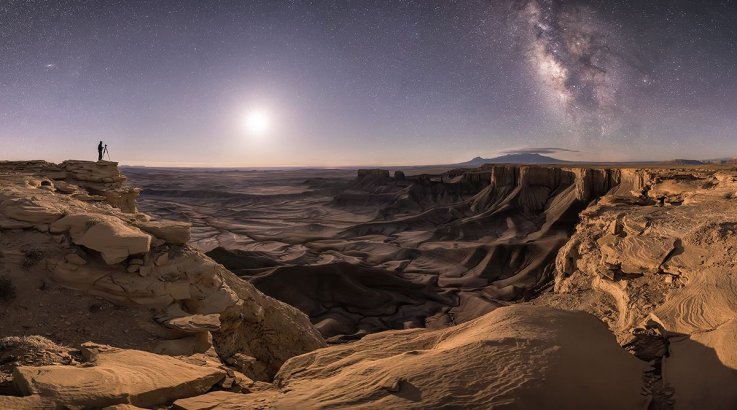 American photographer Brad Goldpaint has beaten thousands of amateur and professional photographers from around the world to win the title of Astronomy Photographer of the Year 2018. Goldpaint's awe-inspiring photograph—taken in Moab, Utah—depicts immense rock formations with the Milky Way looming overhead on the right, and the Andromeda galaxy on the left.
Competition judge Will Gater said: "For me this superb image is emblematic of everything it means to be an astrophotographer; the balance between light and dark, the contrasting textures and tones of land and sky and the photographer alone under a starry canopy of breathtaking scale and beauty."
Winning images of the other categories and special prizes include Mikkel Beiter's image of the Aurora Borealis above a fjord in Northern Norway's Lofoten archipelago, Nicolas Lefaudeux's image of a total solar eclipse flanked by the blue star Regulus and the red planet Mars, and a remarkable parade of the planets in our Solar System, which British photographer Martin Lewis managed to capture from his own back garden.
Fifteen-year-old Fabian Dalpiaz (Italy) takes home the top prize in the Young Astronomy Photographer of the Year category for his photograph of a meteor passing over the autumnal landscape of the Alpe di Siusi.
BBC Sky at Night Magazine's Editor, who is also a judge for the competition, Chris Bramley said of this year's contest: "Whether it was a newcomer with an awe-inspiring nightscape of the Milky Way or an experienced astro imager with an epic photo of glowing cosmic dust, the field of images had such a high standard that the winners are truly superlative examples of the art and science of astrophotography."
Insight Investment Astronomy Photographer of the Year is run by the Royal Observatory Greenwich in London in association with Insight Investment and BBC Sky at Night Magazine. Now in its tenth year, the competition received over 4,200 entries from over 91 countries across the globe.
The best of these exceptional photographs—winners, runners-up or highly commended—are showcased alongside a selection of 69 of the best photographs from previous years in a major exhibition at the National Maritime Museum that celebrates ten years of outstanding astrophotography, opening to the public from October 24, 2018.
This year's winners, shortlisted entries and a selection of previous winners will also be published in the competition's official book, published by Collins. For information about entering next year's competition visit www.rmg.co.uk/astrophoto.
Newsweek presents all of the winning images from this year's contest and a selection of the best entries from the past ten years.