Sturgis Motorcycle Rally Linked to More Than 260,000 Coronavirus Cases, Economists Estimate
The Sturgis Motorcycle Rally in South Dakota has been linked to more than 260,000 coronavirus cases in the U.S., according to a recent study by a group of economists.
The rally, which occurred between August 7 and August 16, drew an estimated 462,182 people from around the country. Local news reports suggest that, in addition to the large crowds, there was little mask-wearing and social distancing among attendees, causing health experts to fear it would become a COVID-19 "super-spreader" event.
In a report published by the IZA Institute of Labor Economics in Bonn, Germany, four economists used anonymized cellphone data, local health records and data from the U.S. Centers for Disease Control and Prevention to conclude that an estimated 266,796 coronavirus cases could be attributed to the rally.
The rally represents a situation where many "worst case scenarios" for a super-spreader event occurred simultaneously, creating an environment in which a single mass gathering generated a huge number of coronavirus cases, according to the report.
The event occurred over a prolonged period, included people packed closely together, involved a large out-of-town population and had low compliance with recommended countermeasures such as mask use, the economists found.
"The only large factors working to prevent the spread of infection was the outdoor venue, and low population density in the state of South Dakota," the economists wrote.
Joseph Sabia, an IZA research fellow and director of the Center for Health Economics & Policy Studies at San Diego State University, told Newsweek that the Sturgis Rally seemed to be the kind of event the CDC had warned could be a mass spreader of COVID-19, making it a unique environment for the team of economists to study.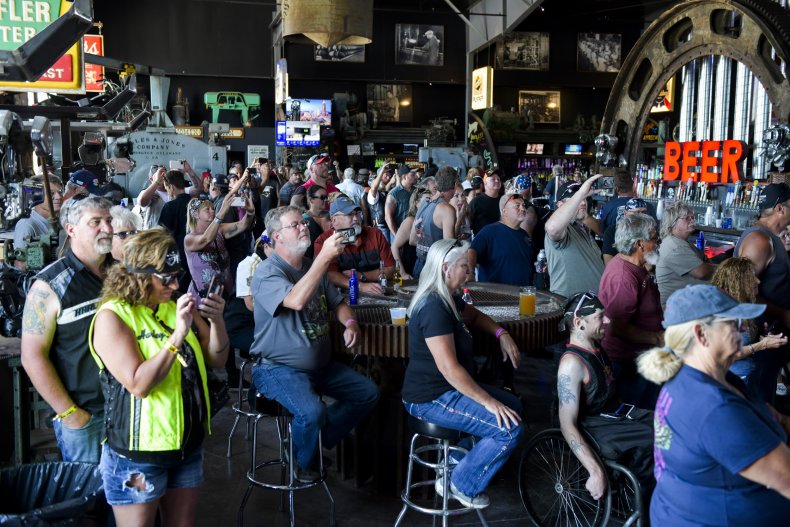 The cellphone data suggested that the majority of the rally-goers were not from Sturgis' Meade County, as smartphone pings for non-residents and foot traffic increased at restaurants and bars, retail establishments, entertainment venues, hotels and campgrounds. States that contributed the highest numbers of rally-goers included South Dakota, Arizona, California, Colorado, Minnesota, Nevada and Washington, according to cellphone data.
A full 90.7 percent of smartphone pings came from phones registered outside South Dakota—18.6 from border states and 72.1 percent from the remainder of the U.S., the economists found.
State officials in Minnesota and Nebraska previously reported cases they determined to be linked to the rally, expressing concern that those numbers could grow.
"Thousands of people attended that event, and so it's very likely that we will see more transmission," said Kris Ehresmann, Minnesota's director of infectious diseases, according to the Star Tribune.
While the cell phone data allowed the economists to get a sense of where rally-goers were coming from and what activities they participated in, data from local health officials and the CDC could help paint a clearer picture of how many coronavirus cases are likely connected to the Sturgis Rally, Sabia said.
Synthetic control models examining counties' COVID-19 trends before and after the rally ultimately showed that by September 2, nearly a month from when the rally began, cases increased both in Meade County and in counties that contributed the highest inflows of rally attendants, compared to ones that did not.
"We find that the Sturgis Rally caused spread of COVID-19 cases both locally and in the home counties of those who traveled to the Sturgis Rally and returned home," they wrote, adding that the counties that contributed the highest numbers of attendees saw COVID-19 cases rise by 10.7 percent following the Sturgis event, relative to counties without any detected attendees.
The economists found that after multiplying the percent case increases for these counties by each county's respective pre-rally cumulative COVID-19 cases and aggregating, a total of 263,708 cases in these locations could be attributed to the rally.
The remaining cases are attributed to South Dakota, Sabia said, bringing the total number of cases stemming from the Sturgis Rally to 266,796. This accounts for 19 percent of the 1.4 million new cases of COVID-19 seen in the U.S. between August 2 and September 2, according to the report.
The total number accounts for both rally-goers as well as secondary and tertiary contacts who may have interacted with an infected attendee after they returned to their home county, Sabia said.
While the economists' paper is not a contact tracing paper and is unable to identify how each of the coronavirus cases were contracted, it represents the "total effect" that the Sturgis Rally had in terms of COVID-19 case numbers, Sabia said.
Contact tracing studies are largely dependent upon local health departments, and often come down to a matter of resource constraints. But both the economists' study and contact tracing studies from local communities complement one another, and are pointing in similar directions, Sabia said.
As of July 31, days before the rally began, South Dakota health officials had reported 8,764 coronavirus cases in the state. That number has since nearly doubled, with the state reporting a total of 15,300 cases, according to the South Dakota Department of Health.
In Meade County, where most of the rally's events took place, officials had reported 71 cases as of July 31. Today, the county has found 348 total coronavirus cases among its approximately 28,000 residents.
The Sturgis rally garnered national attention as being one of the largest events held in the U.S. amid the ongoing coronavirus pandemic. So far, only one death has been linked to the event.
Update (09/08/20, 5:44 p.m.): This article has been updated to include comments from Joseph Sabia.