Sturgis Motorcycle Rally Responsible for at Least 86 COVID Cases, 1 Death in Minnesota, CDC Says
In a weekly report, the Centers for Disease Control and Prevention (CDC) said this past summer's Sturgis motorcycle rally was responsible for at least 86 COVID-19 cases and one death in Minnesota.
The Morbidity and Mortality Weekly Report released on Friday said that after investigating all outbreaks associated with the rally among Minnesotans, the Minnesota Department of Health found 51 primary event-associated cases and identified another 35 among their close contacts, or "secondary or tertiary cases".
Among the 86 related cases in the state, four patients were hospitalized and one died.
Over a 10-day period in August, nearly half a million people attended the motorcycle rally in South Dakota with no mask requirements or social distancing. The event was supported by South Dakota Governor Kristi Noem, who continues to refuse to implement a statewide mask mandate as the state faces one of the nation's deadliest outbreaks.
Although the rally did not take place in Minnesota, the South Dakota had devastating impacts on its neighboring state.
"These findings highlight the far-reaching effects that gatherings in one area might have on another area," the report read.
"The motorcycle rally was held in a neighboring state that did not have policies regarding event size and mask use, underscoring the implications of policies within and across jurisdictions."
Among Minnesota's 87 counties, one-third had at least one, primary, secondary or tertiary case associated with the rally.
The CDC noted that the study had limitations because the findings underrepresent the rally's true impact, as it did not analyze its effects within South Dakota or other states, and some asymptomatic patients in Minnesota may not have been tested.
A different study by a group of a group of economists at the IZA Institute of Labor Economics in Bonn, Germany, estimated that more than 260,000 COVID-19 cases could be attributed to the motorcycle rally.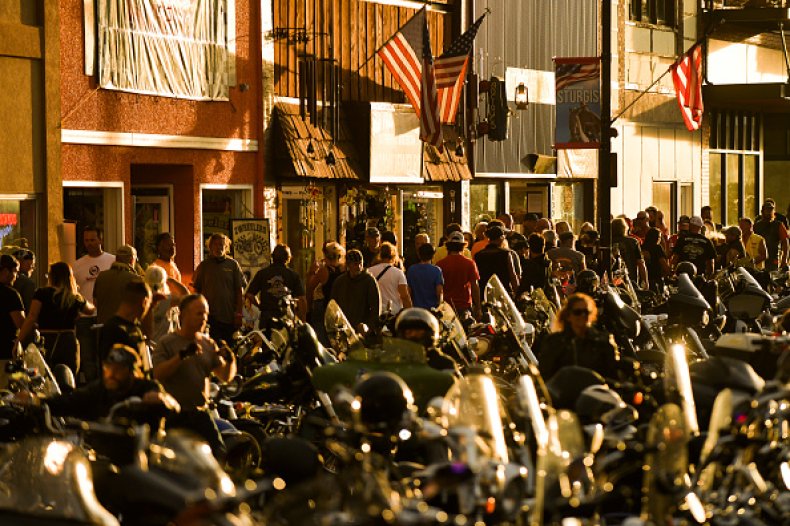 Minnesota Governor Tim Walz has been critical of Noem for her decision in allowing the event to happen in her state.
On November 10, Walz said he was not blaming South Dakota for the massive uptick in COVID-19 cases, but said the motorcycle rally was "absolutely unnecessary."
"And this one's a little bit personal because the governor of South Dakota has taken to traveling to other states and criticizing others — now at a time when that state's hospital capacity is overwhelmed," Walz said.
Minnesota and other parts of the Midwest are now facing a surge in coronavirus cases and overwhelmed hospital systems in the so-called "third wave" of the pandemic. Minnesota hit a new record for daily deaths after its department of health reported 72 fatalities on Thursday. Over the past seven days, about 260 patients a day have been hospitalized.
In efforts to curb the spread of the virus, Walz announced a new round of coronavirus restrictions earlier this week that will go into effect on Friday. All bars and restaurants will have to close for sit-in dining and move to takeout only. Entertainment venues will also be closed and youth sports have been put on hold.
As of Friday, Minnesota has reported 256,700 confirmed cases and 3,150 deaths.
Newsweek reached out to Walz for further comment, but did not hear back before publication.