Russia Unveils First Stealth Fighter Jet Sukhoi-57 to Rival U.S. Military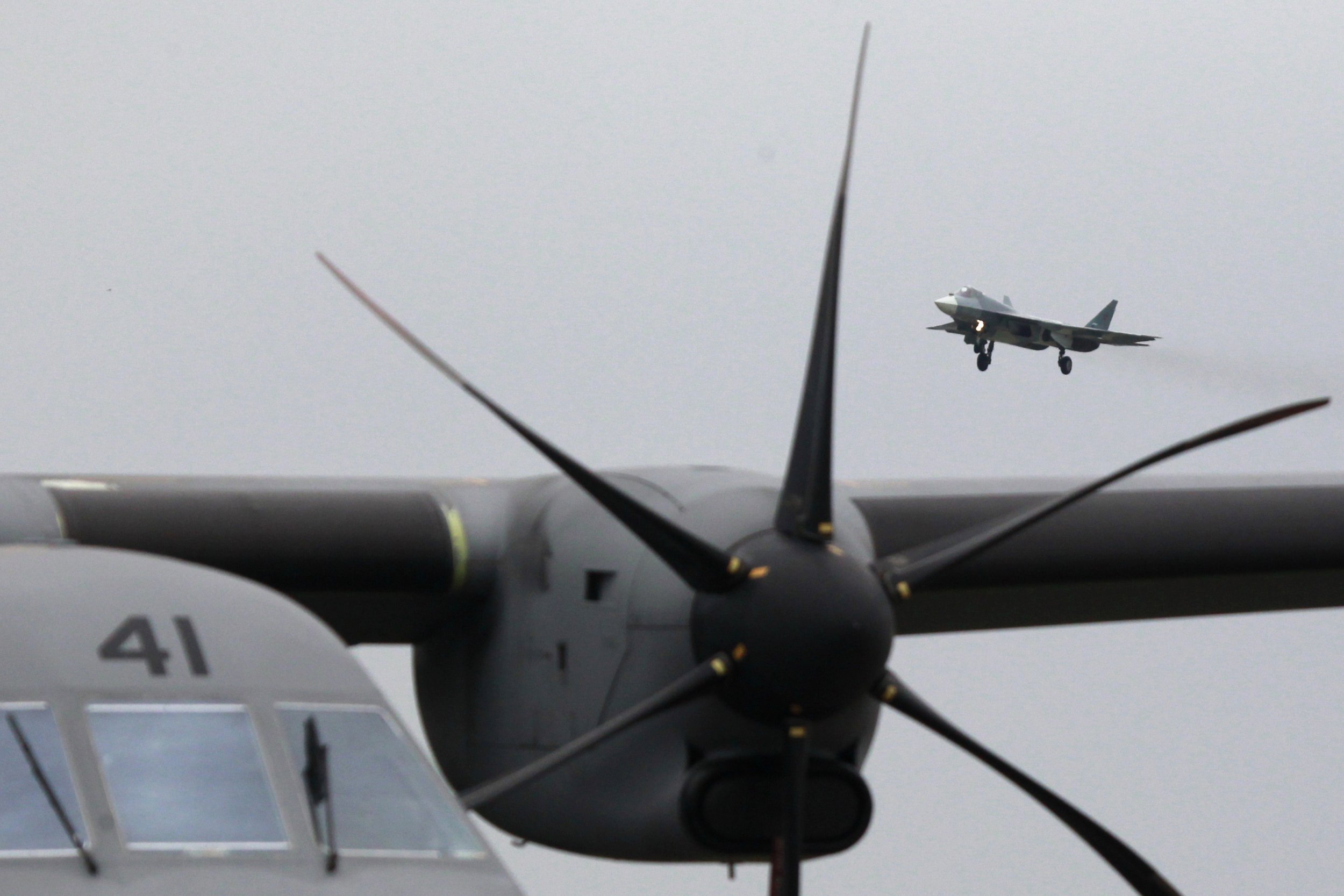 Russia has officially unveiled the Sukhoi-57, its next-generation supersonic stealth combat jet set to rival the U.S. F-22 and the Chinese Chengdu J-20 and Shenyang J-31, Ministry of Defense TV channel Zvezda reported Friday.
Formerly known by its factory prototype sobriquet PAK FA T-50, Russia's fifth-generation jet, which is also its first stealth fighter, has received its official operative name, "like a baby after its birth," air force chief Viktor Bondarev told Zvezda. Taking one step closer to joining the military aviation's ranks, the jet will now be called the Su-57.
Related: Russia says its new main battle tank is invincible. Is it?
The aircraft has another year of testing before units enter military service in 2019, Yuri Slusar, president of United Aircraft Corp., which is behind the Su-57's manufacture, said last month. Bondarev has spoken about the jet in glittering terms, calling it a "wonderful machine" at an aviation expo last month. Like several other items of military kit set to enter Russian military service in the coming years, the Su-57 has received a huge PR push from Russia's state media.
Russia's state military aviation manufacturer has said the Su-57 will be cheaper that its U.S. analog, the F-22, promising it costs less than $156 million. Its maximum cruising speed is reportedly 2,600 kilometers per hour, while its maximum altitude is 20 kilometers, Russian state media reported in 2015.
Based on reported specs, the Su-57 will be an impressive modern rival to the most maneuverable U.S. stealth fighter, packing K-77M missiles with a reported range of 200 kilometers, compared with the U.S. AIM-120D Scorpion with a range of 160 kilometers.
"Every country probably wants planes such as this, and we have them," Bondarev said in July.
The original order by Russia's military was 52 jets, the first batch of which was already meant to be delivered, business newspaper Kommersant reported in 2015. Russia's air force will now receive only 12 after facing numerous delays since first taking flight in 2010.
Its title as a fifth-generation jet is also disputed by IHS Jane's 360. The think tank noted in its 2016 review that the "Russian industry has consistently referred to the Sukhoi T-50 PAK FA as a fifth-generation aircraft, but a careful look at the program reveals that this is an 'in name only' designation." Instead, its engine is a souped-up version of its fourth-generation predecessors.