Substation Fire: Oregon Wildfire Spreads to 20,000 Acres, Destroys Home
The Substation Fire burning near The Dalles in Portland, Oregon, has spread to 20,000 acres, destroyed at least one home and prompted level-three evacuations, meaning residents need to leave immediately.
The wildfire began near the Celilo Converter Station on Tuesday and spread to 20,000 acres by late that night, according to KPTV. A level-three evacuation order was executed for parts of the area, including:
Eight Mile Road to Emerson Loop Road
Company Hollow Road
Wrentham Market Road
Mason Road
Fifteen Mile Road
McCoy Road
Moody Road
Fulton Road
Kloan Road
Freebridge Road
Kelly Cutoff Road
About 75 households in Wasco County were evacuated immediately, according to the Oregon Public Broadcast (OPB) and along with the Red Cross opening a shelter at the local middle school for people, local animal shelters have offered to house displaced dogs and livestock free of charge. The United States Forest Service spokeswoman Rachel Pawlitz confirmed to OPB that at least one home was destroyed. Newsweek reached out to the Forest Service but did not receive a response in time for publication.
"It's sad. Some of those homes have been here - like my home. Mine is almost 100 years old, and it'll go up like a tinder," resident Marcia LaDuke told KATU.
After the fire jumped the Deschutes River, a level-one evacuation order, meaning people should get ready to leave, was also issued for residents of Grass Valley and Moro and the Wasco County Sheriff's Office shared on Facebook that a youth group was evacuated from the fairgrounds.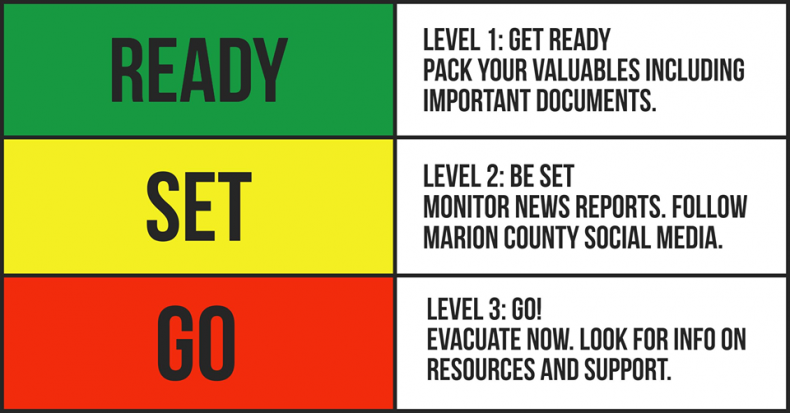 Governor Kate Brown has invoked the Conflagration Act, which allows the State Fire Marshal to dispatch firefighters and equipment from throughout the state during times when life and structures are threatened, according to the Oregon state police.
A fire train carrying 30,000 gallons of water was dispatched to the area, as reported by KPTV, and 20 engines are helping to fight the fire. Deputies also asked residents to not call 911 unless it's an emergency so that lines could remain open, and KVAL reported that there's no estimate for the fire's containment.
Gusty winds and low relative humidity caused the National Weather Service to issue a Red Flag Warning to be in effect until 8 p.m. local time. A Red Flag Warning alerts fire managers that conditions are "highly unfavorable" for prescribed burns and can lead to "especially dangerous wildfire growth," according to the National Weather Service.
Along with the Substation Fire, another fire in Tygh Valley, located about 30 miles south of The Dalles, burned on Tuesday but was fortunately put out and is currently in "mop up" mode.