Substation Fire Update: Oregon Blaze Near the Dalles Kills One, Spreads to 50,000 Acres
A raging wildfire in Oregon has spread to over 50,000 acres and left at least one person dead, with residents in some areas being told to evacuate their homes immediately. Oregon Governor Kate Brown has declared a state of emergency, deploying extra resources to tackle the fire.
The substation fire began southeast of The Dalles on Tuesday before spreading rapidly in dry, windy weather conditions. Firefighters are working to protect homes and other structures from the flames. Additional resources are on their way to the area.
As of Wednesday afternoon, there were 178 firefighters from 32 agencies across Oregon battling the blaze, according to a statement from the Oregon Office of State Fire Marshal posted to Facebook. Fire officials said a Red Cross shelter is located at the Dalles Middle School on East 12th Avenue.
"I saw neighbors helping neighbors and firefighters going the extra mile to bring this fire under control," Public Information Officer Damon Simmons said. "While these fires are awful, they show the true spirit of the local residents and Oregonians in general."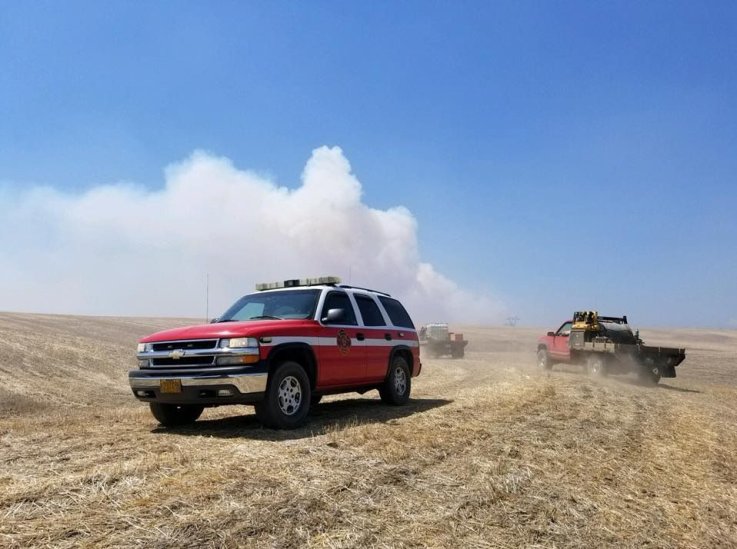 Wasco County Sheriff's Office said in a statement Tuesday that deputies responding to reports of a burned-out tractor located the body of its deceased operator nearby. Deputies think he was trying to hold back the fire.
"It appears the tractor operator died as a result of exposure to the fire," the release said. "The name of the victim will be released pending notification of the next of kin. It is believed the operator of the tractor was engaged in an attempt to suppress the fire by creating a fire line."
Governor Brown activated "Operation Plan Smokey" by declaring a statewide wildfire emergency. It means Oregon National Guard troops and resources will be made available to the Oregon Department of Forestry, including aviation assets, to help tackle the fire.
"The wildfire season has escalated in Oregon much earlier than normal, and crews are working around the clock to keep homes and resources safe," Gov. Brown said in a statement.
"Given drought conditions and hotter than usual temperatures, Oregonians should be prepared for an intense wildfire season this year.
"I'm committed to making state resources available to ensure crews have the resources they need, and I also urge the public to be mindful of fire restrictions and use caution this summer to help keep Oregon green."
Jessie Lamp, manager of Kramers Market in Dufur, told Oregon Live that those affected "kind of feel helpless."
"It's been crazy that in just 24 hours it's caused this much destruction," she said. "All the local farmers are in harvest right now, but they're all stopped what they're doing to go help where they're needed."
Substation Fire Update: Oregon Blaze Near the Dalles Kills One, Spreads to 50,000 Acres | U.S.