Substitute Teacher Pleaded Guilty to Sexually Assaulting Boy, Gets Two Years in Prison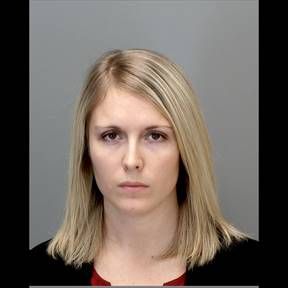 They met at detention.
She was a 27-year-old substitute teacher who coached the high school's girl soccer squad, and he was a 16-year-old sophomore making up for repeated absences.
A volley of Snapchats about "personal life things" escalated into sexting, where the teacher sent several nude selfies. The married woman then invited the boy to her home and in a spare bedroom they had sex two times, court documents, reviewed by Newsweek, show. (Before her guilty plea, Moran claimed they only had sex once.)
The boy tried to move on and started a romance with a girl. But his father found out. And then his mom called police.
An investigation opened and Allyson Moran, who was relieved of teaching and coaching duties from Stockbridge High School, ultimately admitted to the illicit affair, pleaded guilty and on Wednesday was sentenced to two years in prison for committing criminal sexual conduct and intercourse with a child.
Newsweek's attempts to reach Moran's attorney for comment were not immediately returned.
In her mea culpa in Ingham County Circuit Court on Wednesday, Moran declared that just before she pursued the boy, she had been reeling from a miscarriage.
"I tried to find comfort wherever I could," she confessed in court, according to the Detroit Free Press.
She then attempted to appeal to the judge to spare her of incarceration because she had "a lifetime of consequences that will surpass any prison time."
The victim's mother also cast blame toward the substitute teacher for gluttonously stealing his teenage years and causing her son to be ridiculed at school by his peers.
The legal age of consent in Michigan is 16, however, the age increases to 18 when an adult is in a position of authority such as a teacher, which Moran was.
Before Moran and the student, whose name was redacted in court papers and a police report, began their sexual relationship they started to talk during detention. To mask their conversation, they started to Snapchat together about the boy's girlfriend issues.
In March of last year he received a photo feature Moran "in a robe that showed some part of her breasts," the police report reads.
It would be the first of several nudes.
When the boy's father glanced at his son's phone and spotted the nude images, he was censured and the moment seemed to give Moran pause. "I don't do these things," she wrote to the boy.
The father was interviewed by cops and explained he glanced at two topless images of Moran who "did have underwear on."
But they continued to flirt after.
State Police troopers then zeroed in on Moran.
She initially denied any kind of physical contact with the boy. That she only would admit to "pictures, flirting, Snapchat, and that's it," the report states.
The investigators pressed about her purple-colored floral robe and tattoo on her hip.
Moran started singing.
"You're [sic] right. [He] came to my house. I don't remember exactly when. I don't remember dates at all. [He] visited me, we had sex the one night," she told the state cops.
She went on to explain to the authorities that the sex was "a mutual want" and that the boy "was pursuing just as much as she was."
At the end of her interview with the state cops, Moran attempted to out the boy and his brother as up to no good.
"Moran added that [the boy] and his brother do other illegal activities like drink and smoke pot," the report states.
The trooper told her claims might be investigated as well.​