Subtropical Depression Five: Atlantic Disturbance May Become Storm Ernesto
Subtropical Depression Five formed in the Atlantic on Wednesday morning (August 15) and could yet develop into the fifth named storm of 2018.
According to the National Hurricane Center, the subtropical depression which was centered over the central North Atlantic Ocean about 1,015 miles west of the Azore islands, is moving north at around 5 miles per hour.
The system is expected to slightly increase its speed as it continues to move northeastward across the ocean throughout Wednesday and into Thursday and Friday.
It currently has maximum sustained winds of around 35 mph with faster paced gusts, and is expected to develop into a subtropical storm later on Wednesday, August 15. If the system does turn into a storm as predicted, it will be named Ernesto.
"It is interesting to note that, so far this hurricane season, four of the five systems have been a subtropical cyclone at some point in their lifetimes," an NHC spokesperson added.
However, the system does not look like it will pose any threat to land and only looks to be an issue for trans-Atlantic ships. There are currently no coastal watches or warnings in effect.
"There is a window of opportunity for this system to acquire some tropical characteristics, perhaps enough to become a subtropical or tropical storm sometime Wednesday or Wednesday night," said AccuWeather Hurricane Expert Dan Kottlowski.
"Regardless of development, the system remains far removed from land and should be no threat to land for at least the next few days."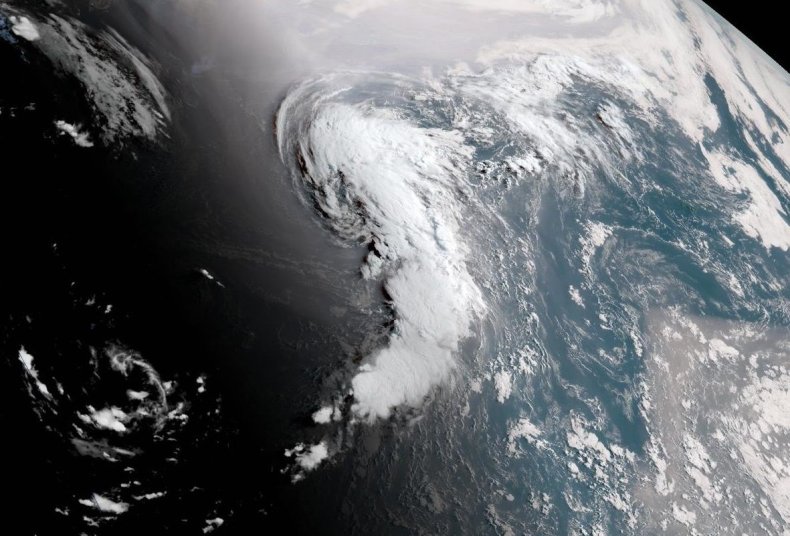 The NHC said there is a hurricane which is expected to form over the next few days over the eastern North Pacific Ocean. Tropical Depression Fourteen-E formed about 1,170 miles southwest of the southern tip of Baja California and is currently travelling west at around 14 miles per hour.
The depression's current maximum sustained winds are near 35 miles per hour and will gradually increase in strength over the next few days, it has been forecast.
It is expected to develop into a tropical storm and given the name Lane later on Wednesday. It is forecast to become a hurricane by late Thursday or Friday, the NHC said.
The peak Atlantic hurricane season runs from Mid-August to September, during which time some of the year's most active and destructive hurricanes are formed.