Subtropical Storm Alberto Path Update: Florida Gov. Rick Scott Declares State of Emergency As 'Severe' Weather Nears
The first named storm of Hurricane season 2018 is moving toward the U.S. Saturday and Florida Governor Rick Scott has declared an emergency in every county in his state.
"As we continue to monitor Subtropical Storm Alberto's northward path toward Florida, it is critically important that all Florida counties have every available resource to keep families safe and prepare for the torrential rain and severe flooding this storm will bring," Scott said in a statement.
The government of Cuba has also issued a warning in the province of Pinar del Rio.
The storm is expected to move North slowly from its location near Cuba Saturday into the Gulf of Mexico. Forecasters at the National Weather Service told Newsweek that Alberto is expected to make landfall Monday night into Tuesday morning. The arrival of tropical force winds are expected to come Monday, according to the forecasters, and will have the greatest effect within 10 miles of the coast.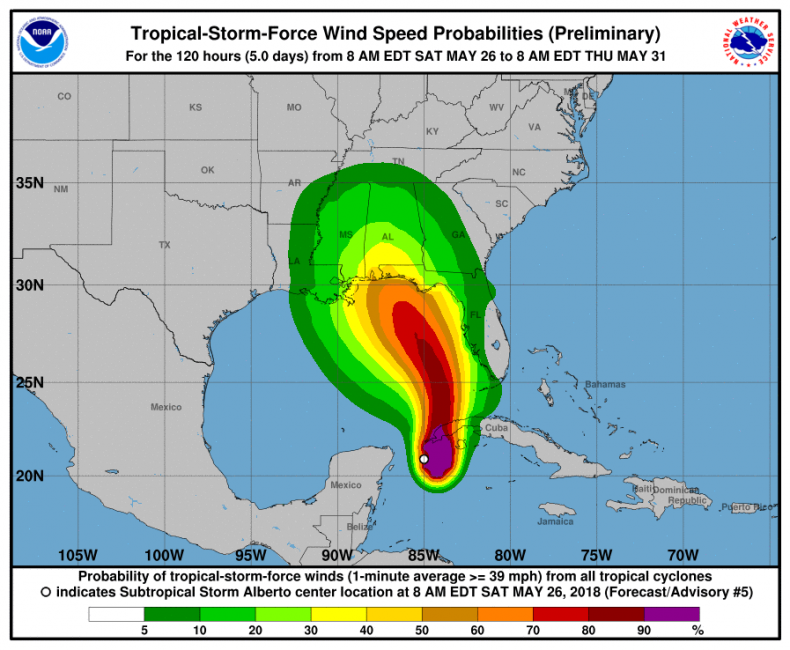 Saturation from previous rain on the Gulf Coast has created a danger of falling trees with the upcoming wind. Downed trees could cause power outages.
The heaviest rain in the Gulf Coast is expected between Sunday and Tuesday and is forecasted to be somewhere between six and 12 inches with a maximum of 15. The center of the storm is forecasted to come over the Alabama-Florida border.
Forecasters warn of flooding and storm surge caused by the rain and the storm will affect Florida, Alabama, Mississippi and Louisiana Memorial Day weekend before the rain moves north.