Subtropical Storm Debby Forms In Atlantic: Where Is Storm Going?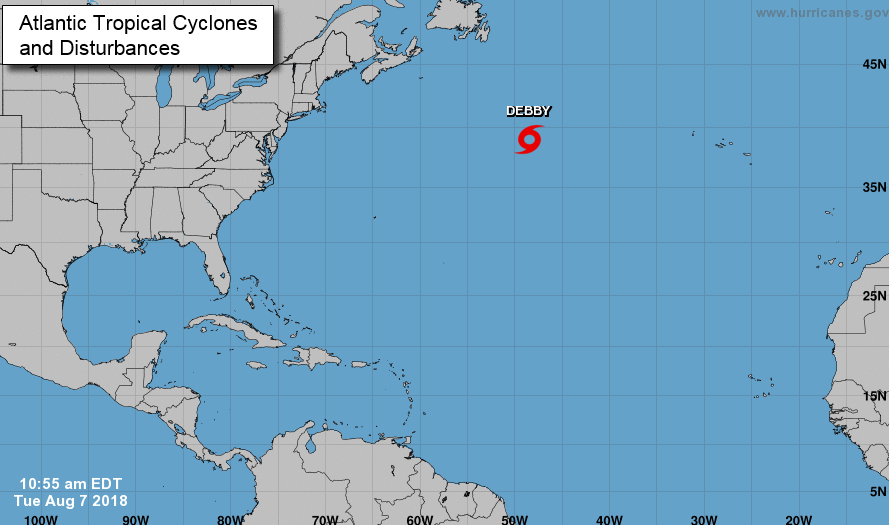 A tropical storm named Debby formed in the Atlantic on Tuesday, the National Hurricane Center announced. The storm was moving north at about 16 mph, with wind speeds of 40 mph, as of Tuesday morning.
Debby was expected to continue moving north on Wednesday before veering slightly east. The storm, however, was not expected to pose any threat to land. Debby was forecast to dissipate in just a few days.
"It is forecast to be short-lived and not threaten any land," the National Hurricane Center said regarding Debby's path.
Debby marked the fourth named storm of the 2018 Atlantic season. In its annual hurricane season predictions released in May, the National Oceanic and Atmospheric Administration predicted a near or above average season for Atlantic hurricanes. The NOAA estimated there would be 10 to 16 named storms, or storms that have sustained wind speeds of at least 39 mph. Of those storms, NOAA estimated five to nine would be hurricanes.
Meanwhile, advisories were issued in the Pacific for Hurricane John, Hurricane Hector and Tropical Storm Kristy. Hector, a Category 4 storm, was expected to pass south of Hawaii this week, according to AccuWeather.
"Hector is expected to pass far enough to the south so that no important wind issues are expected to impact the Big Island," said AccuWeather hurricane expert Dan Kottlowski.