Trump Keeps Trying to Win Over Suburban Housewives. They Keep Rejecting Him
President Donald Trump wants "suburban housewives" to like, and vote for, him. But despite his continued pleas, polling would indicate they are not on his side ahead of Election Day.
Speaking at his rally in Pennsylvania on Tuesday night, the incumbent Republican president made a direct appeal to them, asking: "Do me a favor, suburban women, would you please like me?"
It comes after he has previously insisted that the "suburban housewife" will back him, claiming "they want safety" and angling his law and order messaging to target the demographic.
In July, he tweeted a New York Post story headlined Joe Biden's disastrous plans for America's suburbs and wrote: "The Suburban Housewives of America must read this article. Biden will destroy your neighborhood and your American Dream. I will preserve it, and make it even better!"
He continued on this theme in Pennsylvania, where he told suburban women: "I saved your damn neighborhood, okay?"
While Trump has made numerous appeals to these voters, he does not appear to have won their support.
A poll conducted in June suggested that most suburban women "strongly disapprove" of the job he had been doing as president.
Meanwhile, some of these voters have come together on social media against the president. A group titled "Suburban Housewives Against Trump" on Facebook has more than 177,000 members.
Its description says: "Donald Trump used sexist language to describe us as 'Suburban Housewives.' He also said that we'd be voting for him. He's wrong."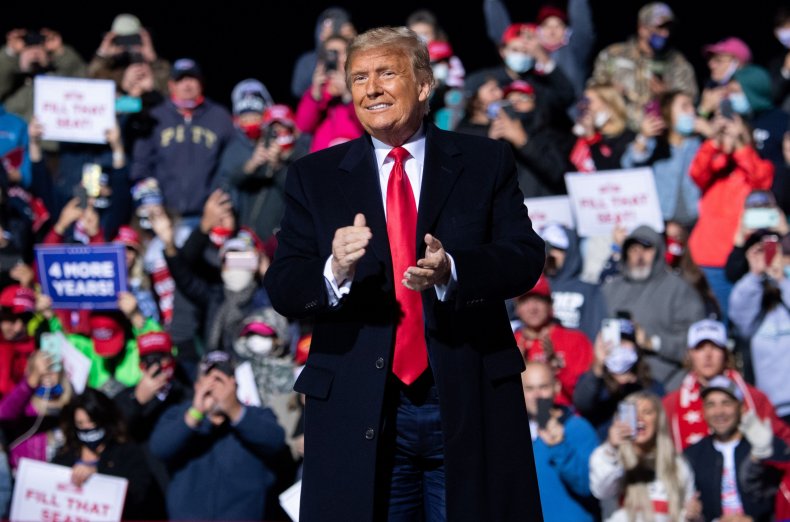 Morning Consult polling conducted from October 3 to 5 suggested women overall are more likely to back Biden. From 8,441 participants, 54 percent favoured the Democrat, compared to 40 percent for Trump. Meanwhile, 51 percent of white suburban women who took part favored Biden, compared to 44 percent for Trump.
A separate poll for advocacy group All in Together, conducted by Lake Research and Emerson College Polling from August 30 to September 1, also suggested women voters are more likely to vote for Biden.
Of 1,273 registered women voters asked, the majority (52 percent) said they trust Biden more on law and order more than Trump (42 percent). Among those who identified as suburban, 52 percent backed Biden and 41 percent backed Trump on this issue.
Suburban women also favored Biden in terms of who they intend to vote for, with 55 percent selecting him opposed to 41 percent for Biden.
It also found that 48 percent of such women have a "very unfavorable" view of Trump.
However, while Biden was ahead with most women voters, it did suggest Trump had an advantage among non-college educated white women, with 59 percent for him, compared to 37 percent for the Democrat.
Newsweek has contacted the Trump and Biden campaigns for comment.