Subway Sign Declares 'No One Wants a Job' Amid Labor Crisis Gripping America
An Ohio Subway recently posted a sign declaring that "no one wants a job" so it would be shortening its opening hours.
In a photograph which was shared to Reddit by a man known on the website as Garlic_Sause, we can see the sign is situated outside the fast food chain in Batavia, Ohio.
The laminated sign reads: "EFFECTIVE IMMEDIATELY. Due to the fact no one wants a job or show up to work our hours will be: Monday - Saturday 9am to 3 pm. Closed Sundays."
In the caption, he explained: "Local Subway had this posted on its door, I ask the manager what the starting pay is and he couldn't give me a straight answer."
The snap, which can be viewed here, has received lots of traction on Reddit since it was posted on October 12, having surpassed 56,700 upvotes.
Speaking to Newsweek, Garlic_Sause explained that he saw the sign "around noon" at the Subway on 32 Eastgate South Drive, Batavia.
He then revealed: "As soon as I read 'Due to the fact that no one wants a job or show up to work' I got curious as to what their minimum wage was, so after I ordered my meal I asked the manager there "What's the starting pay?"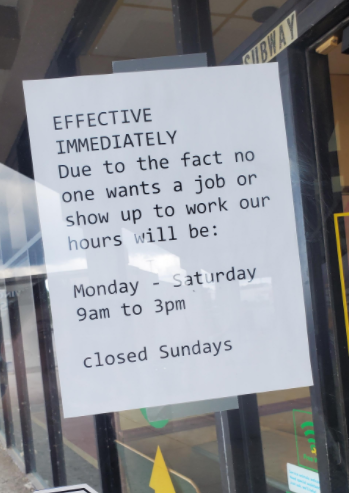 A man shared a picture outside of a Subway store in Ohio which claimed "no one wants a job".
Reddit/Garlic_Sauce
"He kinda hesitated for a second, 'Well, it depends on your age, previous experience and performance, it's an easy job though.'
"That got me thinking, basing your pay on previous experience is normal, but also basing it on your age and performance for an 'easy job' doesn't sound right to me."
Garlic_Sause then went on to explain that apartment prices are high in Batavia so he wondered if the low pay was enough to live on.
The U.S. is still missing around 4.3 million workers compared to February 2020, and the service industry in particular is struggling with low staff numbers.
Many have sought career changes, retired or have concerns about returning to work and contracting coronavirus.
One person, Raymuse, typed: "Unemployment benefits ended over a month ago. All these businesses should have filled their positions by now.
"If not, maybe there is a problem with the business."
Venicerocco said: "Exactly. Covid utterly f**ked over the service class. And - after a year and a half - they've now moved on.
"This has created a shortage. Pretty simple really. Oh and 700,000 people died too. That didn't help things either."
Financial_Pudding434 added: "The sign is obnoxious and tone deaf.
"The owner/manager doesn't realize how many people read the sign and conclude that perhaps the business model is based on underpaying people?"
Newsweek has contacted Subway for comment.