Subways Insists That Its Bread Is Actually Bread, Despite What the Irish Supreme Court Says
It sounds like the Subway sandwich chain might be going through some sort of existential crisis.
After the Irish Supreme Court ruled on Wednesday that the bread used for the company's sandwiches are too sugary to legally be considered real bread, the sandwich chain has come out and argued otherwise.
"Subway's bread is, of course, bread," a spokesperson for the sandwich chain told the BBC recently. "We have been baking fresh bread in our stores for more than three decades and our guests return each day for sandwiches made on bread that smells as good as it tastes."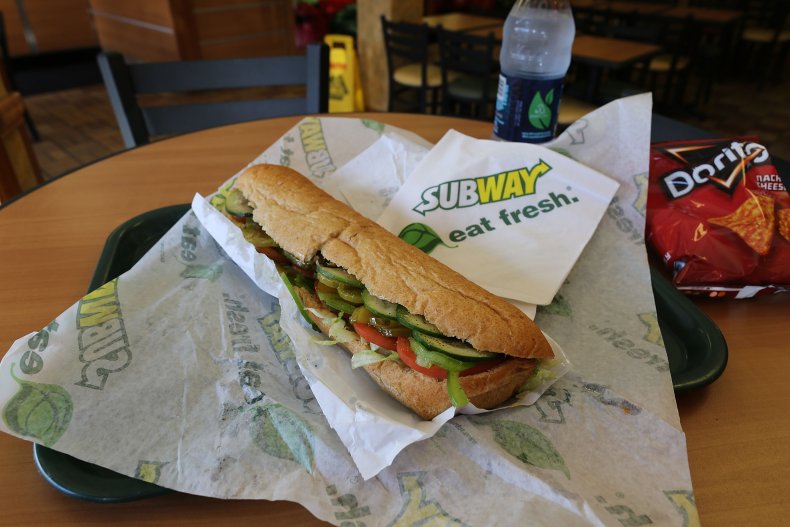 This all started because Bookfinders Ltd, a Subway franchisee based near Galway, Ireland, tried to argue that the bread in some of its to-go items, including heated sandwiches, was not liable for the VAT (value-added tax) Act of 1972. In Ireland, bread is classified as not being beholden to VAT.
As per the country's VAT Act of 1972, "ingredients in bread such as sugar and fat should not exceed 2% of the weight of flour in the dough," as noted by the BBC. But the sandwich chain's breads don't meet those requirements—not in the eyes of the Irish Supreme Court, whose judges found that the bread's sugar content is 10 percent of the weight of the flour in the dough. That means the breads used in Subway sandwiches are not considered a staple food and are therefore liable for VAT.
(Subway has the ingredients of its different breads—white bread, Italian, nine-grain wheat, honey oat, Italian herbs and cheese, nine-grain multiseed, and hearty Italian—listed under the nutritional facts on its website.)
Ultimately, the Subway franchisee lost its appeal to Ireland's Supreme Court. The ruling decided that the rolls are subject to tax at 13.5 percent.
"The argument depends on the acceptance of the prior contention that the Subway heated sandwich contains 'bread' as defined, and therefore can be said to be food for the purposes of the Second Schedule rather than confectionary. Since that argument has been rejected, this subsidiary argument must fail," the court ruled, as per ABC News.
The 51-page opinion also called the bread Subway provides "a very cumbersome and unnatural description of a hot meatball sandwich."
Additionally, Justice Donal O'Donnell in the Ireland Supreme Court, who ruled in this case, clarified that the definition of bread was created in order to distinguish the difference between bread and other starchy baked goods. As per Forbes, foods such as "baked goods made from dough, which are, or approach, confectionery or fancy baked goods," (like cakes or brownies) are too sugary in order to be considered to be essential foods.
So, maybe Subway's bread is dessert?