Next House Speaker: McCarthy vs. Scalise Is Battle of Wall Street vs. Big Oil
House Speaker Paul Ryan set up a potential fight between Representatives Steve Scalise and Kevin McCarthy over who will lead House Republicans on Wednesday by announcing his decision not to seek re-election. Both men have similar policy views, yet they rely on different, and powerful, industries to be the top funders of their political campaigns: Big Oil and Wall Street.
In a campaign to be speaker, those kinds of deep-pocketed allies are good to have. Fundraising is a "core responsibility of speakers of the House," Matthew Green, a politics professor at Catholic University of America, told Newsweek in an email.
"The typical member of Congress spends about three to four hours a day dialing for dollars while in D.C. That's mostly for their own re-election," Green said. "Speakers, however, are expected to raise money for themselves, for other Republican candidates and for their party. Plus, they travel to fundraisers all over the country."
Rumors about who will be the next speaker have swirled around the House since Politico first reported that Ryan was considering retirement in December. Scalise, the number three House Republican, has said he would only pursue Ryan's leadership position if McCarthy, Ryan's heir apparent as majority leader, fails to secure the job. But both men are widely seen as vying to be speaker, a position that could quickly become minority leader if Democrats take the House in November.
Whoever follows Ryan has big shoes to fill as a fundraiser, and Scalise bolstered his case on Thursday, when he announced he raised $3 million in the first quarter of 2018, the most any whip has raised in the first quarter of an election year, his office said. McCarthy has yet to announce his first-quarter fundraising totals. (The totals discussed below don't include Scalise's first-quarter haul.) McCarthy out-raised Scalise, $11.8 million to $4.8 million, last election cycle, but that might have more to do with their ranking within the party then their fundraising chops.
The oil and gas sector has contributed more to Scalise, the House majority whip from Louisiana, than any other industry, according to the Center for Responsive Politics. Data compiled by the Center also shows that McCarthy, the House majority leader from California, counts the securities and investment industry as the one that has contributed the most to his campaigns, and Wall Street giant Goldman Sachs as his largest individual contributor.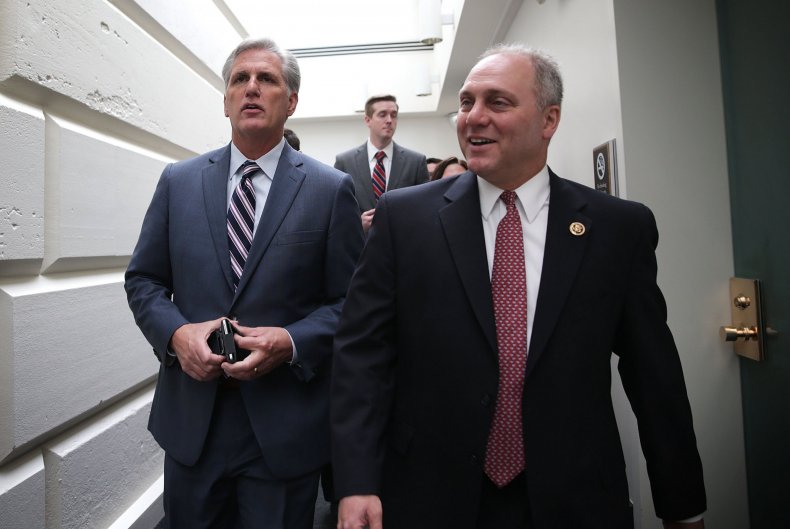 As a fundraiser, it helps to be bankrolled by one of the largest banks in the world. Goldman has donated $238,350 to McCarthy's campaigns since 2005, and, in the 2016 cycle, the bank donated more to McCarthy than any other member of the House. In 2017, the bank donated more to McCarthy than any other member of Congress, including Ryan and every senator.
The investment and securities industry, of which Goldman is a part, has given McCarthy $2 million of the $26 million he has raised during his political career. Much of that generosity is likely due his stint on the House Financial Services Committee. But as majority leader, McCarthy doesn't serve on any committees, and yet the trend holds: In the current election cycle Goldman has donated $125,300 to McCarthy since the beginning of 2017, and the industry has chipped in $811,150, more than 11 percent of the total money McCarthy has raised during this cycle.
McCarthy received more money from the industry as a whole than any other member of the House this cycle, except for Ryan, the man he's vying to replace. (The four senators who received more money than McCarthy are all Democrats, led by Missouri's Claire McCaskill.)
Wall Street has not taken such a liking to Scalise. Instead, the oil and gas industry is his largest benefactor. Through the end of last year, the industry has given more than $1 million to Scalise since he first ran for Congress. Much of that largesse is owed to the fact Scalise represents a state on the oil-rich Gulf of Mexico, which has more than 412,000 jobs supported by the industry, according to the American Petroleum Institute.
Scalise's top individual donor over his career, and last election cycle, has been Votesane PAC, a nonpartisan political action committee that collects individual contributions and delivers them to candidates of the donor's choice. The group has funnelled nearly $270,000 to Scalise.
While Scalise has received more money from oil and gas than any other industry, he actually received less campaign cash from it then McCarthy did during the 2016 election cycle. The industry gave $337,850 to McCarthy, and $278,000 to Scalise, but the donations to Scalise represent a larger percentage of his total campaign haul. Both congressmen have expressed skepticism about the human origins of climate change.