Succeeding Civil Rights Legend John Lewis in Congress is Welcome Challenge for Georgia State Senator Nikema Williams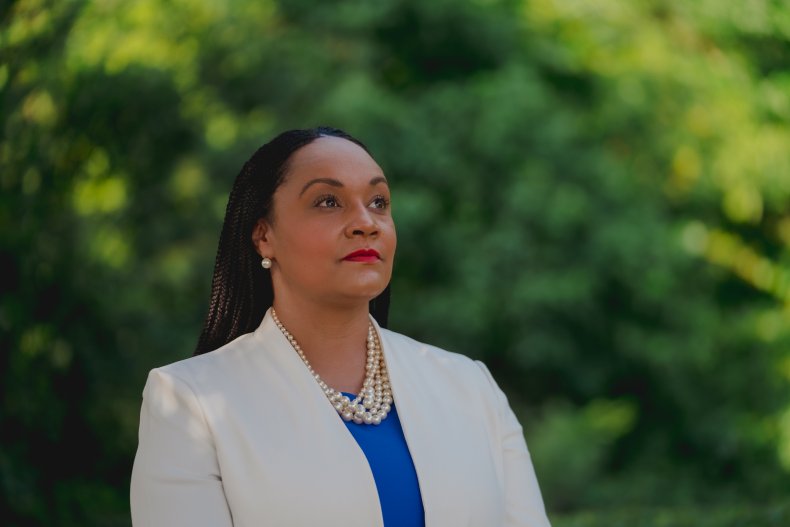 When U.S. Representative John Lewis of Georgia, a legend in the civil rights movement, died in mid-July, 130 people filled out candidate forms to compete for his spot on the November ballot. A committee whittled down the list to five potential nominees, then selected one: State Senator Nikema Williams.
Williams is deeply appreciative of her famous predecessor.
"What I feel is that I have a deep sense of responsibility, because Congressman Lewis paved the way," Williams told Newsweek. "He opened up doors for me and so many other people of color to number one be able to vote, but also to be able to run for this seat."
And she is determined to continue the work.
"I am looking forward to continuing his legacy," Williams said, "to build upon it and to create my own path."
Lewis represented his district in Congress for more than three decades, and was poised for another term after winning the June primary, but died the next month at the age of 80 after a battle with pancreatic cancer.
Williams is seen as a virtual lock to win the 5th Congressional District, which is based in Atlanta and is heavily Democratic. Lewis won with at least 70 percent of the vote in all but one of his re-election bids. Williams will face Republican Angela Stanton-King, an ally of President Donald Trump, in the general election on November 3.
Stanton-King said her candidacy is the first step for the African American community to have much-needed representation on both sides of the aisle. She also said she is an example of "what can happen with second chances." Stanton-King was recently pardoned by President Trump after her 2004 conviction on federal conspiracy charges for her role in a car theft ring.
"Our approaches are different," Stanton-King said of her campaign against Williams. "Mine is personal for the people of the district and hers is the old-school politics that no longer works."
Stanton-King also criticized Williams for not participating in a virtual debate last month. But the Democrat said she's not taking the 5th district for granted and is running a full campaign.
"People automatically assume that you don't need the support, but I absolutely have to introduce myself to voters in the district," Williams said.
Williams, 42, is a veteran activist with deep roots in the Democratic Party. Before becoming a state senator in 2017, she worked at Planned Parenthood for a decade, advocating across the southeast for the rights of women to make personal, private medical decisions. In 2019, Williams was the first Black woman ever elected to lead the Georgia Democratic Party.
Along with educating voters about her background, Williams said she has a responsibility to rally and increase voter turnout in her area to bolster other Democratic candidates statewide. Georgia has become an unexpected battleground in both the presidential contest and the race for majority control of the Senate. Polls show Joe Biden and Trump running neck-and-neck and the two Democrats vying for Senate ahead of Republican incumbents.
"We're the only state in the country where so much is on the line right now," Williams said.
Georgia has already seen record turnout during the state's early voting period. Videos posted to Twitter showed eager voters waiting in hours-long lines to cast their ballot on the first day the polls opened. Secretary of State Brad Raffensperger has already predicted that as many as 6 million voters could cast ballots in this year's election, up from 4.1 million four years ago.
Williams said voters are more resolved to participate in the 2020 election after what happened two years ago during the state's gubernatorial race between Republican Brian Kemp and Democrat Stacey Abrams. Allegations of voter fraud–something that has plagued Georgia in its history–dominated the race, which Kemp declared victory over even before all the votes were counted.
"People looked at what happened in 2018 and saw that their votes were powerful, saw their voices were powerful and have been re-energized," she said. "Here we are in 2020 where people just refuse to be silent."
In her years serving in the Georgia State Senate and as the state Democratic Party chair, Williams has made access to free and fair elections a core policy initiative. She introduced legislation tackling everything from same-day voter registration to establishing independent redistricting committees.
One of her key messages is that access to voting should be standardized across the board. In rural Alabama, where Williams grew up and a majority of her family still lives today, her relatives don't have any early voting options. One study from 2018 that ranked the difficulty of voting in every U.S. found Alabama ranked 12th and Georgia 16th.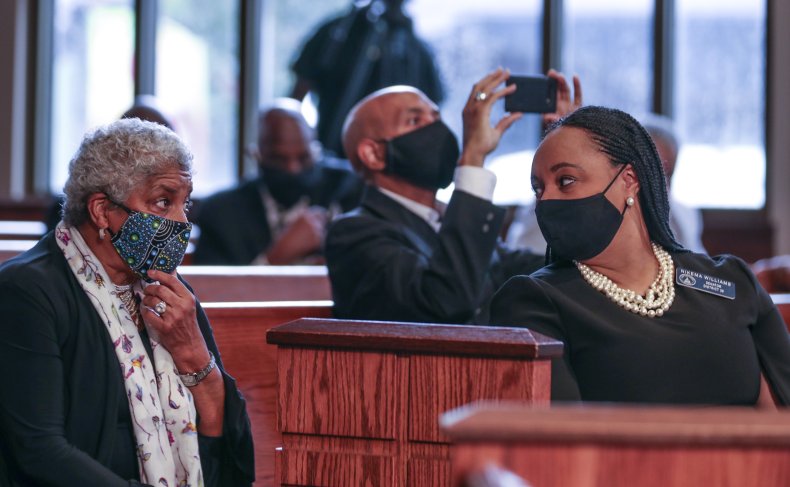 Plus, Williams doesn't shy away from what Lewis deemed "good trouble." The first time Newsweek interviewed the state senator was in 2018, when she was arrested at the state capitol for protesting that every uncounted ballot be tallied in the governor's race.
"I am a constant reminder to them and to myself that I am operating in a system that was not designed for me, not for someone that looks like me," Williams said at the time.
Williams and nine others who were arrested that day have filed a federal lawsuit challenging a state law that makes it illegal for any person "recklessly or knowingly to commit any act which may reasonably be expected to prevent or disrupt a session or meeting of the Senate or House of Representatives." The demonstrators fear being arrested again if they engage in protests against voter suppression in the November election.
If elected in November, Williams said some of her top priorities are establishing a national response to the pandemic (she contracted COVID-19 in early March) and advocating for universal health care. But all of these things are contingent on fair elections, she said, which is why she will work to pass the John Lewis Voting Rights Act.
"Thinking back to that 2018 arrest, I never imagined this would be our next conversation," Williams told Newsweek. "I've come a long way in two short years."