Success or Failure: Top Military Leaders Break Down the Pullout From Afghanistan
Military leaders who oversaw the Biden administration's evacuation of troops from Afghanistan appeared before the U.S. Senate Committee on Armed Services, where they gave statements and answered questions regarding the execution of the operation.
The meeting focused on the military withdrawal, but it often veered off toward the question of whether the administration should have proceeded with the evacuation. All this happened as the senators looked to share their parties' takes on the move.
The three commanders involved—Gen. Mark Milley, the chairman of the Joint Chiefs of Staff; Gen. Kenneth McKenzie Jr., commander of the U.S. Central Command; and Secretary of Defense Lloyd Austin—presented their accounts the pullout.
The focus of the meeting swayed between the lead-up to President Joe Biden's decision to pull troops from the country and the subsequent execution of this command. The three commanders' addresses made one thing clear: The pullout was new terrain for the service members involved.
"Nothing like this has ever been done before, and no other military in the world could have pulled it off," Austin said. "We operated in a deeply, dangerous environment and it proved a lesson in pragmatism and professionalism."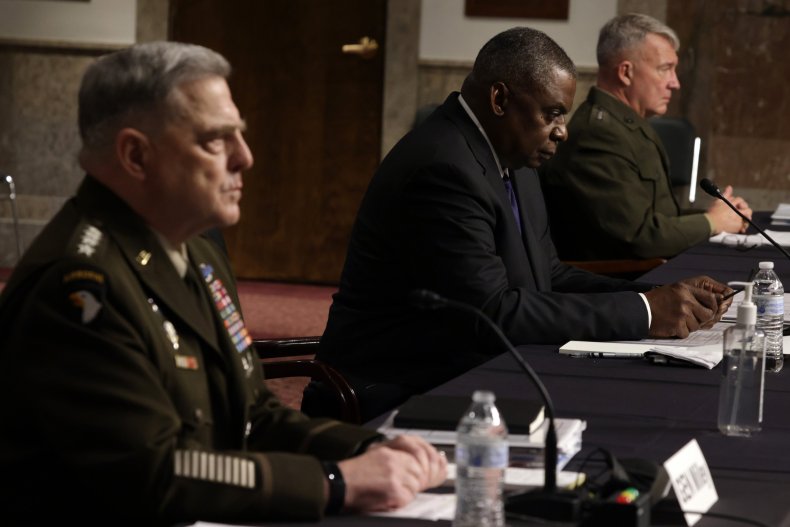 Followed these statements, Austin confirmed that "input was received by the president" regarding the recommendations of both Milley and McKenzie that the U.S. keep a force of roughly 2,500 troops on the ground to provide stability. The generals confirmed that this advice reflected their concerns that a withdrawal could lead to a collapse of the Afghan government.
In a series of questions asked by Sen. Elizabeth Warren (D-Mass.), Austin confirmed that Biden "followed [his] advice on executing on the evacuation plan" and gave him "all the resources [he] needed." At no point did Austin say his advice was ignored during the evacuation process.
When the evacuation began, the concern was that pulling out too fast could precipitate a fall of the Afghan government while moving too slowly would put Americans and American allies as well as the operation at risk, Austin said. Once the operation was underway, Austin said, "extending beyond the end of August would have greatly imperiled our people in our mission."
Ultimately, Austin said, many of the issues that resulted in the pullout's images of chaos were tied to miscalculations regarding the Afghan army's willingness to preserving its democracy. The U.S. did not expect them to submit to Taliban rule in the way many of them did.
"We helped build a state…but we could not forge a nation. The fact that the Afghan army that we and our partners trained simply melted away, in many cases without firing a shot, took us all by surprise," Austin said. "We failed to grasp that there was only so much for which, and for whom many of the Afghan forces would fight."