'Succession' finale recap: What happened at the end of Season 2?
HBO has now aired the Succession Season 2 finale, titled "This is Not for Tears," that saw Logan Roy (played by Brian Cox) decide who would be the "blood sacrifice" offered to the shareholders after the cruise ship debacle. The Succession finale also set up another season that will see the Roys have to choose sides in an inter-family battle.
What happened in the finale of Succession?
"This is Not For Tears" on HBO saw Logan decide to sacrifice his son Kendall (Jeremy Strong) in order to save himself. At the start of the episode, we see him trying to get out of the toxic situation he is in by getting rid of a number of non-Roy employees (Gerry, Cyd, Frank, Ray and Karl are all on the chopping block), but after a shareholder recommends to Logan that he should be the person to go, he realises he will need to take more drastic measures.
However, in a betrayal that is sure to play out over the upcoming Succession Season 3, Kendall goes out before the press to destroy his father, revealing all about his complicity in the cruise scandal and many other dark corners of Waystar Royco.
This comes after a talk Logan and Kendall have in which Logan says he trusts his son, but in doing this turns him against him and sets his course on destroying his father.
In a press conference, he said: "The truth is that my father is a malignant presence, a bully and a liar," he says before the snapping cameras and he was fully personally aware of these events for many years and made efforts to lie and cover up."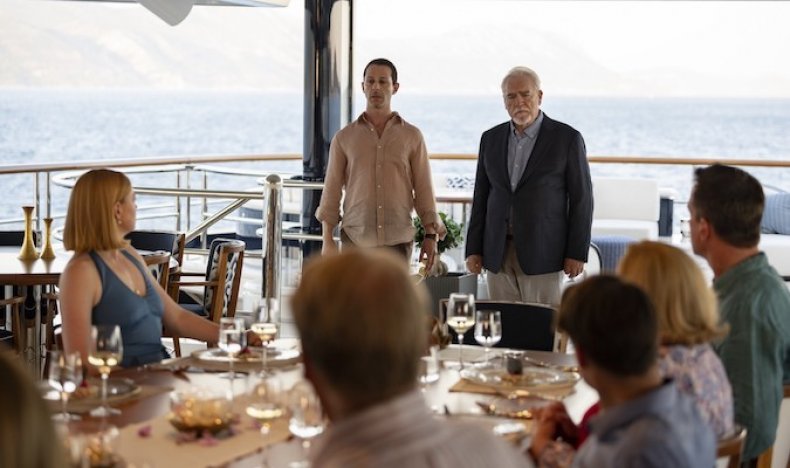 However, prior to this decision, the finale sees the Roys all head onto their yacht for what Logan is calling a vacation but is really him deciding who needs to go. Roman (Kieran Culkin) has come from Turkey, where he was trying to secure enough capital to circumvent the shareholders and take the company private. He makes it back to the yacht with a deal after getting taken captive in Turkey.
As well as surviving the ordeal, Roman secures a deal, but also believes their new investors cannot be trusted. Once Logan arrives and shares his concerns with his father, the Roys have to decide who should be the one who will take the fall.
In a canny move, Logan offers himself, knowing that will rule him out as his power hungry family and employees all go out of their way to flatter him. The family fight among themselves, before they seem to settle on Head of Cruises Tom (Matthew McFadyen), with even his wife Shiv (Sarah Snook) picking him.
By episode's end, Roman has been named the new Chief Operating Officer and Frank (Peter Friedman) will oversee cruises, leaving Shiv and Kendall still struggling for power. The whole ordeal, however, acts as a wrecking ball to the relationships of the Roys. Marcia (Hiam Abbas) is already gone, Shiv and Tom have been driven apart by Shiv's betrayal and Kendall's relationship-of-sorts with Naomi (Annabelle Dexter-Jones).
Succession Season 2 is streaming now on HBO Go and HBO Now