The Roy family have been trying to avoid Waystar Royco's shareholders meeting for a while now, but their time ran out in Succession Season 3 Episode 5, "Retired Janitors of Idaho".
The shareholders are seated, and preparations for the vote have begun, but Shiv (Sarah Snook), Roman (Kieran Culkin) and Gerri Kellman (J. Smith-Cameron) are still trying to make a deal happen with Sandy Furness (Larry Pine) and Stewy Hosseini (Arian Moayed).
What they didn't count on, though, was for Logan (Brian Cox) to become confused and start babbling nonsense as a result of a urinary tract infection (UTI), leaving them in charge of sorting an agreement without his input.
The Deal Is the Deal
Sandy, Stewy and Sandy's daughter Sandy (Hope Davis) meet with Shiv, Roman and Gerri to discuss things, and they reveal they want three seats on the company board, for the Roys to stop using private jets, and for a right to veto any of Logan's children from taking over.
Of course, Shiv and Roman bristle at the idea of their "rightful" place at the top of Waystar Royco taken away from them and push against it, but eventually they come to a potential agreement that they bring to Logan for his thoughts.
While the trio have been busy with Sandy, Sandy Jr and Stewy, Connor (Alan Ruck) tries to get dad to give him a high-up position in the company that will boost his future career prospects, but the patriarch wants nothing to do with him.
He starts heading to the toilet on a scarily frequent basis and demands Tom (Matthew Macfadyen) goes with him, before telling Shiv he doesn't like the deal that they've come up with and makes her turn it down.
However, shortly after, Logan starts to become muddled over everyone and everything, calling Shiv by wife Marcia's name and believing there's a dead cat under his chair.
Safe to say, Logan isn't in the right state of mind to be thinking about a deal with anyone, let alone one that could make or break the company.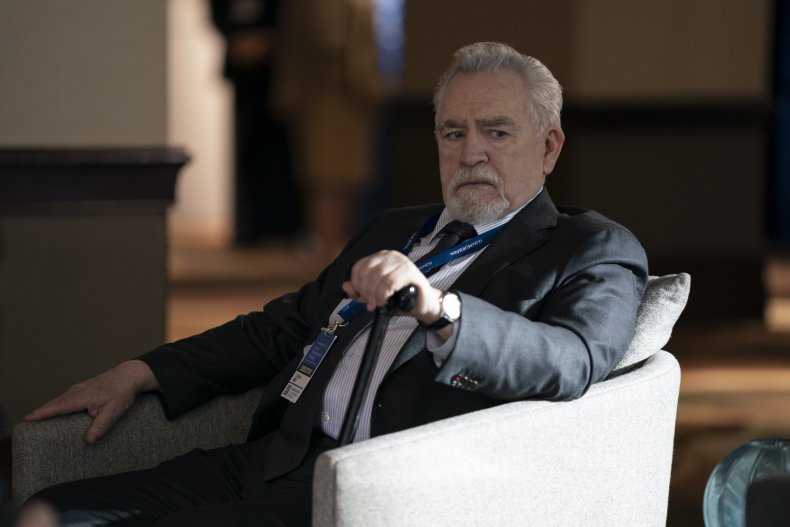 The P*** Mad King of England
As per usual, Roman has the best line of the episode when he claims that Logan has become the "p*** mad King of England" because of the UTI.
In fact, over the course of five minutes the word 'p*** mad' is bounced around so many times it's hard not to take away anything else from the episode, especially when Roman tears Tom down by calling him the "Hercule Poirot of f***ing p***".
Deciding to take matters into her own hands, Shiv meets with Sandy Jr once more to offer a deal: No private jets and four seats on the board for her, with an extra seat also given to the Roys so Shiv can also have a top spot.
The women all but shake on it and Shiv feels triumphant after essentially saving the company, but the episode is far from over and the President is on the line.
While Shiv has been busy saving the day, Roman was speaking to the President who informed him in very colorful language that Logan's decision to change ATN's stance on him has meant he's backing out of the next Presidential election (which Connor is delighted about).
However, Shiv's deal has given them the boost they need, and the vote is called off.
Tom tries to celebrate by suggesting he and Shiv enjoy some alone time together, only to reveal he has been tracking her fertility cycle to know the best time for them to have a baby.
He claims he "needs something" to keep him going if he is sent to prison over the cruise scandal, but Shiv is not at all on board with the idea of them having a family together. Oh Tom, you deserve better.
Logan Is Back, But He Isn't Happy
After being seen to by a doctor and given the fluids he needs, Logan returns to a more lucid state and is not happy with Shiv.
The deal isn't good enough in his opinion, it makes him seem weak and like he bent to Sandy and Stewy's every whim.
Shiv, still flying high on her victory, tries to placate him but Logan is having none of it and shouts at her to "stop buzzing" while he tries to make a game plan with Gerri on what they can do next. Welcome back to reality, Shiv.
Kendall (Jeremy Strong) very much took a backseat in the episode, playing second fiddle to his siblings' and Sandy and Stewy's drama. He's effectively on the outside looking in.
He does briefly make a scene when he crashes the stage to have a moment of silence for the victims of sexual abuse in the cruise scandal, and announces he's launching a foundation in their name.
But he gets very little applause for this, it seems everyone is jumping off the Kendall boat while they still have a chance.
His place as an outsider is only further cemented when the episode ends with Logan making his estranged son wait for him in a dingy office, only to leave the building and block his phone number "permanently".
It seems their father-son relationship will never heal from this rift. So, what will Kendall do now?
Succession Season 3 continues Sunday, November 21, on HBO.