'Succession' Season 3, Episode 7 Recap: Way Too Much Birthday for Kendall
Succession fans' prayers have been answered after nine episodes. Jeremy Strong as the troubled Kendall Roy takes to the stage in Season 3, Episode 7 and he has his hands on a microphone.
Rehearsing for his big 40th birthday bash, Kendall sings "Honesty" by Billy Joel. It's not quite as catchy as L to the OG but in Kendall's eyes, it's the "full f****** thing." In true Succession fashion, it is only a matter of time before disaster strikes. Newsweek has everything you need to know about the latest instalment of Succession.
Waystar Royco
After the opening credits, we are back at Waystar Royco HQ. Tom (played by Matthew Macfadyen) is pre-occupied with looking at pictures of prisons ahead of big jail stint and Shiv and Roman are bickering. Nothing new to see here.
However, Gerri (J. Smith-Cameron) has a big announcement to make. She's heard from a friend at the Department of Justice (DoJ), that the big dogs are happy with how Waystar Royco has engaged with the cruise line investigation. The DoJ also believes Kendall "over-promised" with his evidence from Greg (Nicholas Braun) and there will be no custodial sentences given. Tom is so relieved, he visits Greg and trashes his office. It's all coming from a place of love.
While Tom celebrates, Logan (Brian Cox), Shiv (Sarah Snook), Roman (Kieran Culkin), and co. talk business. Logan wants to make a deal with Lukas Mattsson (Alexander Skarsgård), the owner of a huge streaming platform. However, he doesn't show up and instead sends the CFO for the meeting, leaving Logan furious. He, of course, throws a tantrum "it's bad f****** juju to start like this." he barks at Shiv and sends Roman and Shiv to sweet talk Lukas at Kendall's birthday party.
The Notorious KEN: Ready to Die
Now for the event of the century: Kendall Roy's 40th Birthday Party he titled The Notorious KEN: Ready to Die.
At first, it seems like Roman is genuinely going to Kendall's party because, in his own twisted way, he cares for his brother. However, as the night goes on, we learn this is not the case at all.
Shiv also swings by the party, under the impression she is going to help Roman land a deal with Lukas. Tom is there, looking depressed, Cousin Greg is there in a bright blue floral shirt ready to try his luck with Kendall's PR, Comfry (Dasha Nekrasova), and Connor Roy (Alan Ruck) is there, refusing to take his jacket off which causes all sorts of problems.
"Congratulations, you've just been born into the world of Kendall Roy" a woman dressed as a nurse shouts as the Roy's enter the party. They've literally entered Kendall's party by walking through a replica of their mother's vagina, yes, really. If that wasn't weird enough, there was a "compliment tunnel", which Tom loses his mind in, and a room full of fictional newspaper exhibits, featuring damaging headlines about his siblings.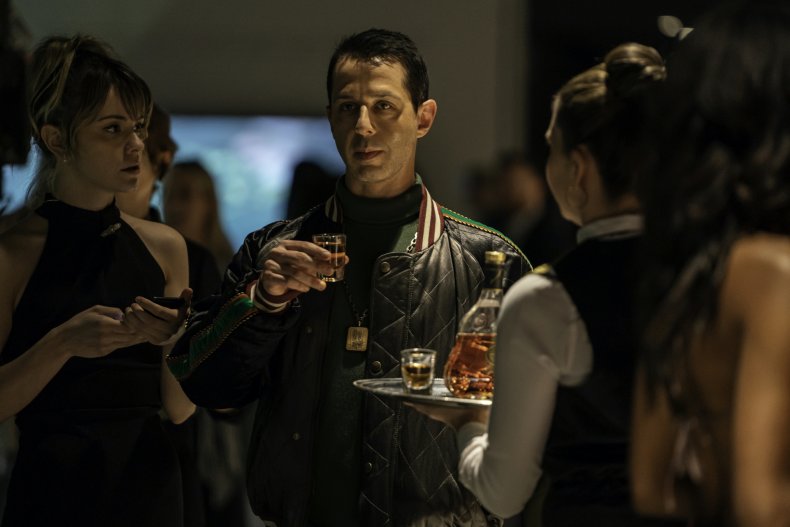 Out of all of the jokes, the one that is not landing is the one about Connor. "Connor Roy, President of s****** in his bag", reads the headline. Connor is still seriously considering running for president and he wants to be taken seriously and Kendall's little joke isn't helping.
It soon transpires the reference was to the time Connor had to use a bag as his toilet of choice after eating some bad fish. The heartbreaking part though was the fact it happened when Connor took Kendall and Roman on a fishing trip when they were younger because "Dad couldn't be bothered." This is the first reference to the Roy's lonely childhood in this episode and it won't be the last.
Roman proceeds to give Kendall a birthday card from his father. Logan has left the front of the card looking pretty, wishing Kendall a happy birthday but inside has scribbled over the birthday message and written "CASH OUT AND F*** OFF". Logan has also inserted a "share purchase proposal" letter for Kendall to read. He's offering to buy Kendall's shares in Waystar and effectively kick Kendall out of the Roy family for good. Is this super petty or a clever power move from Logan? You can be the judge.
The Treehouse
Kendall's got a tree house installed at his party (made from George Washington's oak tree) and he has Lukas Mattsson hiding in it. Shiv and Roman want access to him, so they can sweet talk him into a deal with Waystar, but Kendall is having none of it. Their fight as adults about who can enter Kendall's treehouse is most definitely a nod to a fight they had as kids about who was allowed to play in the treehouse and who wasn't.
Shiv also quickly discovered she was left out of Roman and her dad's little plan to buy Kendall out his shares, no doubt another throwback to childhood where she was always sidelined by her siblings, and father.
Elsewhere, whilst Connor defends his right to wear his jacket in the main room downstairs, Roman has made his way into the treehouse and to Lukas. Things get a little awkward when Lukas makes it abundantly clear he would want to work with Waystar in the future if Logan was no longer in charge. "How many years does your dad have left? Is it less than a year or is it more like five years, because if it's five, is a long time" he asks Roman.
But somehow, Roman has gone and done it. With the promise Lukas will never have to work alongside Logan and after allowing Lukas to urinate all over his phone which was attempting to load the Waystar streaming platform StarGo, Roman has managed to secure a meeting between Lukas and his father about working together.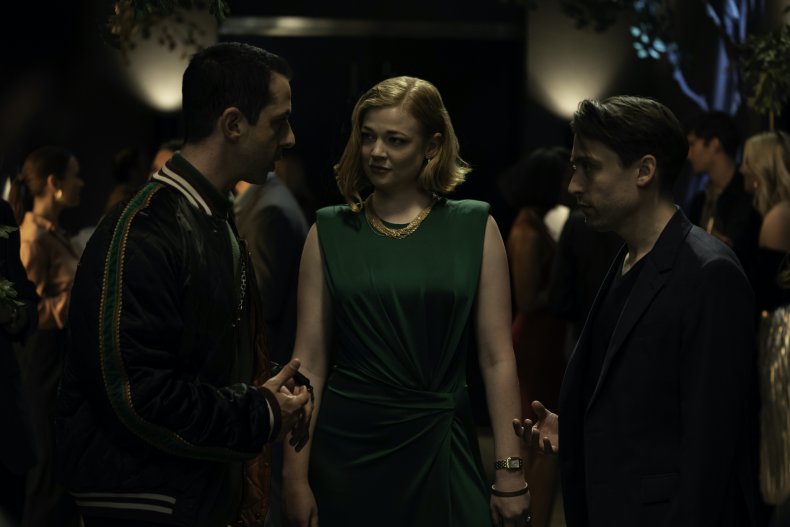 The only people having a good time at Kendall's birthday seem to be Shiv, who has taken to the dancefloor, and Greg, who finally asked Comfry out on a date. As for the birthday boy himself, things have taken a turn for the worse.
Kendall went full Kendall self-destruct mode and hit rock bottom at the end of the episode after failing to find the gift his two daughters made for him. He also rejected Naomi's (Annabelle Dexter-Jones) present, who gifted him a new (and very expensive) watch. Collapsing in a heap of presents, Kendall admitted the night was "pathetic" and he wanted to go home, someone's has had "too much birthday."
However, on the way out, Kendall was accosted by Roman, drunk on his deal with Lukas. Roman's never been the good guy, but he's also never been the bad guy either, until now. After intentionally leaving Shiv out of family businesses, throwing insults about her marriage to Tom. He pushed Kendall so hard that he fell down in front of guests. Roman even makes Logan Roy look like a decent man at this moment.
The episode concludes with a broken Kendall, curled up in a comic-book-themed duvet being consoled by Naomi. He looks like a child just needing to be loved, but from what we know, Kendall's childhood isn't something he or his siblings, would like to revisit.
Succession airs every Sunday at 9 p.m. ET on HBO