8 Things We Predict Will Happen in the 'Succession' Season 3 Finale
The third season of HBO hit Succession has been chock full of dramatic plot twists and surprising turns, from the FBI raid of Waystar Royco, to unsolicited d**k pics. But how will it conclude?
Since its debut in 2018, Succession has won over scores of fans thanks to its power-hungry protagonists, dark humor and NSFW script.
Following the highs and lows of the Roy family media empire, the show depicts familial tensions, Machiavellian schemes and ruthless business moves, with the question of Logan's successor being the driving force of the narrative.
Here, Newsweek's Culture writers predict how the Season 3 finale of Succession will unfold.
1. Logan lets Gerri go and then she joins forces with Kendall
In the aftermath of being accidentally sent a d**k pic from Roman (Kieran Culkin) intended for Gerri Kellman (J. Smith-Cameron), it seems that Logan may well do away with her as payback.
Gerri has worked with Logan for as long as the show has been on, and certainly was a part of Waystar Royco for decades before that.
And yet, because of his son's hubris, Logan is highly likely to act in anger and remove her from the company completely, a company she's worked tirelessly for.
This may well backfire on Logan, because Gerri knows all the company's dirty secrets. While she doesn't seem like the person to want revenge, she might be forced into a corner and join Kendall's side.
With Gerri on his team, Kendall would no doubt have access to all the evidence he needs to take down his dad once and for all.
Gerri could also retaliate by filing a sexual harassment lawsuit against the company, which is something that would bring the cruise line scandal back into the public eye, and undo their deal not to do jail time for it (sorry, Tom and Greg).
2. Greg gets played by Comfrey
Will poor Cousin Greg (Nicholas Braun) ever get a break? Audiences are not sure whether to celebrate his romance with Kendall's assistant Comfrey (Dasha Nekrasova) or whether to resent it.
So far, there has been very little to suggest Comfrey is a bad egg, but as Tom (Matthew Macfadyen) and Shiv (Sarah Snook) have made very clear, Greg is punching above his weight. She also doesn't seem too fussed on everyone's favorite friendly giant (rude).
Maybe Comfrey does genuinely like Greg, but this is Succession and we know that everyone has some tricks up their sleeves.
Is Comfrey spying on Greg for Kendall, or is she with Greg just to annoy her boss? Does she work for Greenpeace, the company Greg is trying to sue? Or does she have her own agenda at play? Let's just hope Greg doesn't get screwed over.
3. Tom ends things with Shiv—but then discovers she's pregnant
What happens in "Sex Vegas" may not stay in Sex Vegas after all.
After Shiv was put in her place by her own mother, she returned home to Tom declaring "Let's have a baby" the second she walked through the door.
Tom, who actually loves his wife and meant everything in his vows, which is more than Shiv can say, caves to her desires, including some serious dirty (and insulting) talk.
In the heat of "Sex Vegas," Shiv told her Tom he wasn't good enough for her and she didn't love him, words the following day Tom couldn't shake. Shiv also changed her mind on having a baby and instead spoke of freezing embryos, for possibly ten years.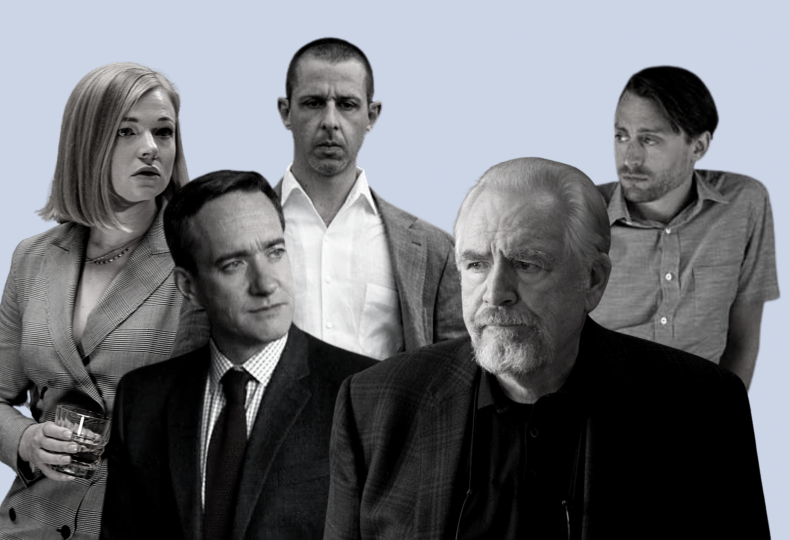 Succession fans haven't forgotten Tom's heartbreaking confession at the end of Season 2: "I wonder if the sad I'd be without you is less than the sad that I am with you." And now that he is not going to prison, perhaps Tom is starting to see the light?
In the finale, there is a good chance Tom could end things with Shiv for good, but what a serious spanner in the works it would be if Shiv is actually pregnant! After all, Shiv is a strong contender for her dad's successor and a future heir could secure the Waystar Royco empire in Shiv and Tom's hands going forward.
Let's just see if Tom will follow his head or his heart.
4. Kendall ends his own life
Succession has long been compared to Shakespeare's King Lear, with tragedy and pathos baked into the very fabric of the plot.
After a fateful night at Shiv's wedding, which saw Kendall and a waiter drive off the road while high on drugs and the former abandoning the site through fear of repercussions, Kendall spent the majority of Season 2 agonizing over his decisions. He became a shell, dictated to by his father Logan because of his knowledge of the incident.
However, at the end of the last season, Kendall rose from the ashes and unexpectedly turned against Logan in a dramatic press conference about the cruise line sexual assault case.
Despite his apparent comeback, though, Kendall is once more in a state of fragility and anguish, as he struggles with his desire to do the right thing, take his dad down, and have a place within his family once more.
Not only is he dejected in Season 3, he frequently talks of death and tries to desperately reach out to his family. He is easily upset by a missing birthday present from his children; he cries after Roman pushes him to the floor; he arrives in Italy with his head shaved and feels slighted by his mother's itinerary; he reaches out to his father for a private dinner to discuss selling his shares.
Finally, in the penultimate episode of the series, Kendall is seen lying face down on a pool lilo, as if contemplating his death.
While in Shakespeare's tragedy, Lear's daughter Cordelia is killed by a hangman upon the orders of Edmund, Kendall could very well end up taking his own life.
5. Logan dies shortly after
If we're sticking to the King Lear theme, the Succession Season 3 finale could also see Brian Cox's character die.
In the play, Lear is so grief-stricken after his beloved daughter's death that he himself dies from his anguish.
Although Logan Roy is certainly domineering and unfeeling on most occasions, he does also refer to Kendall as his "number one boy," and shows rare emotion when he's consoling his son after the crash. It is, therefore, not completely absurd that he would struggle with the loss of Kendall and give up the ghost.
6. Roman and Shiv battle it out to become successor
If, and we do mean if, both Kendall and Logan die at the end of Season 3 then this will leave a power vacuum in their wake.
Roman and Shiv have made no secret of their competition with each other to get the top spot at Waystar Royco, despite their immaturity (Roman) or lack of experience (Shiv).
What we do know is the Roy siblings have never been afraid to be cruel to each other, and this will certainly become a major feature of any storyline that focuses on Roman and Shiv going head-to-head to be named CEO.
7. Lukas shafts Waystar Royco and becomes the majority share owner
Alexander Skarsgård's Lukas Matsson has only appeared in two episodes of Succession so far but he's already made quite the impact and has already demanded that he have equal share of Waystar Royco as part of his merger with them.
While Logan and the Roy family are currently delighted by the prospect of working with Matsson's GoJo, it is more likely to end badly for them.
The Swedish tech mogul seems intent on getting everything his way, and this makes it highly likely he will try to oust the Roy's from the company completely and become the majority shareholder.
It would certainly make sense, given how dated Waystar Royco is in many respects, but it'll be a complete disaster for the Roy family.
8. Kendall Lives and Joins Forces With GoJo
At the moment, it well and truly looks like Kendall's life is in the balance and unfortunately, his fate will not be revealed until the Succession finale.
Team Kendall supporters are hoping the show's anti-hero lives and if so, turns his back on his father, for the third and final time.
At the moment, Logan and Waystar Royco are looking to seal a deal with GoJo CEO, Lukas Matsson (Alexander Skarsgård) and Roman, in particular, is desperate to help his father seal the deal.
Hopefully, the Succession writers decide not to kill off Kendall and Logan gives him the deal he wants, a small $2 billion dividend and "a chunky asset" to keep him afloat.
Perhaps, Kendall will take his shares and new fortune and strike up a deal with Lukas and GoJo, taking down Waystar once and for all.
Succession's Season 3 finale airs on Sunday, December 12 at 9 p.m. ET on HBO.
If you have thoughts of suicide, confidential help is available for free at the National Suicide Prevention Lifeline. Call 1-800-273-8255. The line is available 24 hours every day.