'Succession' Season 3 Finale Recap: The Roy Kids Attend A Red Wedding
Succession Season 3 has come to an explosive end, with Logan Roy (played by Brian Cox) once again being one of the only people to make it out of finale unscathed. In the penultimate episode, his son Kendall (Jeremy Strong) had accepted defeat at the hands of his father, but nobody could have foreseen the outright annihilation Logan had planned for his family.
The good news is: Kendall Roy is alive and the Succession writers were quick to establish that the show's anti-hero had survived to live another day in his wretched world. Sure, Kendall almost drowned, but luckily he was found just in time by his assistant Comfry (Dasha Nekrasova). "One too many lemoncello's, no biggie", Kendall tells his concerned siblings as they (ironically) play a game of monopoly.
On the other hand, Logan has received a call from Karl (David Rasche) who breaks the news that the DoJ is about to hit Waystar with a "historic fine" accompanied by the fact GOJO's market cap has overtaken Waystar's and Lukas Mattson (Alexander Skarsgård) is considering "entertaining other options".
Ultimately, this isn't good news for Logan who effectively wants to buy GOJO and merge the two companies as part of his media empire.
Logan and Roman (Kieran Culkin) head for Mattson's lake-house and once again Shiv (Sarah Snook) is sidelined. Maybe it's a good thing that Shiv was left out of this one because Logan and Roman have a particularly uncomfortable discussion about the whole sending-a-picture-of his-penis-to-Gerri (J. Smith Cameron) fiasco in Episode 8. Logan fires questions about Roman's fear of women and his sexual preferences and with Roman having nothing to say, Logan ends the conversation with a slight threat: "If you need to be straightened out, get straightened out"—with an emphasis on the word straight.
Over at Mattson's, Logan wastes no time in asking the big question: "are you in or out?" Once again, Mattson dances around giving an actual answer but makes it pretty clear Waystar is an out-of-date company he is reluctant to work with... unless Logan appoints him as his successor.
With Logan sending Roman back to Tuscany so he can talk through things with Mattson in private, Roman decides to join his siblings Shiv and Connor (Alan Ruck) at lunch. They've invited Kendall to join and as expected, things do not go according to plan. Shiv and Connor start by telling Kendall they love him and are worried for his welfare but Kendall instantly gets defensive, insisting he did not try and kill himself and instead "fell off his floaty."
As if Kendall wasn't vulnerable enough, he says to his siblings "do you know what it's like, as the eldest son, to be promised something?" alluding to Logan's decision to not appoint him as successor. This triggers Connor, who has also just learned he has been kept in the dark about the Mattson deal. For the first time in three seasons, Connor, who has been dismissed by his siblings and own father as a serious successor, snaps: "I'm the eldest son!" he shouts at his family before storming off. Go Connor!
Elsewhere, Karl and Frank (Peter Friedman) have arrived in Tuscany, Greg (Nicholas Braun) is flirting with both Comfry and a Duchess, Willa is (Justine Lupe) having a meltdown over her decision to marry Connor, and Marcia (Hiam Abbass) is back on the scene, putting Kerry (Zoe Winters) in her place (but not if Logan gets her pregnant first).
And now for the main event... Succession's Red Wedding.
As the wedding celebrations go on, Shiv and Roman have heard through the grapevine Logan is planning to sell Waystar Royco to Mattson. Things have gotten so bad, they have had to ask for Kendall's help.
As Shiv and Roman panic, Kendall falls to pieces on the ground, literally and metaphorically. He confesses to Shiv and Roman he killed the waiter at Shiv's wedding. Shiv and Roman are in total disbelief and attempt to comfort their older brother the only way they know-how, with self-deprecating jokes. However, as Kendall sobs, we start to see the more humane side of Shiv and Roman when they cave in and properly comfort their broken brother. It's the first time we've seen Kendall smile in a long time.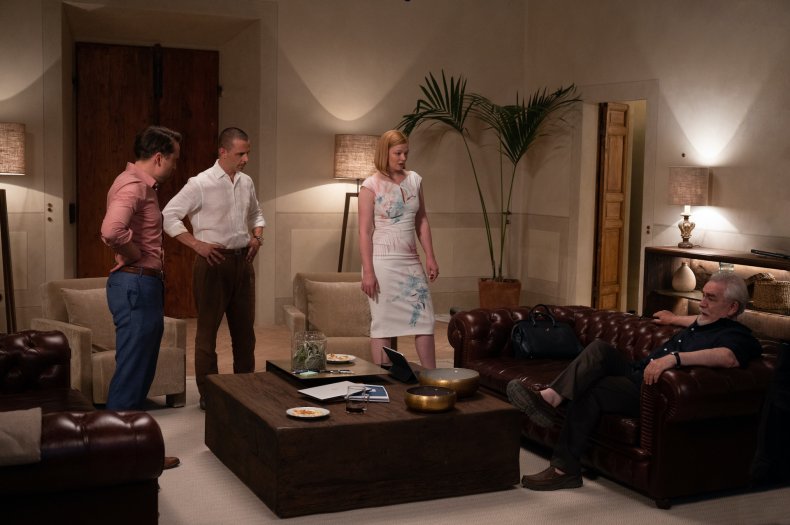 The trio head straight for Logan's place, where he has locked down with Gerri, Kerry, Frank, and Karl. On the way there, Kendall, Shiv, and Roman decide the only way to protect their futures is to block their father's deal. They know that for Logan's deal with Mattson to work, he needs a supermajority in the holding company, and Shiv, Roman, and Kendall all have a vote, thanks to their mother Caroline AKA Scary Poppins (Dame Harriet Walter) who made sure they had a place in her and Logan's divorce agreement — perhaps the only good thing she has ever done for them.
At Logan's villa, Logan confirms to his kids he plans to sell to Mattson but insists their futures at Waystar will not be compromised — until Shiv, Roman and Kendall reveal they plan to block his plans to change control.
In emotional scenes, Roman pleads with his father to not go through with the deal. "What do you have to give?" Logan demands to which Roman replies "I dunno, love?". Sadly, that was not enough to sway Logan, who instead ridiculed his son for even mentioning the four-letter word. Not even Gerri was willing to save Roman this time around. Next season, expect to see a broken Roman who learnt the hard way the people he loves the most, do not love him the same.
Logan then proceeded to call Caroline, who revealed to her kids she had given up her own and their place in the holding company as part of a re-negotiated divorce settlement with Logan, effectively bringing Kendall, Shiv, and Roman's coup to an end.
However, to get Caroline on the phone, Logan must have known his kids were coming to take him down and the only person in the family who knew of the Roy siblings plans was Shiv's husband, Tom (Matthew Macfadyen).
Tom waltzed into the room looking concerned for Shiv, but moments before he was greeted with a pat on the shoulder from Logan, ultimately confirming where his loyalties lay.
This entire time, it seems like Tom had been playing the long game. His loyalty to Shiv had been dwindling since Season 2 and when Shiv made it pretty clear she didn't love him during the trip to Sex Vegas in Episode 8, and there was nothing to keep him on her side any longer.
Tom also managed to make a deal with Greg who agreed to serve as his "attack dog" going forward, but whether Greg is aware of the severity of the situation he has signed up too, is unknown for now.
Going into Season 4, it looks like Shiv with the help of Kendall and Roman will be going to war: we just didn't think it would be against her husband and father on the same team.
Succession is streaming on HBO Max now.