America's worst family is back on our screens after two years and judging by all the events of Season 2, the Roy family members are on the brink of an all-out war in Succession Season 3.
Newsweek has everything you need to know about Season 3, including the release date, cast, trailer, plot and more.
When Does 'Succession' Season 3 Start?
Succession Season 3 will premiere on HBO at 9 p.m. ET on Sunday, October 17.
There are nine episodes in the new series, which will drop every week. That makes this season one episode shorter than the previous two. The finale is slated to air on Sunday, December 12.
To watch Succession, you must be an HBO network customer. Alternatively, you can subscribe to HBO's streaming platform, HBO Max, on which episodes will be available for $14.99 per month.
Unfortunately, U.K. fans will have to wait 24 hours after the U.S. release each week to watch the new episodes of Succession.
The series will air every Monday at 9 p.m on Sky Atlantic and NOW.
Who Stars in 'Succession' Season 3?
The entire main cast has returned for the third season of the black-comedy drama.
That means the Roy family is back, consisting of Brian Cox as the family patriarch, Logan Roy, Alan Ruck as the oldest sibling Connor Roy, Jeremy Strong as the dark and determined Kendall Roy, Sarah Snook as the sensible and smart daughter Shiv Roy, and Kieran Culkin as the loveable rogue, Roman Roy.
Matthew Macfadyen is back as Shiv's husband Tom Wambsgans, and Nicholas Braun returns as the Roy's loveable cousin Greg.
J. Smith-Cameron also returns as Logan's henchwoman Gerri, Peter Friedman is Frank Vernon, COO of Waystar RoyCo, Hiam Abbass is back as Cox's wife, and Justine Lupe returns as Connor's escort-turned-girlfriend, Willa.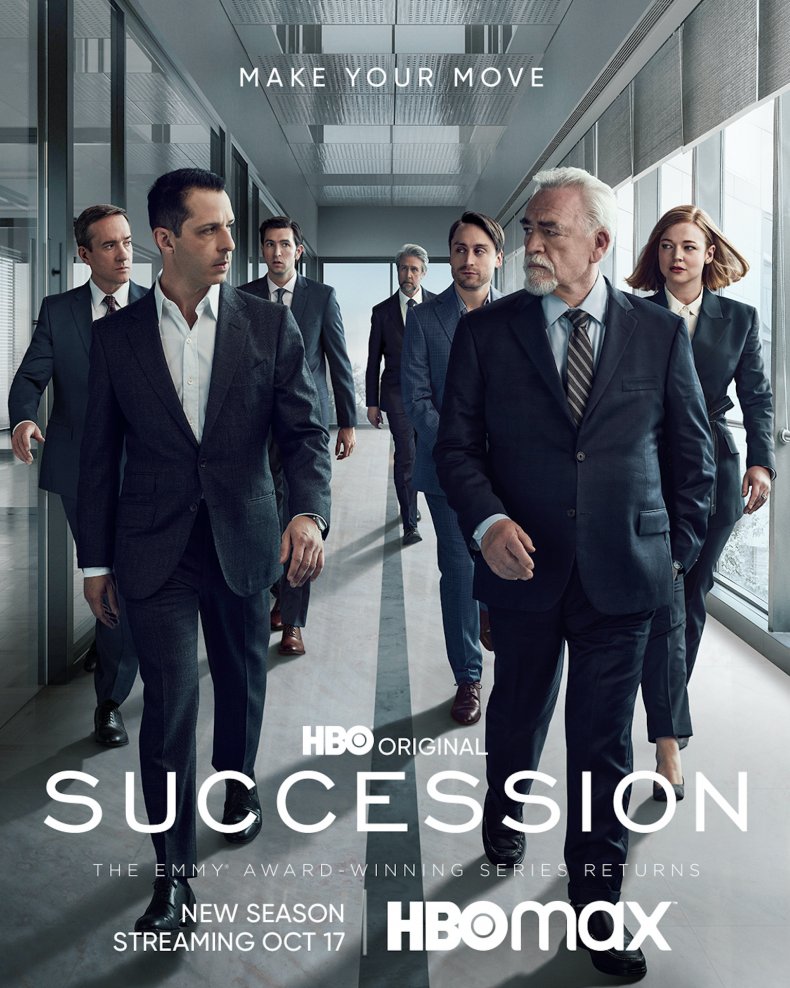 There are also some new faces joining the Succession family in Season 3.
The Affair's Sanaa Lathan joins the cast as Lisa Arthur, a lawyer fighting for Kendall, and Peaky Blinders' Adrien Brody stars as Josh Aronson, a billionaire investor.
Madam Secretary's Linda Emond will play the role of senior White House aide Michelle-Anne Vanderhoven and Mortal Engines star Jihae will play leading public relations consultant Berry Schneider.
Big Little Lies star Alexander Skarsgård joins Succession as a controversial tech founder and CEO called Lukas Matsson and Captain America's Hope Davis will play Sandi Furness, the daughter of Logan Roy's rival, Sandy Furness (Larry Pine).
Some familiar faces will also be returning including Arian Moayed as Stewy Hosseini, Natalie Gold as Rava Roy, James Cromwell as Ewan Roy, David Rasche as Karl Muller, and Fisher Stevens as Hugo Baker.
What Will Happen in 'Succession' Season 3?
Season 3 of Succession will pick up from the almighty fallout between Kendall (played by Jeremy Strong) and his father Logan Roy (Brian Cox).
In a twist nobody saw coming, Kendall (once again) betrayed his father and sold him out, announcing Logan knew about the abuse of power within Waystar RoyCo, including the cruise cover-up from Season 1.
However, as Kendall announced the damaging news, Logan watched on with an unsettling smirk on his face.
Speaking to Variety about Logan's unusual response, Cox said: "The interesting thing is there are several things added to that smile.
"There's pride, there's audacity, there's a surprise, there's respect, there's devilishness – there are so many elements to that."
Elsewhere, Shiv (Sarah Snook) and Tom's (Matthew Macfadyen) marriage appeared to be on the rocks after Tom tearfully told her he wasn't happy with their open marriage.
In a fleeting moment of complete vulnerability, Tom admitted to Shiv: "I wonder if the sad I'd be without you, would be less than the sad I get from being with you."
Despite their fight, it was clear Shiv was willing to do anything to protect her husband and begged Logan not to make Tom the company scapegoat.
The synopsis for the new series teases: "Ambushed by his rebellious son Kendall at the end of season two, Logan Roy begins season three in a perilous position. Scrambling to secure familial, political, and financial alliances, tensions rise as a bitter corporate battle threatens to turn into a family civil war."
Is There a Trailer for 'Succession' Season 3?
Yes, there is a trailer for Succession Season 3 and it looks like Season 3 is set to be the most intense yet.
The trailer kicks off with Kendall announcing he "dropped a bomb" on his family and it looks like the Logan family is going to war.
Kendall can be seen at a WayStar RoyCo HQ stating: "The revolution will be televised!" while Logan is held back by his family.
The trailer teases Shiv may be on Kendall's side, but only if he lets her take over if Kendall successfully grabs power.
May the best Roy win!
Succession Season 3 premieres on Sunday, October 17, at 9 p.m. E.T. on HBO Max