'Suck on It,' Alex Cora Tells Boston Red Sox Parade Crowd About Beating Yankees
Speaking at the team's victory parade on Wednesday, Boston Red Sox manager Alex Cora had choice words for people who doubted the newly crowned champions. He said those who thought the team would fall to the New York Yankees in the American League Division Series (ALDS) could "suck on it."
"Think about it, the New York Yankees, yeah the sky was falling," Cora said to the crowd at the parade. "You know, we lost Game 2 and it was panicking here. Everybody was like, 'Whoa, it's over. We scored 16 [runs] at Yankee Stadium. Suck on it."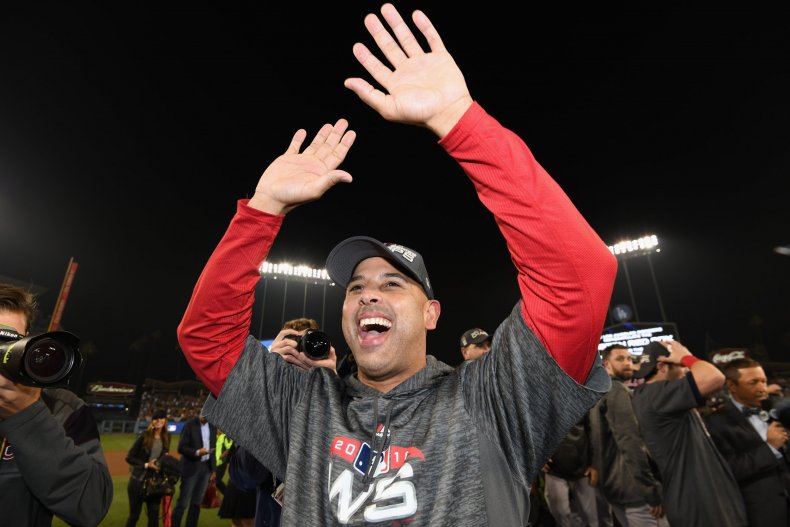 Boston had an incredible season its way to the championship. They won a franchise best 108 games in the regular season and largely cruised to the championship, winning both the ALCS and World Series in just five games.
"What a season," Cora said after the team clinched the World Series, via Boston.com. "Everything starts with these guys. They're very talented. From Day 1 in spring training, they've been very consistent as far as preparation, going about the business. What a way to end it."
The parade on Wednesday was full of interesting moments, including the Cora "suck on it" moment and pitcher David Price indicating he would return to Boston next season. In fact, he said he would opt-in to a clause in his contract that would keep him in town through 2022.
"I'm opting in," Price said. "I'm not going anywhere. I want to win here."