Sucker Punches, Dead Goats and a Heroic Grocery Bagger: A Look Back at the 2014 College Football Season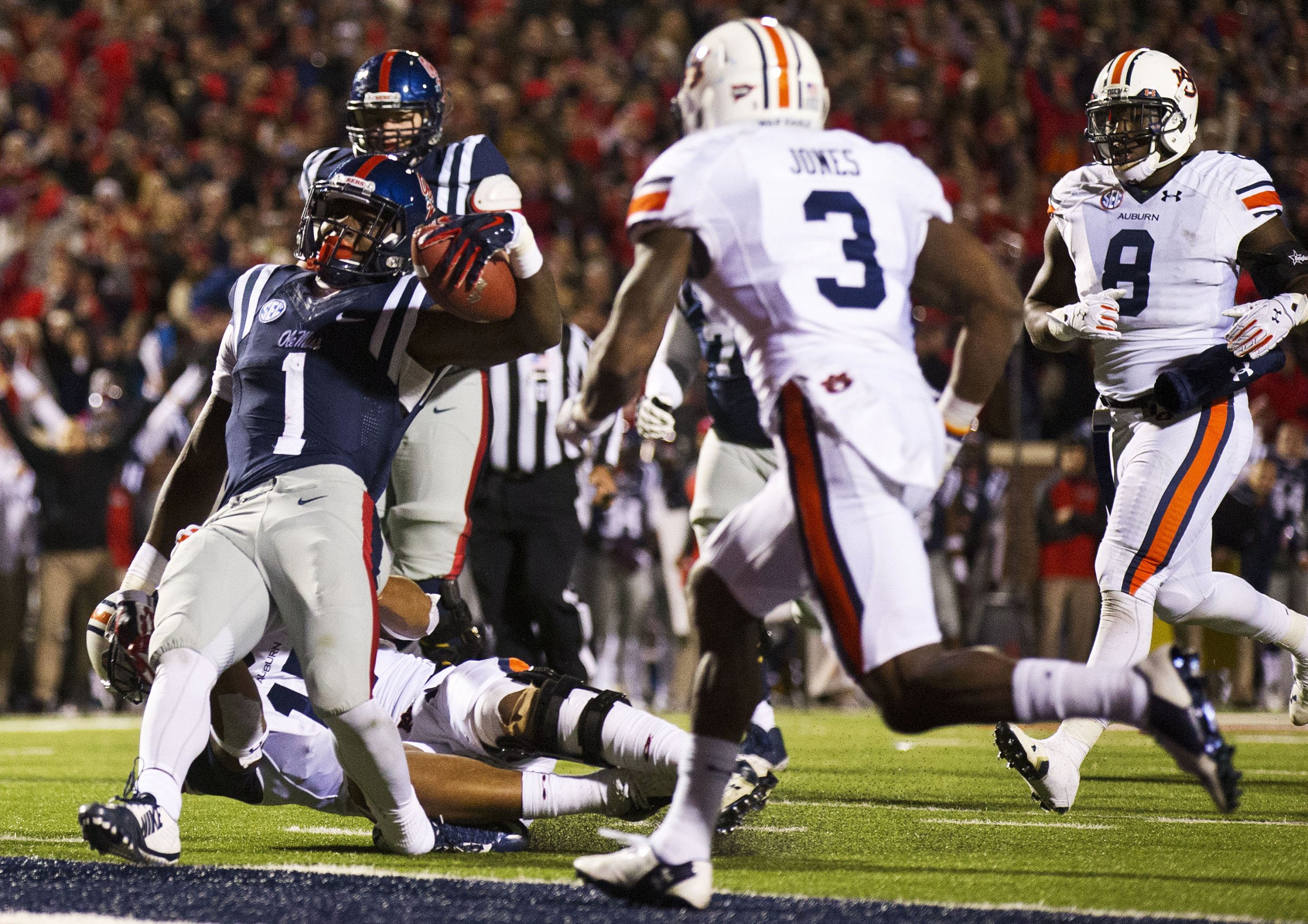 This is the first in a two part look at the 20 most memorable moments of the 2014 college football season. Look out for part two Friday.
The 2015 college football season kicks off tonight in Salt Lake City, as Michigan visits Utah to begin a five-day Labor Day weekend of college pigskin hedonism. Before we dive in, let's take one last look back at 2014, a landmark season that heralded a new "playoff" era but also included an over-serving of bizarre and unforgettable moments.
September 13 Trickeration achieved a new plateau of thespianism when Arkansas State's Booker T. Mays III feigned fainting on a fake punt. Officially, Mays's deception is known as "the fainting goat" and while he played his role well, the team's performance was a disaster. Miami intercepted the pass and Hurricanes linebacker Thurston Armbrister trucked Mays as he attempted to rise from the dead.
September 13 The Georgia Bulldogs were ranked No. 6 and had Heisman-favorite Todd Gurley, a human dynamo, in their backfield. The Dawgs trailed South Carolina 38-35 late but a Gamecock interception gave the Dawgs first and goal at the four. On first down, Georgia coach Mark Richt eschews handing off to Gurley, who already had 128 yards rushing, and opts for a pass. Quarterback Hutson Mason is called for intentional grounding for a 10-yard loss. Two plays later, the Dawgs missed a potential game-tying field goal and lost.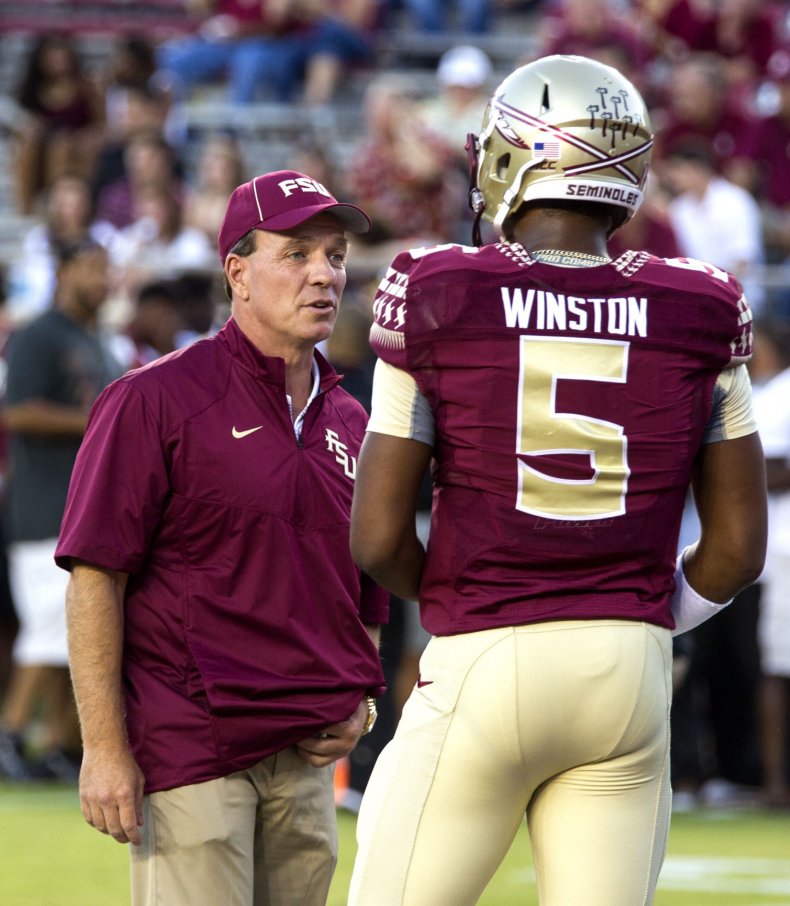 September 20 After social media outed Florida State's Heisman Trophy-winning quarterback, Jameis Winston, for standing atop a lunch room table in the student union and shouting a vulgar phrase (mimicking an internet meme), school officials announced that he would be suspended—for the first half—against Clemson. A national outcry prompted the Seminoles to announce, on the eve of the game, that Winston would be suspended for the entire contest.
Winston apologized two days before the game, then ran onto the field for pre-game warmups in full pads and helmet. Florida State coach Jimbo Fisher then told him to return to the locker room and change into spectator gear. The Seminoles won 23-17 in overtime.
September 20 It's Raining Hail Marys: Arizona, Arizona State and Central Florida all won on Hail Mary passes. The Wildcats scored 36 points in the fourth quarter at home against Cal to win 49-45, their final score coming on a 47-yard TD pass as time expired. Two weeks later the Sun Devils scored three touchdowns in the final 3:53 to stun USC, 38-34, at the Coliseum. The game ended on a 46-yard heavenly heave from backup quarterback Mike Bercovici to Jaelen Strong as the clock hit 0:00. In December the Golden Knights squandered a 17-point fourth quarter lead at East Carolina, but still won when Justin Holman's 51-yard epistle landed in the arms of Breshad Perriman in the end zone for a 32-30 win.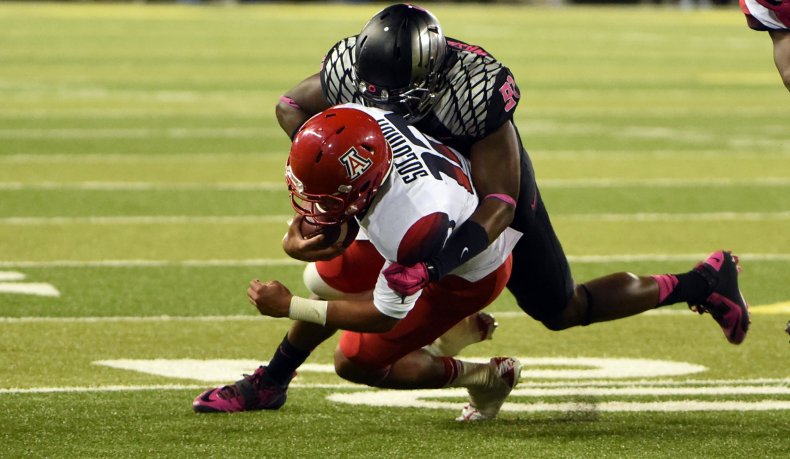 October 2 On a Thursday night in front of a raucous sellout crowd at Autzen Stadium (its 100th consecutive sellout), 24-point underdog Arizona finds itself tied 24-24 with No. 2 Oregon late. On third-and-goal from the Duck 9, Wildcat quarterback Anu Solomon is sacked for an 8-yard loss. 4th-and-17? Not so fast. Tony Washington Jr., the player who sacked Solomon, runs 25 yards upfield and performs a martial arts bow, for which is penalized for taunting. The Cats are given an automatic first down and score the winning TD three plays later.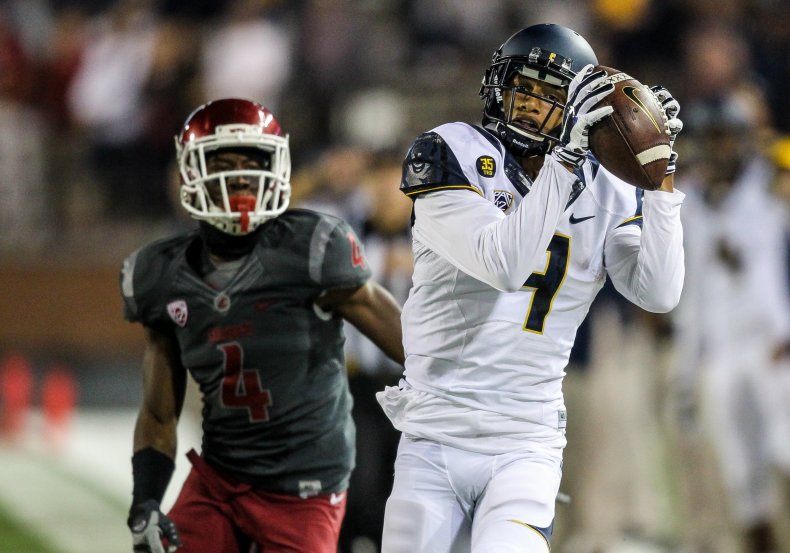 October 4 In what was the most bizarre Pac-12 After Dark contest of the year, Washington State's Connor Halliday threw for an NCAA-record 734 yards on 49 completions—and lost. The Cougars fell to Jared Goff (527 yards passing, 37 completions) and Cal, 60-59, in a game that saw both sides post 28 points in the third quarter.
Pity Halliday: After throwing 70 passes (six of them for TDs) and leading Wazzu to a first-and-goal at the Golden Bears' 4, his coach, Mike Leach, called two consecutive runs, netting two yards, before attempting the game-winning field goal, a 19-yarder, on third down. It missed.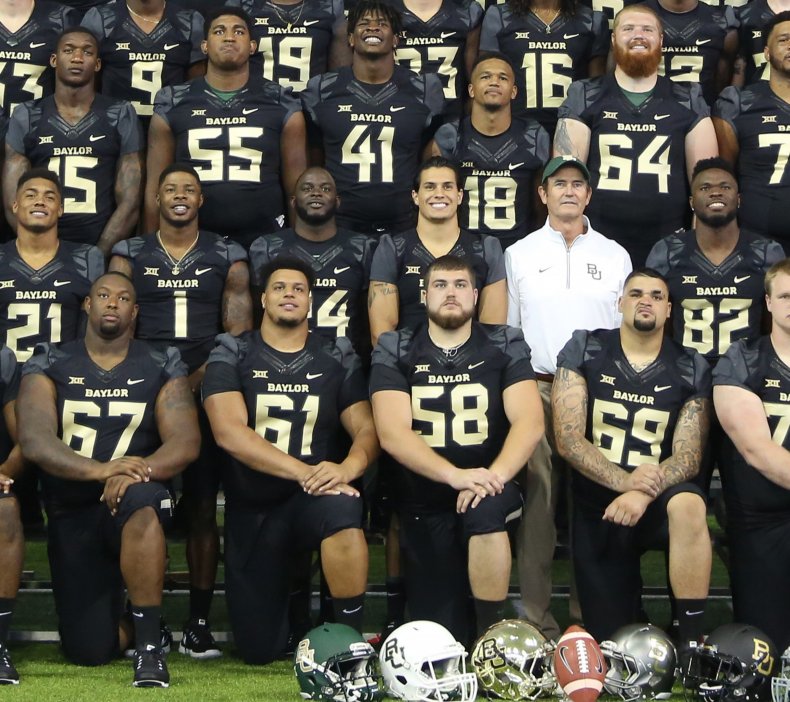 October 11 In a battle of top 10 Lone Star State programs, neither based in Austin or College Station, No. 9 Texas Christian led No. 6 Baylor 58-37 early in the fourth quarter. The Bears scored 24 unanswered points in a breathless final 11 minutes to win 61-58. When Baylor lined up for its team photo this summer, the players wearing Nos. 61 and 58 were placed side by side.
October 18 Notre Dame entered Tallahassee 6-0 but still big underdogs to undefeated defending national champion Florida State. The Irish appeared to win when quarterback Everett Golson lofted a short touchdown pass to wideout Corey Robinson, who was all alone in the end zone. Then, a penalty flag. Offensive interference, Irish. The Seminoles won and remained unbeaten. Five weeks later Notre Dame coach Brian Kelly used the same play with the same players and formation to register a TD versus Louisville. No flag.
November 1 No. 3 Auburn (6-1) leads No. 4 Mississippi (7-1) in Oxford, 35-31, with less than two minutes to play. Rebel quarterback Bo Wallace tosses a bubble screen to wideout Laquon Treadwell, who weaves through traffic and is just three yards from paydirt when Tiger linebacker Kris Frost catches him from behind. As Frost drags Treadwell down, the sophomore receiver breaks his leg and fumbles inches before the goal line (officials initially ruled it a touchdown before overruling the call). Auburn recovers and wins, while Ole Miss's playoff dreams and Treadwell's season come to an abrupt end.
November 1 Georgia entered its annual rivalry game against Florida in Jacksonville with just one loss and a No. 9 ranking The Gators were huge underdogs, with a .500 record and a coach, Will Muschamp, who would soon be fired. Trailing 7-0 early in the second quarter, Florida lined up for a field goal. Holder Michael McNeely, a 5'8" walk-on who had a job on Sundays bagging groceries, took the snap and ran 21 yards untouched for a touchdown. The Gators would go on to rout Georgia 38-20 for their first win in the series in four years.