Policy wonks like to have a theory of change. If X and Y happen, then Z will be achieved.
For Sudan, the U.S. government's theory of change seems to go like this: If we support a deal among the Sudanese military who took power back by force and political elites , we will see civilian-led democracy come to Sudan.
That's magical thinking. U.S. officials believe that the same military actors who staged a coup to stop democracy will now give up power with no deterrents or financial costs. One thing I've learned over 20 years working on Sudan is that its leaders play the long game. They're already finding ways to deflect pressure from the international community. The United States welcomes small cosmetic actions, while real change remains elusive.
On May 29, Sudan's military leaders announced the end of a 7-month state of emergency and the release of political detainees. U.S. officials welcomed the announcement. But since then, more people have been killed or injured and dozens of peaceful protesters arrested. Washington issued no condemnations except a joint statement with other countries noting the killing of the 100th civilian since the coup.
U.S. officials need to take the blinders off. Sudanese military leaders will not change without pressure. The United States should urgently wield smart, individually targeted sanctions, including travel restrictions and other consequences for any violence.
The people's revolution of 2018-2019 was a formidable challenge to the corrosive power structure that repressed Sudanese for decades. A joint civilian-military transition led the country for a little over 2 years until a military coup last October. Among the Sudanese autocrats now back in power are those with a violent and corrupt track record, including those from former President Omar al-Bashir's rule.
These autocrats and military actors committed crimes against humanity, ethnic cleansing in Darfur—which the United States declared a genocide—while maintaining their economic stranglehold over the country. Over time, new actors began to lead the abuses, some of whom are now sitting in Khartoum making decisions about Sudan's future.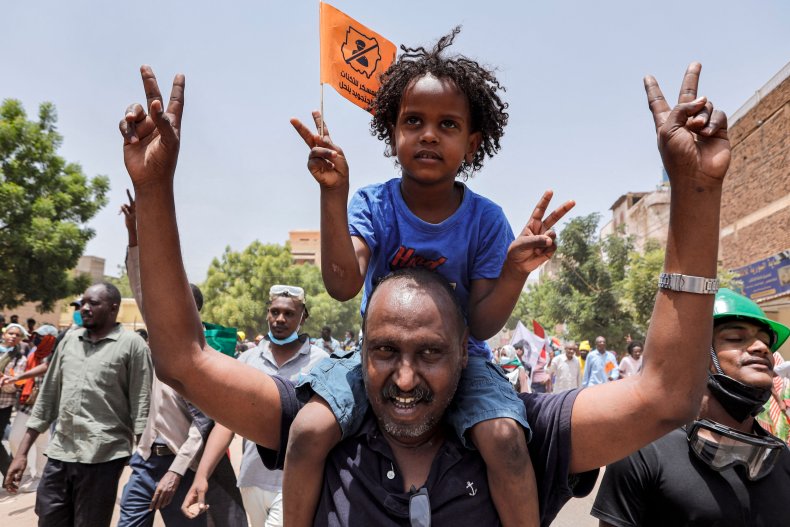 Resistance committees, civilian groups created out of the revolution in 2018, insist on a civilian-only transition and call for abusers to be held to account. These priorities should guide a more strategic theory of change for U.S.-Sudan policy.
Here are some lines of effort for U.S. policymakers to consider that put human rights and the Sudanese people at the center:
—Engage with pro-democracy civilian actors, including the Sudanese Protest Movement. The U.S. government should prioritize the demands of the protest movement in U.S. engagement with military leadership.
—Stop using rhetoric that accepts violence. The U.S. Embassy recently called for Sudanese forces not to use "excessive violence" on civilians marking the anniversary of the June 2019 massacre. U.S. officials should set a higher bar of "no violence," and lay out tangible consequences for any civilians killed, seriously injured or ill-treated, including sexually assaulted, by military forces.
—Sanction bad actors. U.S. officials have made it known that they don't want to sanction the Sudanese leadership—needlessly throwing away one of the better levers in the U.S. tool kit. A steady stream of targeted sanctions including travel restrictions would be smarter. A strategy I coordinated for the Democratic Republic of the Congo from the National Security Council as its Africa director in 2017-2018 used financial sanctions and visa restrictions that were ratcheted up over time. That's a possibility for Sudan too, since current military leaders have been linked to gold mining, state-owned enterprises, and other businesses sanctionable under U.S. law.
—Use Global Magnitsky to Cut Off Military Resources. The U.S. issued a business advisory at the end of May that warned U.S. entities operating in Sudan about corruption. But since the military owns nearly everything, one key action to stop abuses is to disrupt their resource stream. That's why military leaders pushed back against civilian oversight over their enterprises before their coup. Strategic use of the Global Magnitsky Sanctions regime's corruption provisions could help erode one source of ongoing violence against civilians.
—Don't ignore justice and accountability. Letting accountability slide perpetuates impunity and violence. The United States should strengthen its support of local activists and lawyers and help collect and analyze evidence of violence. It should press military actors to stop unlawful detention and arrests, and facilitate investigations into violence during the transition, like the massacre of at least 120 people during protests on June 3, 2019. And, as part of the U.S. government's recently observed support for international justice through the International Criminal Court (ICC), it should push Sudanese leaders to hand over the three suspects in their custody who face ICC charges for atrocities in Darfur, including former President al-Bashir. Supporting independent efforts to strengthen domestic accountability prospects would also help stop the cycles of impunity.
I don't doubt that the United States wants to see a democratic Sudan. But it needs to course correct. Tangible deterrents and consequences for abuses—in addition to support for justice and accountability—would show that the United States truly understands what it means to be an ally to one of the most inspiring civilian struggles for freedom and democracy in the last decade.
Nicole Widdersheim is the deputy Washington director at Human Rights Watch and a former Africa director at the National Security Council.
The views expressed in this article are the writer's own.