Sudanese Government Special Forces Accused of Rape and Murder Sprees: HRW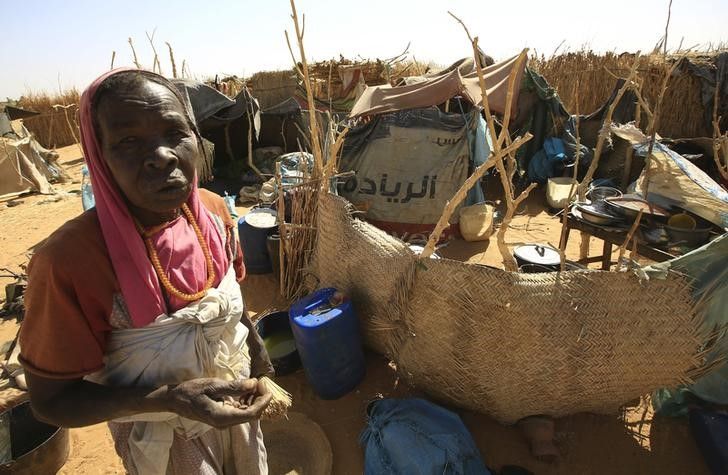 Human Rights Watch in a new report accuses Sudanese government special forces of engaging in two sprees of rape and murder in the villages around the western region of Darfur and says the forces could be guilty of war crimes and crimes against humanity.
The Sudanese government's Rapid Support Forces (RSF) committed "widespread and systematic" atrocities against civilians in two separate counterinsurgencies in Darfur in 2014 and 2015, including torture, murder and mass rape, Human Rights Watch charges. The report is the latest allegation of human rights abuses in a conflict which began in 2003.
Sudan's president, Omar Hassan Ahmad Al Bashir, took power in 1989 in a military coup and has been battling rebels since 2003, resulting in hundreds of thousands of deaths and the displacement of millions of people. The RSF, created by the Sudanese government in 2013 were typically deployed to rebel-controlled areas in Darfur.
Human Rights Watch interviewed 212 victims and witnesses of the Darfur attacks between May 2014 and June 2015. According to these witnesses and victims, two attacks by the RSF occurred in villages around Darfur where there were no rebels. During the time of the attacks, the RSF was believed to have been between 5,000 and 6,000 people strong, Jonathan Loeb, a fellow at Human Rights Watch and author of the report, said during a press briefing at the U.N. headquarters in New York City on Wednesday.
Civilians were mostly killed in both RSF operations because they refused to surrender livestock to the militia or attempted to resist when they or family or friends were being raped, Loeb said.
"Conflict has been raging in Darfur for 12 years, and this report bears a very eerie resemblance to reports that were produced by Human Rights Watch in 2004 and 2005," said Loeb. "Darfur is still one of the worst conflicts in the world, and it's not being treated that way."
Loeb added that the country's rains tend to bring about a pause in fighting and that the types of abuses documented by Human Rights Watch could start again once the dry season begins in November.
Al Bashir was indicted by the International Criminal Court in 2009 on charges of genocide, crimes against humanity and war crimes. He is not expected to attend the U.N. General Assembly meetings later this month, according to the Sudan Tribune.
The RSF's brutality has led to accusations that it is a rebranded version of the Janjaweed, the government-sanctioned Arab militias responsible for helping to commit mass killings in Darfur since 2003. Last year, the Enough Project, a Washington, D.C.–based nonprofit focused on ending genocide in Africa, called the RSF a "reincarnation" of the Janjaweed. About 400,000 people have been killed since the start of Darfur's genocide and 2.5 million people have been displaced, according to the United Nations Human Rights Council, figures the Sudanese government disputes.
While Loeb said the RSF is committing "similarly terrible and horrific abuses" as the Janjaweed, Human Rights Watch said they did describe them as being part of the group as the composition of the Janjaweed, like the RSF, is difficult to determine, so equating the two groups is "not precise enough."
Witnesses to one of the RSF attacks, which took place in Golo, Jebel Marra district, in western Sudan in January 2015, said women were raped in front of their community members. Golo residents were informed by the government that forces would come to the village to search for rebels and were advised to take refuge in the hospital—where witnesses say women were also raped.
"What we've documented is that when the RSF came back from fighting the rebels, they arrived in the town and they immediately started to loot and beat civilians," said Loeb. "They turned the hospital from a place of refuge into a de facto prison where many civilians were detained over the course of three weeks after this attack. We believe a dozen, if not more, women were raped."
The rape survivors have not had access to psychosocial or medical support, according to the report.
Human Rights Watch has called on the Sudanese government to disarm and disband the RSF and prosecute those responsible for the alleged attacks. It also wants UNAMID, the African Union-United Nations peacekeeping mission in Darfur, to step up its protection of civilians and its investigation of human rights abuses, as well as demand access to besieged areas, Human Rights Watch said.
"We realize access is an issue for the mission," Philippe Bolopion, United Nations director and crisis advocacy director at Human Rights Watch, said on Wednesday. "The mission is being denied access to many of these areas, so are we, and yet Jonathan [Loeb] and some of our colleagues were able to report on these abuses."
"We believe that if we can do it, the U.N. also can do it," Bolopion said.
UNAMID said it has repeatedly tried to gain "immediate and unfettered" access to areas in Darfur experiencing fighting between government forces and rebels, including Jebel Marra, and continues to provide humanitarian assistance to those parts of the country it has been able to reach, a U.N. peacekeeping official said in a statement emailed to Newsweek on Wednesday.
"The work of UNAMID's human rights component has also been seriously curtailed ever since the mission called on the government of Sudan to grant it access to Thabit, in North Darfur, to investigate allegations of rape," the official said, referring to allegations of the mass rape by the Sudanese military in October 2014.
Sudanese authorities did not responded to a letter sent on August 12 by Human Rights Watch, the group said. The Sudanese government also did not respond to request for comment by Newsweek by the time of publication.