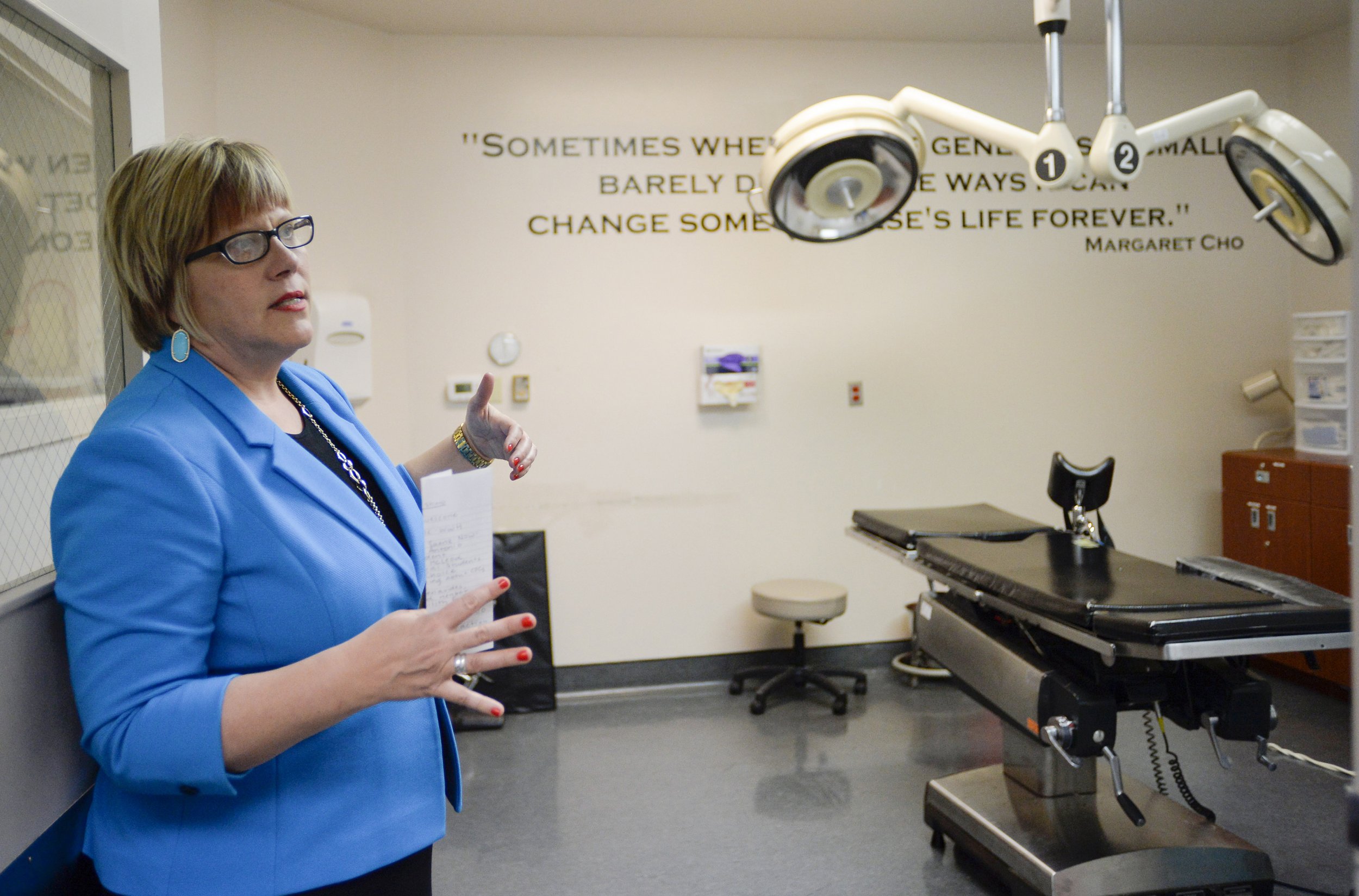 Between 2013 and 2014, Texas experienced a 14 percent decline in abortions performed in the state—the sharpest drop in a decade, according to new statistics released from the Texas Department of State Health Services.
This decline, representing 8,977 fewer procedures, is much steeper than what has been seen nationally, where the abortion rate decreased a little more than 4 percent annually between 2008 and 2011.
Texas state officials quickly proclaimed the sudden drop a win, saying it indicated a reduced demand for abortion among Texan women. But what's happening in Texas warrants a closer look before celebrating.
This abrupt decline in abortion happened right after the restrictive Texas law known as HB2 went into effect, which led to the closure of more than half of abortion clinics in the state, where 5.4 million women of reproductive age live.
The section of the law requiring doctors to obtain admitting privileges at nearby hospitals has led to a 42 percent decline in the number of physicians providing abortion in the state since 2013.
Fewer clinics and fewer doctors mean longer travel distances to an open clinic, higher costs to women and significantly longer wait times to get an appointment, all of which have been extensively documented in studies from the Texas Policy Evaluation Project, which I co-lead.
In our research, we have interviewed women who wanted to obtain an abortion, but were unable to do so. Some even had appointments scheduled, but when clinics closed because of HB2 and their appointments were canceled, these women faced logistic and financial burdens that were simply too great to overcome, and they were forced to continue the pregnancy.
One woman we interviewed, a mother of two, was so unlucky that both of the nearby clinics where she scheduled appointments closed. She was unable to figure out how to get to another open facility that was farther away, saying, "I didn't know what else to do, who else to call."
While some may see every abortion averted as a life saved, there is substantial evidence of harm associated with forcing women to carry an unwanted pregnancy to term. For instance, the risk of death in childbirth is 14 times higher than the risk associated with abortion.
Beyond medical complications, there are undoubtedly social costs to being denied a wanted abortion, as the landmark Turnaway Study is documenting. Women forced to have an unwanted baby after seeking an abortion are more likely to remain in a relationship with an abusive partner and less likely to have or achieve aspirational life plans such as finishing school as compared to women who obtain an abortion.
Some Texan women are responding to the restrictive policies at home by seeking care out of state, and surely that accounts for part of the drop in abortions. But not all women have the luxury of this option; only those with resources, who can get time off work and arrange child care, can afford to travel.
Regardless of the fact that these women may eventually get the care they want, having to travel out of Texas is a clear failure of the state to make basic health care available to all its residents.
It's important to recognize that the official Texas statistics do not include women who obtain abortion outside the medical system and instead take or do something on their own to end the pregnancy.
In a recent representative survey, we found that 1.7 percent of Texas women age 18 to 49 reported having attempted to induce an abortion on their own at some point in their lives. Another recent analysis of Google searches nationwide found more than 700,000 queries in 2015 related to self-induced abortion.
Some of the decline in the official abortion rate in Texas may actually be due to women choosing self-induced abortion over clinic-based care, likely because of increased barriers to accessing the latter.
Outside of Texas, the declining abortion rate may very well reflect a reduced demand for abortion. Research in Iowa, for example, found that the declining abortion rate was clearly associated with increasing use of long-acting contraceptive methods such as the implant and IUD.
But that's not the story in Texas, where the legislature in 2011 slashed the budget for family planning services by two-thirds and excluded specialist family planning providers from state-funded programs. While the family planning safety net for low-income women is beginning to be rebuilt there, our research has documented significant barriers to obtaining the smost effective contraceptive methods.
When the Supreme Court heard oral argument for the case of Whole Woman's Health v. Hellerstedt last month, the question of undue burden was at the center of the debate. The precipitous drop in abortions after HB2 went into effect adds to the growing evidence of the insurmountable burdens on women imposed by the closure of clinics across the state.
If the Court allows the final provision of HB2 requiring all facilities to meet the standards of ambulatory surgical centers to go into effect, half of the remaining clinics will close, even further restricting access to safe abortion in the state.
Should that occur, we can expect an even greater drop in the number of abortions performed in Texas. But the negative impact on the health and well-being of Texas women will not be cause for celebration.
Dr. Daniel Grossman is an investigator at the Texas Policy Evaluation Project and professor in the Department of Obstetrics, Gynecology and Reproductive Sciences at the University of California, San Francisco, where he is the director of Advancing New Standards in Reproductive Health.