The Suddenly Quiet McCain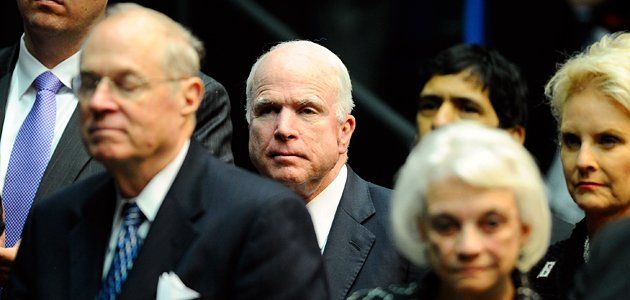 As politicians across the spectrum weigh in on the Arizona shooting, the state's senior senator has been surprisingly silent. Eve Conant on McCain's low profile—and the calculus behind it.
Barack Obama jump-started his presidency. The local sheriff became a national figure overnight. And Sarah Palin once again rallied her base while enraging everybody else. Politicians all over the country have been speaking out to great effect—positive and negative—about the Arizona shootings and the toll they've taken. But one normally voluble elected official has been conspicuously quiet amid the din. After releasing a powerful statement branding Jared Lee Loughner a "disgrace to Arizona, this country and the human race," the state's senior senator has gone radio silent. You have to wonder: Where the heck is John McCain?
The decision by Arizona's best-known statesman, whose own style of speech has grown increasingly heated in recent years, to stay out of the fray has baffled political observers and colleagues alike. "He's usually on national media all day on a variety of issues, [but] he hasn't been talking on this one," says Democratic Rep. Raul Grijalva, who represents part of Tucson. The congressman isn't criticizing McCain's decision, but says the senator's voice will be needed soon. "It would be helpful for all of us to deal with the question of rhetoric, hyperbole, hate, and anger. McCain has national prominence and prestige and it would be welcome for him to come and help change the tone."
But McCain has no plans to speak publicly, nor is the possibility even being discussed. "Senator McCain is not trying to politicize this tragedy, period," says his spokeswoman Brooke Buchanan, who was reached by cellphone at University Medical Center in Tucson, where McCain was visiting doctors, nurses, and victims of the shooting, including Rep. Gabrielle Giffords.
Just because he's been keeping his counsel does not mean, however, that McCain hasn't been involved. He's been on the scene since shortly after the shooting, tending to his broken community out of view. He's not doing it for public consumption, says Buchanan, but for private healing. For a big state, Arizona can feel like a small town, where people know each other by their first names and Washington, DC, feels far away. The incident is a severe personal loss to many leaders there. The late Judge John Roll was a friend of the senator's; McCain, along with Sen. Jon Kyl, recommended him for the federal bench 20 years ago.
McCain was in South America, speaking with the president of Colombia, when he first heard about the attack. He cut short the meeting to gather more information about what had happened. At the time, different news reports were coming in, some of them inaccurate about Rep. Giffords' condition. Right away, McCain began talking with staffers, law enforcement and other officials on the ground, as well as the families of the victims. Since returning to Tucson, McCain has met privately with the families of the victims, says Buchanan, and has been busy attending funerals. "The senator is with his community, that's where his constituents would expect him to be," says Buchanan. "Not speaking to a camera."
Some of his colleagues say he should be doing more. Sen. Bernie Sanders (I-VT) has even used the argument to try to raise money, complaining in a fundraising letter that while he commended his colleague's strong words, he believed McCain and other Arizona Republicans had an obligation to step up. "As the elder statesman of Arizona politics, McCain needs to stand up and denounce the increasingly violent rhetoric coming from the right wing and exert his influence to create a civil political environment in his state," Sanders wrote.
But some unlikely allies have rallied to McCain's side. J.D. Hayworth, who was the Tea Party favorite in his challenge to the senator's reelection in last year's GOP primary, said rhetoric is not the top priority right now. "Most Arizonans, regardless of political strife or past disagreements, are rallying together now," he says. "There is a real human element to this for us, and that's why you're not seeing public fanfare, and instead private consolations and expressions of concern."
McCain's absence from the spotlight may prove short-lived, however. The senator has an op-ed slated for publication this Sunday in The Washington Post, praising Obama's memorial speech, urging a more civil public discourse—and shouldering partial blame for the heated state of political debate.
Eve Conant is a Newsweek staff reporter covering immigration, politics, social and culture issues.
With Molly Kelly-Yahner.
This article originally appeared on The Daily Beast.