Suez Canal's Stuck Ship Latest as Egypt Issues New Orders, Earlier Plan Fails
The grueling process of attempting to unblock the skyscraper-sized ship stuck in Egypt's Suez Canal continues, with two extra tugboats called upon to nudge the vessel on Sunday and preparations underway to begin removing its containers.
The Ever Given, one of the world's largest cargo ships, has been stuck on the canal since Tuesday, severely affecting traffic through the vital trade route. More than 300 cargo ships are currently waiting in the area hoping to be able to pass through the canal.
On Saturday, it was hoped that the high tide could help dredgers shift the boat's rudder currently wedged in the sand and mud.
About 27,000 tonnes of sand was dredged, and 14 tugboats tried to dislodge the container ship that is 400-metres (437 yards) long and 59-metre (64 yards) wide and is currently carrying 18,300 containers.
However, canal service provider Leth Agencies later said that the tidal conditions did not help re-floating the ship.
"While the SCA dredgers will continue their work, tugs will assist in new attempts again tomorrow," Leth Agencies tweeted.
ALP Guard, a Dutch-flagged boat, and the Italian-flagged Carlo Magna arrived at the scene early on Sunday to assist with the tugboats already attempting to move the ship.
Workers are hoping to make two attempts on Sunday to free Ever Given during high tides, a pilot with the canal authority told the Associated Press.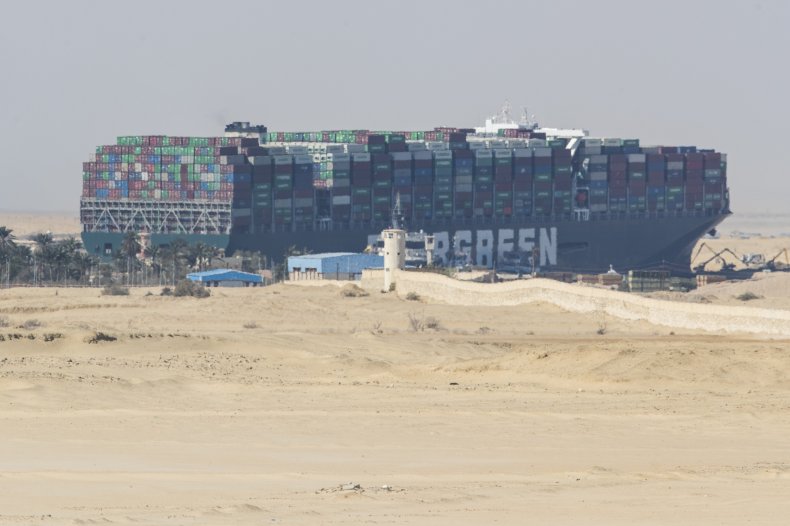 Egyptian President Abdel Fatah al-Sissi has ordered officials to prepare for the removal of the 18,000 cargo containers from the ship, a process which could take several days.
"His excellency has ordered that we should not wait for the failure of the first and second scenarios to start thinking about implementing the third one," Lt. Gen. Osama Rabie, chairman of the Suez Canal Authority, told Egyptian television.
Thecontainer ship was transiting northbound through the canal en route to Rotterdam, Netherlands.
Bernhard Schulte Shipmanagement, which manages the container ship, said investigations suggest the vessel grounded due to strong wind.
"All 25 crew are safe and accounted for and they remain in good health and spirits," Bernhard Schulte Shipmanagement said in a statement.
"They are working closely with all parties involved to re-float the vessel. The hard work and tireless professionalism of the Master and crew is greatly appreciated."
Lt. Rabie said "human or technical error" has not been ruled out for being responsible for the ship getting wedged, although Bernhard Schulte Shipmanagement denied "mechanical or engine failure" as a cause of the grounding.
The White House has offered Egypt help in reopening the canal. "We have equipment and capacity that most countries don't have and we're seeing what we can do and what help we can be," President Joe Biden said.
Bernhard Schulte Shipmanagement has been contacted for further comment.