'I Suffered Two Miscarriages in a Row Within a Year'
My husband Phil and I met in middle school, but we didn't become friends until high school. In tenth grade, we took an improv class together and ended up falling in love with each other quickly. Because it was a young love, and our parents went to the same synagogue, our families became fast friends.
We dated on and off in high school and college—I went to Columbia University and he went to George Washington University. After I came back from a trip to Ghana to finish my last year of school, I realized there was no one in the world I wanted to be with more than Phil. We moved in together in Washington D.C., where I had my first teaching job, and got married at 23-years-old.
In 2012, three months after our wedding, my mom, Sharon, was diagnosed with cancer. They gave her nine months to live, but my mom, being the strong, resilient, and life-loving woman she was, went on to live another four years. We moved back to New York to be closer to her. In 2016, I went with her to her final doctor's appointment, where they told us there was nothing left for them to do and that she would die within six months.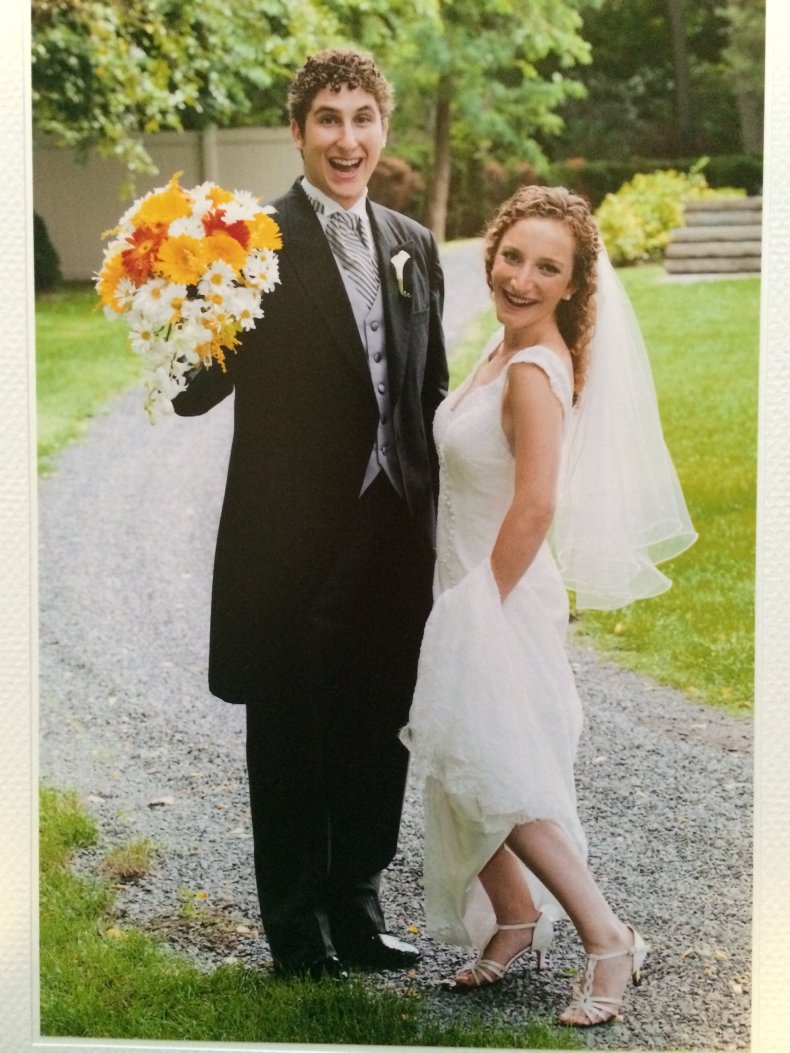 My mom and I were very close and were both motivated by helping people through our work. So, three weeks later when I had a work trip to North Carolina, she encouraged me to go on the trip.
Earlier, I had written my mom a long letter about how much she'd taught me and how grateful I was for our relationship. On a previous work trip, I left the letter on a plane. I was planning to use the plane ride home from North Carolina to rewrite the letter and show her, in detail, all she'd done for me and how grateful I was to have her as an example.
While I was down there, my dad called me and said, "Mom is dying—come home now." I got on the next plane out, and three hours later I was in a New York hospital. I, along with the rest of my family, was with her when she died, but I never got to give her that letter.
I learned then that life doesn't go as planned, and Phil and I decided to put off having kids then because I was in a cloud of grief for long after.
Two years later, Phil's mom, Ana, got sick and was admitted to the hospital. She was my mother-in-law, but was more like an aunt to me, as I'd known her since I was 13. Learning from what had happened to my Mom, we invited visitors to the hospital to see her and we visited daily. Though Ana had great care, she never recovered and died in April of last year.
Ana wanted so badly to see us have kids, as did my mom, and to honor them both, Phil and I decided to try to get pregnant. Soon after, in June, I discovered I was pregnant.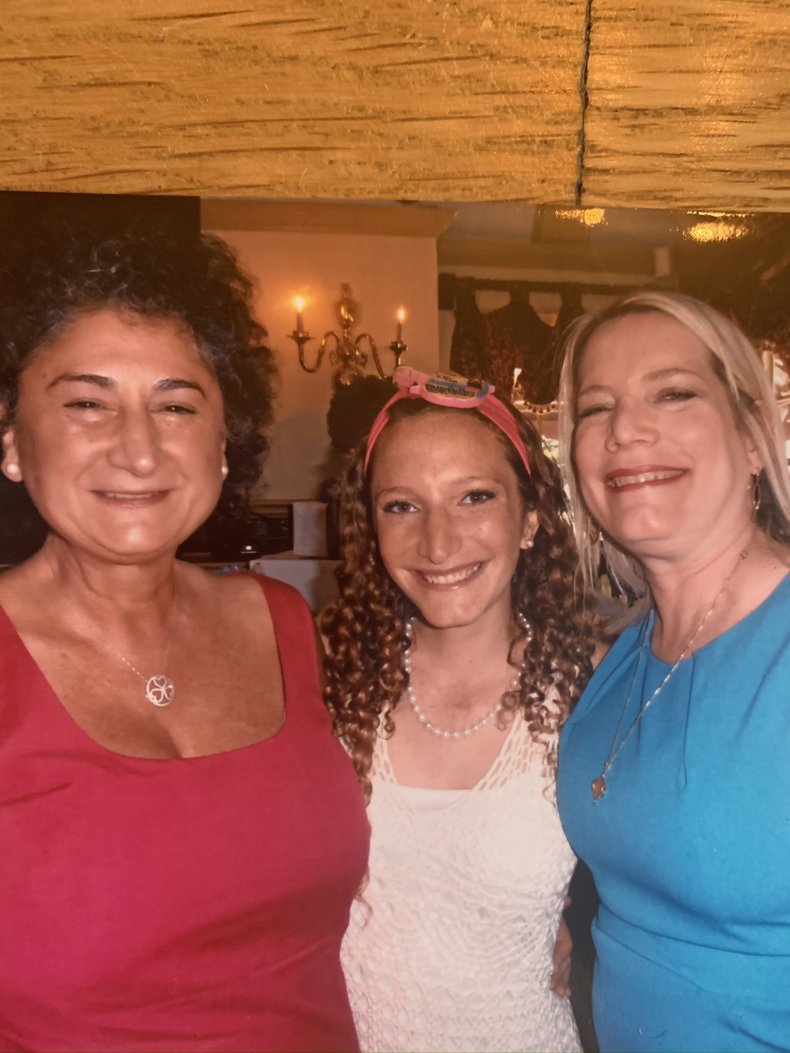 We were really excited and a little over confident—we felt we'd had our share of grief, so this was bound to go smoothly. I went to my gynecologist and we heard a strong heartbeat, so when we had our family over for brunch when I was 11 weeks pregnant, we told everyone that we were having a baby.
Then, we had this one, really awful day. We were at another gynecologist appointment. After I'd provided a urine sample, the doctor came in looking serious and solemn and, after checking, she explained that there was no longer a heartbeat.
There's so much secrecy around miscarriage that I didn't know you could have a miscarriage without bleeding—I had assumed everything was fine. We then scheduled a dilation and cutterage (D&C)— a procedure to remove the fetus.
This was the same day as Phil's grandmother's funeral, so we went from finding out about the miscarriage straight to her funeral. Because everyone present knew that I was pregnant, we had to pile on the bad news and let everyone know I miscarried. We felt embarrassed for having told everyone "too early," but were glad that our family could support us.
I hadn't yet cried, but after the funeral ended, we went back to our car and saw it had been broken into during the service. That was what broke me—I ended up crying for what felt like hours. I felt like everyone was dead, I couldn't grow a baby, and nothing was going to be okay.
We waited to try again after the first miscarriage. It was one loss too many for us to bear. In December, 2019, Phil and I took a trip to Australia, it was beautiful and we felt very reconnected and rejuvenated. In February, I realized I was pregnant again, but we didn't tell anyone this time as we were more nervous.
A few weeks later, I was bleeding. I knew I was probably having a miscarriage, and my doctor confirmed that I had lost the baby. Phil and I were so upset, and, being practiced in grief, turned to our rituals of surrounding ourselves with friends, talking with each other consistently and turning to our music— his guitar and my drum— to help.
The miscarriages could have been caused by any number of factors: the Hashimoto's disease I developed after my mom died; imperfect eggs; or maybe it was just a fluke. Either way, I know I had no control over it.
I have learned a lot from grief. After the miscarriages, I swam a lot and practiced yoga to reunite myself with my body, which I felt was betraying me. I continue to hold tight to my rituals of journaling, meditating, spending time with friends, drumming, and just laying on my couch watching TV—all healing practices that helped me move through these feelings.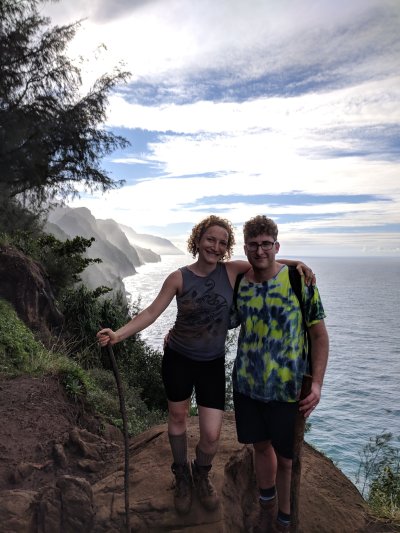 When I told friends and family we were going to start trying to have kids, no women I knew talked to me about miscarriage. As soon as I said that I'd miscarried, almost every woman I spoke to told me they'd had one, or two, or five miscarriages themselves, including women I'd known my whole life.
It seems everyone knows someone who has miscarried, but until you have one yourself, you don't get to see how common it truly is. For a lot of women, even though we know it's not our fault, it feels like a failure to miscarry. Although we're becoming more aware as a society, miscarriage is still steeped in shame and secrecy.
I know a woman who had six miscarriages and three happy, healthy kids. But only after I talked to her about my miscarriages did she tell me about her own. You don't hear those stories growing up, so when it happens to you, it's a big, scary surprise. If we're more honest with young people about how common miscarriage is—15 to 20 percent of known pregnancies end in a miscarriage—it wouldn't feel as terrible or as lonely when you go through it yourself.
I now consistently say to myself, "you only get the one." This is the only life I'll ever get, and I can't put off living it. For years, I thought I would have a baby at my great company, go on maternity leave, and maybe years later start my own business—I had a map. But I've realized that there's no way to plan five steps ahead. I wanted to be a young mom, but I now know I can't plan for when I'll have kids. So I've decided to go for it; start my own business now, and stop waiting.
I'm an expert in empowering children through literacy, and I've always wanted to use my skills to help parents. I used to feel that I had to be a parent before I started working with parents, even though I had so much good information to share. I realize now that I don't know when I'm going to be a mom, and so many parents want to help their kids learn to love reading, so I better get the rest of my life started right now.
My husband and I are living life on purpose. We're active in our local causes, working towards a more just world and thinking about all we can do while we have the time. I think a lot of people live their lives just putting one foot in front of the other. We are very much trying to appreciate that we are alive right now—the only day we know we have for sure is today.
Talia Kovacs is a teacher and literacy expert who has worked in 20 states and four countries to shape joyful literacy experiences for all children. She lives in Brooklyn, New York and is the founder of Talia Kovacs Consulting, providing parents with the tools they need to foster independence and create calm, connected households through literacy. Visit her website at TaliaKovacs.com.
All views expressed in this piece are the writer's own.
As told to Jenny Haward.