The Sugar High of Cake-Themed TV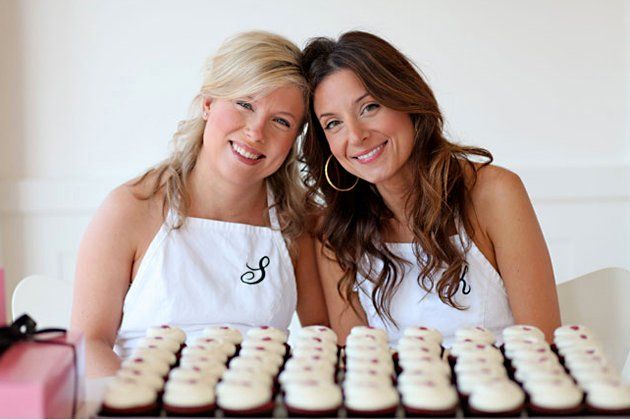 It's a bitter batter battle—a delicious drama, a sweet war, a bespatula-ed sparring along the Frosting Front. Bellicose cake is the thing these days—you can't scroll through your cable guide without spotting a listing for a cutthroat competitive cake TV show, or at least a documentary-style series about the professional baking industry. If cake and cupcakes are not the most ubiquitous concept in reality programming at the moment, then they're a close second to Jersey fare. We're going crackers for cake, and the last crumb isn't in sight: Friday marks the debut of TLC's D.C. Cupcakes, about two sisters who ditched their corporate jobs to cofound a Georgetown "cupcakery." Monday, we'll get Fabulous Cakes, a series that will take behind-the-scenes tours of the top-notch bakeries in a sprinkling of U.S. cities, from Vegas to Philly and beyond. The legion they join: Cake Boss, also on TLC; an untitled Cake Boss spinoff; Ace of Cakes; Cupcake Wars; Food Network's Cake Challenges (best... wedding cake! Ok, now, best... Sex and the City cake!) and so on. Expand the cake premise to include sweets of a more diverse nature, and you get even more: Top Chef's impending spinoff, Top Chef: Just Desserts, or Little Chocolatiers, about a married couple of little people who are professional chocolate-makers.
There are some theories about this, the Great Cake Quake of 2010. Jonesing for cake connotes the eternal longing for childhood's coddled comforts—the warm, yummy feeling that is scarfing a hot cupcake minutes after it emerges from the oven. It might also be some sad manifestation of our puritanical baggage. Sugar was the ultimate luxury in our ascetic colonial land and was distributed like an illicit drug: infrequently, in varying degrees of refinement, and in scant, paper-wrapped amounts. Look at us now!
Or maybe, cake just looks good. "Cake shows are like a visual feast—it's eye candy to the extreme," says Jen Yates, creator of the cake-obsessed blog Cake Wrecks. "It's eye cake." As Yates well knows, eye cake is eminently bankable right now. Her blog—subtitled "When Professional Cakes Go Horribly, Hilariously Wrong"—has earned a cult following as collection of reader-submitted images of store-bought cakes, each with a botched message or off-kilter design. Take this luscious, chocolate-frosted beauty with piped flowers and heartfelt well-wishing, in loopy purple script: "Happy Birthday Jason Big Tip If It's There Before 12." Since Cake Wrecks' launch in April 2008, Yates has turned the concept into a New York Times bestseller book, has been approached by two different companies about creating—yep—a Cake Wrecks TV show. "I was very bemused by it," says Yates, who counts herself as a cake-show obsessive. "I would love to see a hidden-camera show, where people nominate bakeries that have a history of doing terrible cakes."
For production companies like those that eyed Cake Wrecks, field research for cake shows can be brutal. Grueling, even. There's the visiting of the bakeries, the meet-and-greet with the proprieters—ornery bunch, those cupcakery owners—and then, the tastings. By the time TLC came across Georgetown Cupcake, it was already D.C.'s "premier destination" for Madagascar Vanilla Bourbon cakelets and 60-some other flavors, and had been dubbed "out of this world" by Frank Bruni at The New York Times. An external production company clued TLC into the shop, and eventually it came time for Howard Lee, the channel's East Coast vice president for development and programming, to see the cakes for himself. "Cake is something we all identify with—a primal thing we've all had growing up," Lee says. "And once we sampled the cupcakes and saw the inner workings of their shop, we thought the show would be so much fun." Sounds…wholly pleasant, and with as many cake-centric shows as TLC boasts, cake-sampling must be a burgeoning part of Lee's job. What's the downside? "Well, it's kind of embarrassing, but of course it's making us all heavier," he laments.
His pain, our gain. For all the sugary indulgence, the best thing about a cake show is that it's calorie-free.