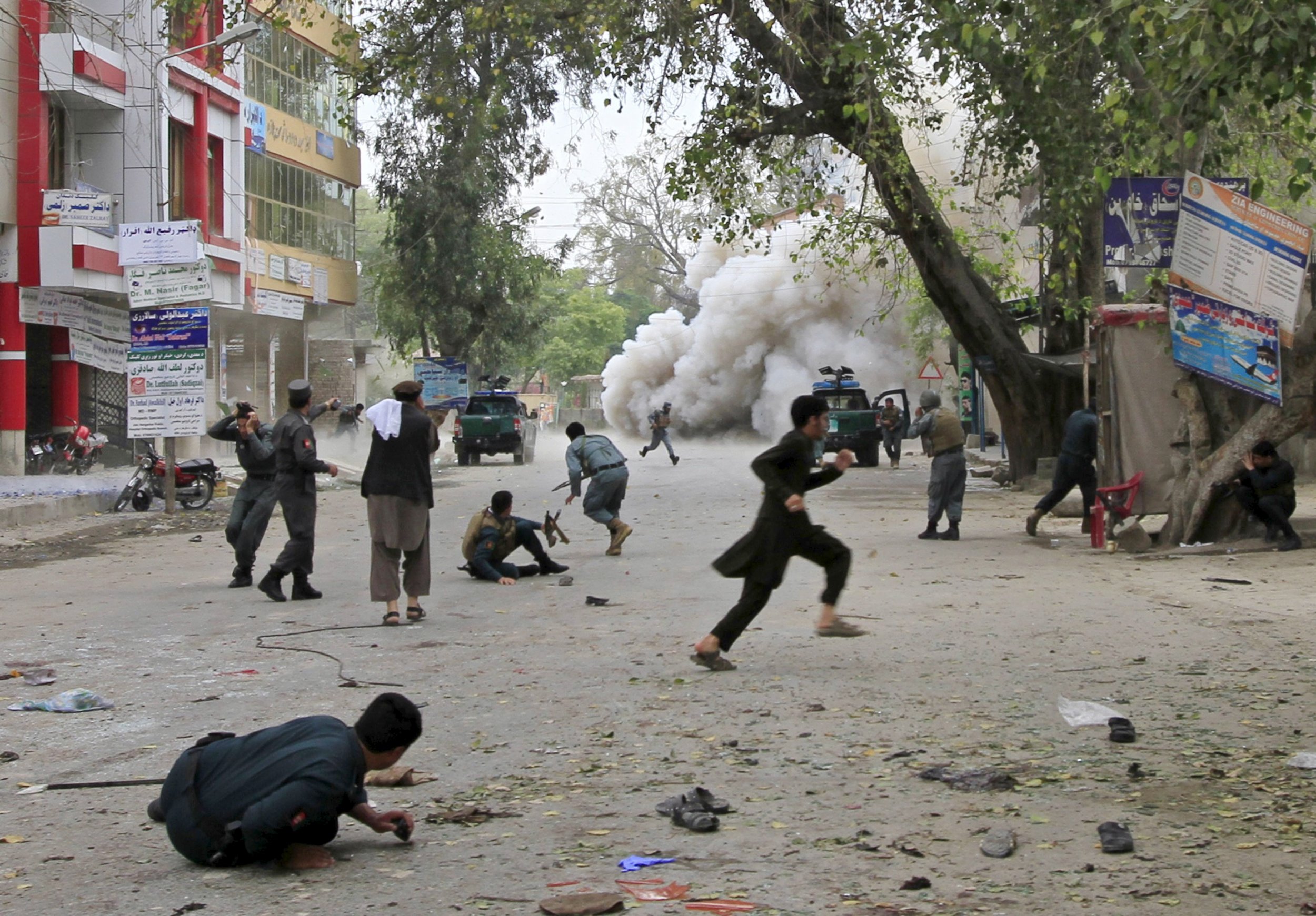 JALALABAD, Afghanistan (Reuters) - A suicide bomb blast in Afghanistan's eastern city of Jalalabad killed 33 people and injured more than 100 on Saturday outside a bank where government workers collect salaries, the city's police chief said.
Police were investigating whether there was a second explosion after people rushed to the scene to help, the police chief, Fazel Ahmad Sherzad, told a news conference.
"It was a suicide attack," Sherzad said, adding police had yet to determine if the attacker had worn the explosives or had placed them in a car. "It is early to say what kind of suicide bomber."
Taliban insurgents denied responsibility. The militants, who were ousted from power by a U.S.-led invasion in 2001, rarely claim attacks that kill large groups of civilians, saying their activities are restricted to foreign or Afghan military and government targets.
"It was an evil act. We strongly condemn it," the Islamist militants' spokesman, Zabihullah Mujahid, told Reuters.
Police said another blast that shook Jalalabad was a controlled detonation after experts discovered a further bomb close to the scene of the first explosion.
Local media reported a former spokesman for the Pakistani Taliban claimed responsibility for bombings in the eastern city on behalf of the Islamic State in both Pakistan and Afghanistan.
The spokesman could not be reached and his connection to the group could not be verified by Reuters.
Elsewhere in the east, the Taliban announced the execution of three men accused of murdering a couple during a robbery, saying they had been tried by an Islamic court.
The killing was carried out in front of a crowd by Taliban fighters who fired at the men with AK-47s, according to a Reuters witness. Footage seen by Reuters show the men were made to sit on the ground with their eyes blindfolded and their hands tied at the time of their execution.
They "killed a female doctor and her husband...inside their house and then they took all their assets, jewelry and cash," the Taliban said in a statement.
The executioners, one stood behind each man, also had their faces covered, and were dressed in white salwar kameez and turbans. After the initial shots were fired, one continued to shoot at the bodies while the crowd of villagers cheered.
This is the first year Afghan forces are facing the Taliban with very limited international support on the ground, although help with intelligence and special operations will continue through 2016.
On Saturday, parliament approved the nomination of 16 ministers, leaving only the position of defense minister vacant because the president and his coalition have been unable to agree on a candidate.
The vacancy has frustrated military officials who say the army has been left rudderless in the face of escalating violence by the Taliban.
NATO, which at its peak had 130,000 soldiers in Afghanistan, has only a small contingent of around 12,000 troops left and most are involved in training.