Coronavirus Pandemic and Surging Gun Sales May Increase Suicide Risk in U.S., Researchers Say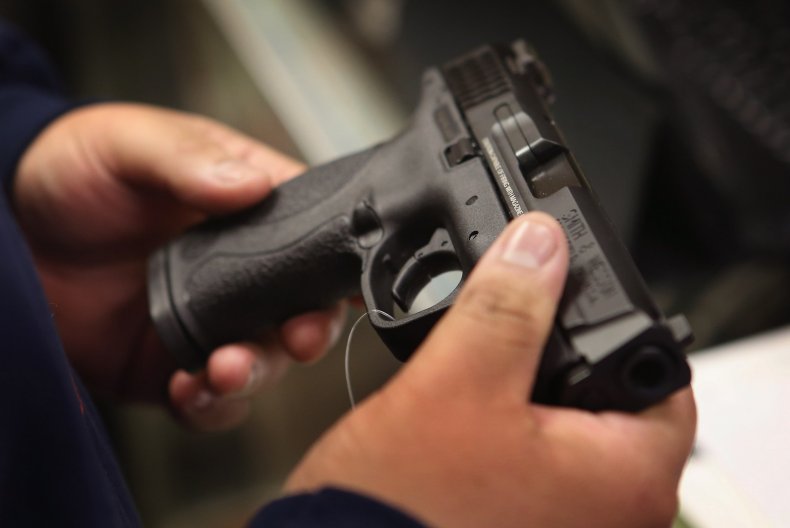 The coronavirus outbreak is producing voluminous sales of firearms—and guns are already the deadliest method of suicide—so as the U.S. suicide rate increases, the current pandemic could serve as a dangerous accelerant for these deaths, researchers said.
"We are mixing into this epidemic the most lethal means for suicide that has ever been invented," Dr. Eric Fleegler, a professor of emergency medicine at Harvard Medical School and a pediatric emergency physician, told Newsweek.
The pandemic and the economic and social havoc it unleashed in the country can trigger or contribute to mental distress, Fleegler wrote with two other authors in an essay published earlier this month in the Annals of Internal Medicine. Those factors, combined with "unfettered access" to firearms, they said, could also create a suicide epidemic.
Dr. David Gunnell, a professor of epidemiology at the University of Bristol, wrote April 21 in the medical journal The Lancet that harmful effects of the pandemic could themselves be multiplied by "fear, self-isolation, and physical distancing."
"The pandemic will cause distress and leave many people vulnerable to mental health problems and suicidal behaviour," Gunnell added. "Mental health consequences are likely to be present for longer and peak later than the actual pandemic."
And there is precedent for concern. In the United States, evidence suggests deaths by suicide increased during the 1918—19 influenza pandemic, Gunnell noted.
This century's crisis has been accompanied by an increasing prevalence of firearms, disproportionately skewed toward first-time buyers. And just as the coronavirus outbreak spread through the U.S., the firm Small Arms Analytics & Forecasting estimated that over 2.5 million guns were sold in March. Federal background checks—a general proxy for gun sales—surged to their highest levels in the system's 22-year history.
Even before the current run on guns, firearm suicides were a prominent concern for emergency physicians.
In 2018, 24,432 people in the United States killed themselves with a firearm, according to the Centers for Disease Control and Prevention (CDC), more than in any single year in at least the past two decades. And about 62 percent of all firearm deaths in the United States are the result of suicide, far outpacing gun homicides. About 51 percent of all suicides make use of a gun. Firearms generally provide for the deadliest method of suicide.
Research demonstrates a link between access to firearms and suicide risk. A 2014 meta-analysis published in the Annals of Internal Medicine determined that there were "significantly increased odds of death associated with firearm access." Moreover, the findings of increased suicide risk were "not unique to persons with a history of mental illness." In all but one study reviewed by the 2014 analysis, the suicide risk was greater "among participants who had firearm access."
"What a gun denies you is the opportunity for regret," Fleegler explained. "When you overdose, for example, you have hours to think about what happened. Almost universally, we can save you."
For example, a 2001 Houston study led by the CDC found that nearly one-quarter of individuals who had attempted suicide made the decision to do so only five minutes prior. And 87 percent of individuals made the suicide attempt within an eight-hour window of the initial decision.
The idea that suicidal ideation has a rapid onset is known as impulsivity, and it is why researchers believe you are more likely to survive a suicidal episode when an extremely lethal method, such as a firearm, is not at your disposal.
"People reach that moment of despair in a very narrow time frame, so they use what is available to them," Fleegler told Newsweek. "That's why having a gun in the house can be such a potentially terrible thing."
To be sure, research does not show that the presence of a weapon actually increases the rate of suicide attempts. The evidence demonstrates that suicides undertaken with a firearm are simply more lethal.
And research also suggests that safe storage of firearms in the home can meaningfully reduce this suicide risk. A 2004 paper in the journal Epidemiology and Community Health modeled firearms storage practices and found that stowing a weapon locked or unloaded was associated with a 60 percent decrease in suicide risk among gun owners.
Gun violence prevention advocates promote legislation that prescribes safe storage practices as a way to help reduce suicide risk in the home. According to the Giffords Law Center, the legal arm of the same-titled gun-control group, just four states impose some sort of locking-device requirement on gun owners. Many other states have child access prevention laws aimed at deterring the negligent storage of firearms.
"In this world where many are feeling isolated, people in huge numbers are turning to guns as a way to provide some sense of security," Fleegler told Newsweek. "These are people who have concerns about what's happening to our social fabric. For others, guns give them some measure of control. But it needs to be recognized that just having a gun in the home is a risk factor for children and adults dying by suicide or unintentionally."