Suicide Rate of Young U.S. Army Veterans Continues to Rise Substantially: 'It's a National Emergency'
The number of suicides among young U.S. army veterans has continued to rise "substantially" despite a decline in the overall rate, according to a report from the U.S. Department of Veterans Affairs.
According to the data, more than 6,000 veterans took their own lives each year from 2008 to 2016, with veteran suicide rates across all demographics decreasing from 30.5 per 100,000 population to 30.1 per 100,000 population from 2015 to 2016.
But the VA's National Suicide Data Report 2005–2016 found that the suicide rate among veterans ages between the ages of 18 and 34 had increased substantially in recent years, with the number of deaths in 2016 described as "significantly higher" than in 2014.
The VA said the number of suicides by veterans in the 18 to 34 age group—many of who served in Iraq or Afghanistan—rose from 40.4 suicide deaths per 100,000 population in 2015 to 45 suicide deaths per 100,000 population in 2016, with highest rates recorded among young males.
"This isn't just alarming. It's a national emergency that requires immediate action," Joe Chenelly, executive director of the national veterans group Amvets, said in a statement.
"We've spent the last decade trying to improve the transitioning process for our veterans, but we're clearly failing, and people are dying.
"The new data tell us that too many younger veterans—specifically those of the post-9/11 era—were slipping through the cracks despite all the efforts to address mental health care access and barriers to seamless transition after service.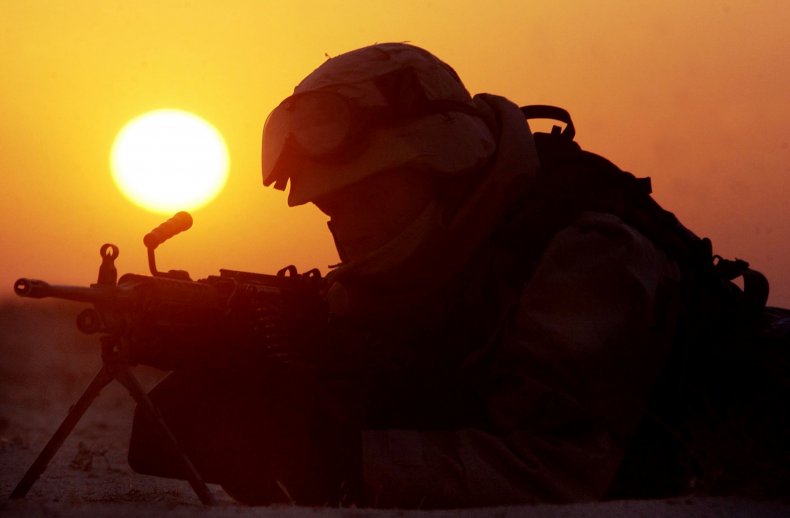 "This problem is not just a VA problem. It's a problem for our entire country with very real and serious implications for the future of our military," said Chenelly.
According to the report, the overall suicide rate was 1.5 times greater for veterans than for nonveteran adults in the U.S., with the rates among female veterans 1.8 times greater than the suicide rate for nonveteran women.
Despite the increased suicide rate among veterans ages 18 to 34 years old, veterans between the ages of 55 and 74 represented the greatest share of suicide deaths in 2016, with veterans age 55 and older accounting for 58.1 percent of suicide deaths. This figure has been attributed to there being more veterans in this age group.
The VA report emphasized that more needed to be done to help veterans before they reach a "crisis point."
"This requires the expansion of treatment and prevention services and a continued focus on innovative crisis intervention services. It also requires effective networks of support, communication and care across the communities where veterans live and work," the report stated.
"It confirms what we've been seeing anecdotally," Paul Rieckhoff, founder of Iraq and Afghanistan Veterans of America, told Stars And Stripes. "It's a wave we've been seeing for years and trying to sound the alarm on."
Rieckhoff said he hoped the reports would force action to be taken to help the country's veterans.
"We've never really had the president stand up and say, 'This is a national health priority. This is a national security priority,'" Rieckhoff said. "We think that's what's going to be necessary to mobilize the country. The issue is, can we get people to pay attention and get involved?"
Veterans who are in crisis or having thoughts of suicide, and those who know a Veteran in crisis, can call the Veterans Crisis Line for confidential crisis intervention and support 24 hours a day, seven days a week, 365 days a year. Call 800-273-8255 and press 1; send a text message to 838255 or chat online at VeteransCrisisLine.net/Chat .