John Cena and "The Suicide Squad" Cast Discuss How "Lucky" They Were to Get James Gunn
The Suicide Squad is arriving in theaters and on HBO Max this week, and the cast of the movie reckon they lucked out when Warner Bros. landed the man behind the movie.
James Gunn writes and directs the new edition of The Suicide Squad, which he says isn't a sequel or reboot from 2016's Suicide Squad. This one is seen as a standalone effort with similar themes, some returning characters, but plenty of new welcome additions to set this movie apart from anything that came before.
The returning actors and characters in The Suicide Squad include Margot Robbie's Harley Quinn, Joel Kinnaman's Rick Flag, Jai Courtney's Captain Boomerang and Viola Davis' Amanda Walker. Crashing their way onto the cast list for the first time is an equally impressive roster of talent.
Idris Elba leads the new team as Bloodsport, Sylvester Stallone voices the monstrous but dim King Shark, David Dastmalchian has the honor of playing the famously oddball villain Pola-Dot Man and John Cena wrestles his way onto the team as the well-intentioned but dangerously minded anti-hero Peacemaker.
How James Gunn assembled his own Suicide Squad
Cena credits Gunn with convincing him to sign up to the franchise, even though he knew little about it.
Cena explained to Newsweek: "The yes was easy. I've always wanted to work with James Gunn and the process was very simple. He has a knack for casting, he casts incredibly well.
"I think it's because he really does create his own image of these characters and the writing process in the pre-production process, story boarding, so he had a few people in mind for Peacemaker, and I think some of them didn't work out and he got to me on the depth chart and I was in. I was all in."
Gunn's Guardians of the Galaxy collaborator Dave Bautista was the first choice for the role of Peacemaker but scheduling conflicts made the role available for Cena.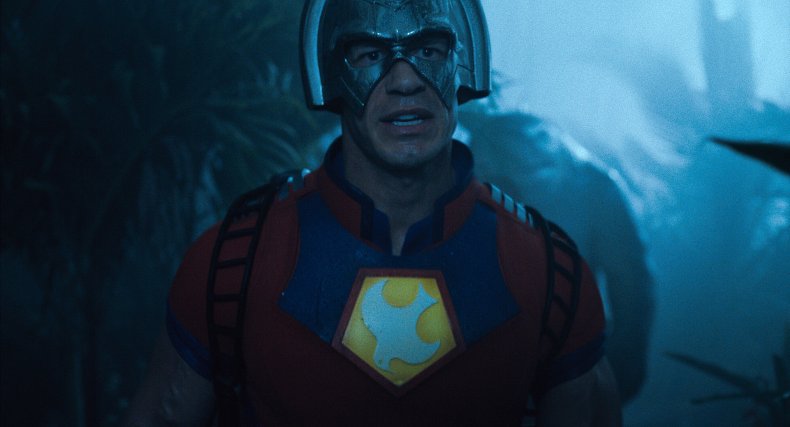 Cena's character appears to be a classic throwback to the muscle-bound action hero but some of his lines in the movie should set alarm bells ringing. In one scene he claims to want peace so badly he doesn't care how many men, women and children he has to kill to get it.
Perhaps it was these kinds of lines written by Gunn that appealed to Cena. "I couldn't believe how prepared and into the material he was when I met him. I met him without knowing the script and that's something I very rarely do but I've just been so inspired by his work and his process and I'm glad I took the meeting and we have The Suicide Squad and Peacemaker because of it."
Returning actor Kinnaman was glad Gunn was the man who finally took control of the Suicide Squad follow-up. "We really lucked out by getting James Gunn," Kinnaman said. "There were several iterations of the follow up and when James came into it, it became this real opportunity."
He tells Newsweek what he thought of Gunn's script after reading it for the first time, "It was so funny, irreverent, he just has this handle on the genre where he knows how much you can push things, he knows where to take license."
He continued: "It also gives him the artistic instinct to know that he can actually allow himself to have these moments of sincerity and poetic beauty, and that was one of the things that surprised me the most when I saw the film. He found those moments and it didn't feel out of place or pretentious, it felt right."
Playing with rats on The Suicide Squad set
Another fresh addition to the cast is newcomer Daniela Melchior. The Portuguese actress is making her English-language movie debut in The Suicide Squad as the lethargic teen who has the power to control rats. Cleo Cazo, alias Ratcatcher 2, bonds the group of anti-heroes together, forming a quick friendship with King Shark and later the whole squad. Melchior says the friendships extended off camera too. She said: "I was nervous before getting into the United States before I flew. Because I didn't know what I was getting into.
"I felt really lucky because they're so kind and so good hearted people I really felt like they deserved to be where they are, they were really kind and giving me many advices, telling jokes all the time. I felt like they are truly my friends."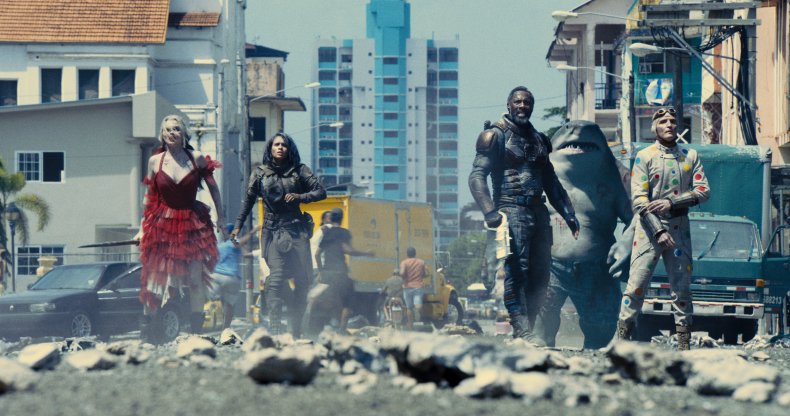 Having a superpower involving dozens of rats on screen, it was natural that Melchior would have to get up close and personal with the rodents behind the scenes too, something which she admits took her by surprise. "When the production told me, 'oh we can't wait to have you here at the studios, by the way we're having real rats' and I was like 'oh OK I'm not thinking about this anymore. I'll just prepare the scenes and see what happens.'
"Every time I thought about the fact that there are gonna be rats at the studios I was like if this is the ticket for me to the United States, yeah, OK."
James Gunn on a sequel to The Suicide Squad
Even though the movie isn't out in the United States yet, the international reaction has been overwhelmingly positive from audiences and critics. It's an improvement on David Ayer's 2016 Suicide Squad movie which proved successful at the box office but received an underwhelming reaction from viewers.
This time Gunn seems to have found a winning formula for the Suicide Squad premise, first made successful by John Ostrander in DC Comics during the 1980s.
Discussing the possibility of creating a second Suicide Squad movie, Gunn says he's on board but he'd have to make some big changes.
"I would do another Suicide Squad, I'd definitely consider it. I think it would have to be a very different story I think I actually know what that story is generally depending on whether we don't tell that story in another TV show or something."
He continued, "So I think it would be a very different film, it wouldn't be the same story, its not gonna be 'let's get another group of losers to go on another mission where a bunch of them die and some of them live' it's got to be something different. It can't just be the same thing."
Before any thoughts of a sequel are banded around, his first attempt needs to come out in the United States first.
The Suicide Squad is released in movie theaters on Thursday, August 5, before becoming available on HBO Max on Friday, August 6, 2021.