'The Suicide Squad': Who Is Polka-Dot Man and What Are His Powers? David Dastmalchian on Supervillain
The Suicide Squad is coming to theaters in the U.S. this Thursday August 5 after more than five years of waiting. In the film, Guardians of the Galaxy director James Gunn introduces some new faces who join the original task force in a bid to destroy a Nazi-era laboratory and Polka-Dot Man, played by David Dastmalchian, is surprisingly one of the latest recruits.
Who Is Polka-Dot Man?
Regarded by DC Comics fans as one of the silliest characters in the DC Comics universe, Polka-Dot Man has made his cinematic debut in James Gunn's The Suicide Squad.
Polka-Dot Man/Abner Krill was created by writer Bill Finger and artist Sheldon Moldoff, first appearing in Detective Comics #300 in February 1962.
He was introduced into the Batman universe, as one of the caped crusader's rivals wanted to make a name for himself in Gotham City. He joins the famous Batman's rogues gallery, alongside the likes of The Joker, Bane, Professor Hugo Strange and Two-Face.
Abner Krill was a crook in Gotham City who would carry out a series of crimes based on spots and dots around Gotham City.
Before becoming Polka-Dot Man, he was known as Mister Polka-Dot, wearing a costume covered in different colored spots.
At one point, Polka-Dot Man managed to successfully capture Robin before eventually being defeated by Batman.
As a result, his supervillain powers were rendered useless and he returned to living a life filled with petty crime and alcohol.
In The Suicide Squad, Polka-Dot Man is portrayed as a metahuman criminal from Gotham City.
David Dastmalchian, a self-confessed "comic book geek" admitted to Newsweek he didn't know who Polka-Dot Man was when he was approached for the role.
He said: "I had no familiarity with Polka-Dot Man before this film and that was embarrassing to me because I am someone who thinks they know a lot about comic books in the world of comics, especially villains because they're my favorite."
He added: "James [Gunn] told me that he wanted me to portray the character Abner Krill, the Polka-Dot Man, and then he sent me this script and I sat down and read it and I laughed. I cried I gasped, I stood on my feet."
The Suicide Squad director, James Gunn, recently revealed in an interview with ComicBook.com that he had Googled "Who's the dumbest DC character of all time?" and came across Polka-Dot Man, deciding to include him in the film.
Dastmalchian himself even described Polka-Dot Man as "one of the most pathetic characters" to ever appear in a superhero film.
He shared: "I got the opportunity to go and join this insane ensemble of some of the most talented actors and some of the funniest people I've ever met and working under the guidance of this visionary genius James Gunn I got to bring this character to life who, for all intents and purposes is like one of the most pathetic characters that probably ever appeared in a superhero film."
Dastmalchian was keen to point out there is much more to Polka-Dot Man than meets the eye. In fact, Dastmalchian revealed he related to Polka-Dot Man on a very personal level.
He said: "It was such an honor for me to get to explore that in the world of film, as you know, big and explosive as The Suicide Squad because I think my character at the end of the day is still grounded in something that is very common and very human, which is feeling like 'I don't belong here. I don't have any skills that are worth anything. I don't have any talents that really matter in the world. People don't like me. I don't know what the purpose of my existence is' and I hate to say it, but I just feel like that's a more common sentiment that we care to admit in the world.
"I know I've felt that way more times than I care to admit. And I know that the battle to come out of that has been Herculean for me to say the least.
"I had to go as deep as I could into this character's psychology. And some people may laugh, and go, you're just playing Polka-Dot Man, for God's sake. And I think, 'yeah, I'm playing f****** Polka-Dot man'. It's a huge responsibility, because for him to matter, to anybody who's watching this film, and for his role and his relationship with the other characters in the film to mean anything it has to be a really multi-dimensional exploration of emotion, emotions, and psychology."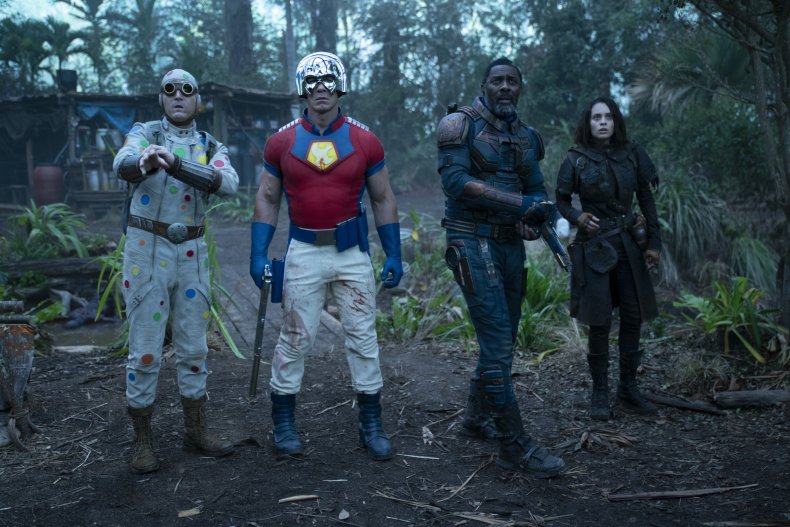 What Are Polka-Dot Man's Powers?
As a human, Abner Krill was a successful engineer who possessed the ability to use advanced technology to transform his costume's polka dots into weaponry.
Each color produces different and often deadly weapons from saw blades to poisonous gas. From his suit, Polka-Dot Man can even produce a getaway vehicle in the form of a flying saucer.
From the original comics, Polka-Dot Man's powers include:
Flying Buzzsaw Dot — Red polka dot
Flying Sauce Dot — Yellow polka dot
Sun Dot — Gold polka dot
Bubble Dot —White polka dot
Fist Dots — Red, yellow and orange polka dots
Hole Dot — Black polka dot
The Sun Dot resembles the sun and projects a disorientating light onto his enemies. The Bubble Dot produces a method of transportation, allowing Polka-Dot Man to get away from the scene fast and protected by a huge bubble.
The Hole Dot, referred to as "hole" by Polka-Dot Man, opens up a teleportation transport system and Fist Dots produce human-like fists so Polka-Dot Man can attack his enemies.
The most common weapons Polka-Dot Man use are the Flying Buzzsaw Dot, which produces a blade, and the flying saucer dot which creates a man-sized flying saucer allowing him to flee battles safely.
Each weapon is disguised by his costume but with the help of his gauntlets, he is able to project the multi-colored dots onto his enemies and destroy them.
The Suicide Squad is out in U.K. cinemas now and will arrive in U.S. theaters on Thursday, August 5.
The Suicide Squad will be available to stream via HBO Max from Friday, August 6.