What Is the Song in 'The Suicide Squad' Trailer?
After a five-year wait, The Suicide Squad's release date is fast approaching. The standalone sequel to Suicide Squad is scheduled for theatrical release in the UK on July 30, and in the U.S. on August 6. The film will also be available to stream via HBO Max.
The Suicide Squad will see the much-loved squad of convicts from Belle Reve penitentiary on a mission to destroy a Nazi-era prison and laboratory. However, they will cross dangerous paths with a telepathic alien starfish called Starro.
Fans have been counting down the days for the sequel to Suicide Squad, which was released back in 2016, and have recently been treated to the final trailer for the film.
Apparently, the trailer was released online a little earlier than planned, with director James Gunn confirming the trailer was legitimate and even joked some of the cast members leaked the trailer themselves.
In response to a fan demanding for Gunn to release the trailer on Twitter, Gunn said: "It seems like Margot, Jai, @TheSlyStallone @JohnCena @idriselba @flula @MelchiorDaniela @NathanFillion @MelchiorDaniela @dastmalchian@AliceBraga @cosio_joaquin and that SOB @joelkinnaman have already done that earlier than expected. How dare they. #TheSuicideSquad."
The trailer was packed with action from Idris Elba making his debut as the supervillain Bloodsport and Harley Quinn's (played by Margot Robbie) new costume, but the first thing fans want to know is more about the trailer's song.
The song in the trailer is an original song called "Rain" by Grandson and features the singer Jessie Reyez.
The track was composed specifically for the upcoming film.
The song conveys a sense of optimism, which contrasts with the dark tone of the film.
The song features lyrics such as: "I don't mind the rain sometimes, it's the only way the roses bloom.
"In my mind, when I cry, when I cry
That's the only way the roses bloom."
Grandson is a Canadian-American singer, songwriter, and musician who released his debut album, "Death of an Optimist," in December 2020.
He has also worked alongside Blink-182, Simple Plan, Young the Giant, and Hobo Johnson.
Reyez is a Canadian singer and songwriter, who released her debut album "Before Love Came to Kill Us" in March 2020.
She has written songs for Calvin Harris, Kehlani, Dua Lipa, and Normani and has collaborated on numerous occasions with rapper Eminem.
You can listen to "Rain" now on Spotify, Amazon Music and YouTube Music.
In May Gunn shared his excitement about a certain song in The Suicide Squad and it is very likely "Rain" was the track he had in mind.
He tweeted: "So one of my favourite current musical artists wrote & recorded a song for #TheSuicideSquad & I feel like I'm standing so close to a pop classic that it's burning my brain. I have been singing it non-stop for a week. Can't wait to share... soon.
Gunn added the soundtrack will feature "TWO of my favourite new artists who I've professed love for in the past."
Fans have also been sharing their love for the song online.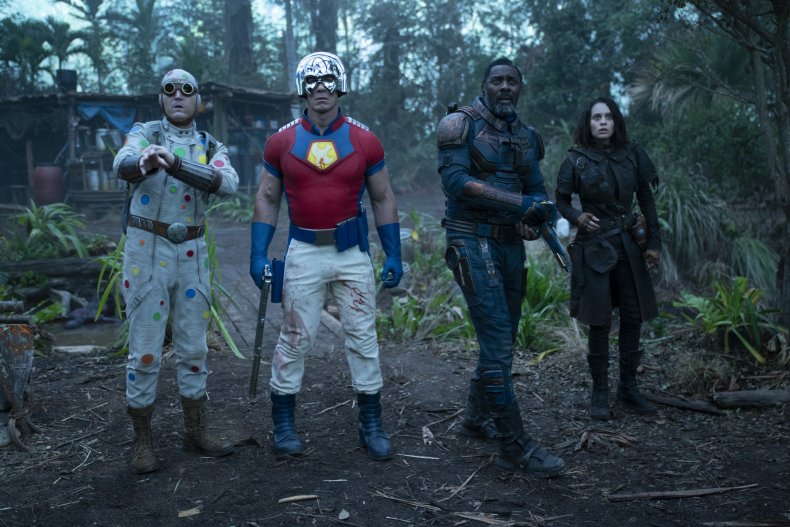 One fan tweeted: "Extremely proud of @grandson and @Jessiereyez for making this incredible song for #TheSuicideSquad #Rain."
A second fan wrote: "Made my day to find out that @grandson made the main song for #TheSuicideSquad movie. The trailer is exactly what I want from a @JamesGunn movie. Everything I keep hearing about this movie just keeps getting better and better."
A third fan added: "Happy that my prediction for @grandson being on #TheSuicideSquad soundtrack turned out to be correct. "Rain" is such a good song and it's nice to see Grandson getting the recognition he deserves."
The Suicide Squad will see the return of Viola Davis as Amanda Waller, Robbie as Harley Quinn, Joel Kinnaman as Colonel Rick Flag, and Jai Courtney as Captain Boomerang.
New faces to The Suicide Squad world include David Dastmalchian as Polka-Dot Man, Steve Agee as King Shark, Daniela Melchior as Ratcatcher 2, Idris Elba as Bloodsport, John Cena as Peacemaker, Nathan Fillion as T.D.K., Pete Davidson as Blackguard, Flula Borg as Javelin, Mayling Ng as Mongal, Peter Capaldi as The Thinker, Michael Rooker as Savant, Alice Braga as Sol Soria, and Sean Gunn as Weasel.