Suit Claims Sexual Assault by Suffolk County Police Officer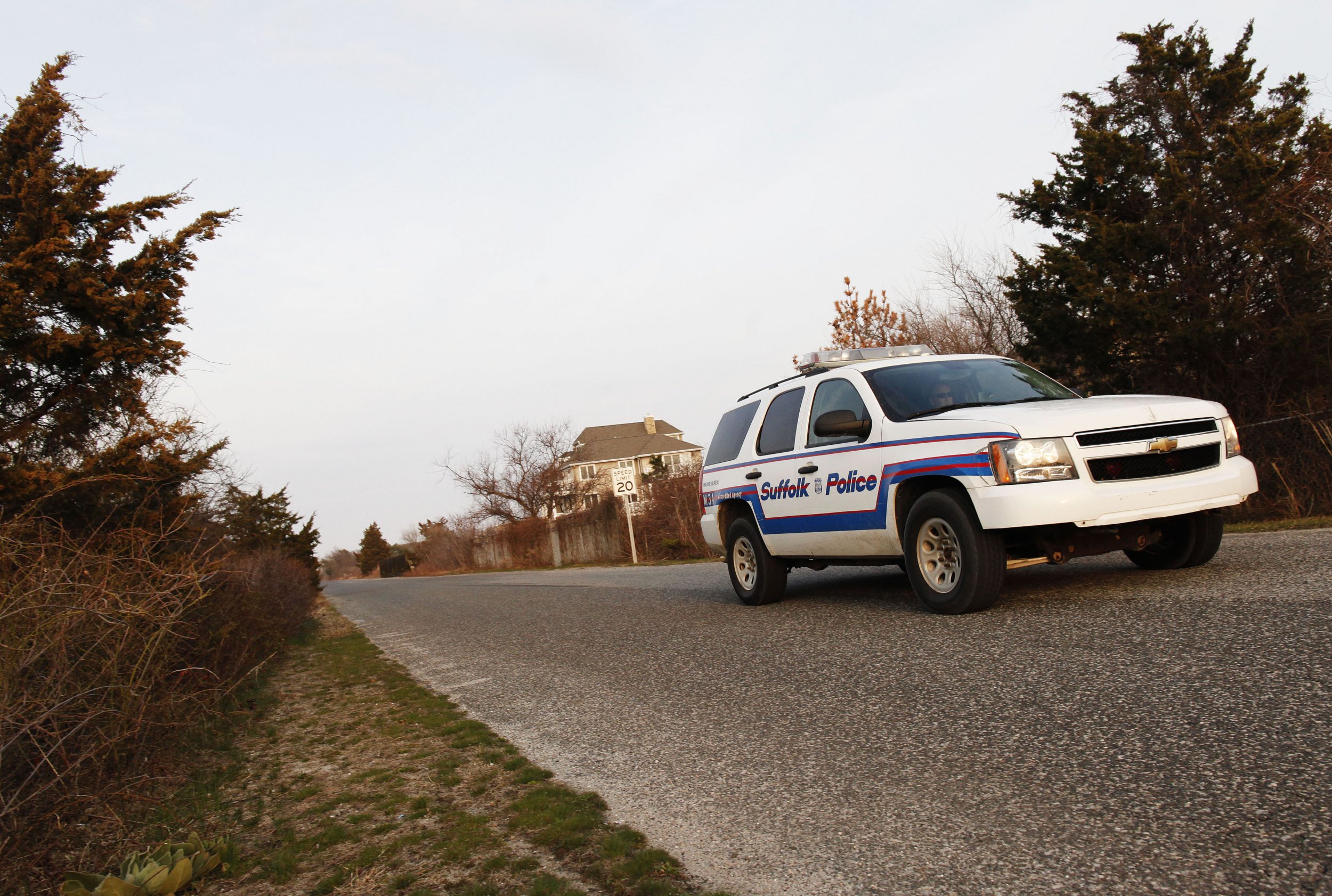 A Suffolk County Police Department officer allegedly exposed himself to the only female sergeant in their precinct and forced her to touch his genitals, according to a lawsuit filed Friday in the U.S. District Court, Eastern District of New York.
The police department hired Cindy Olsen in 1991 and she was deployed to the department's 6th Precinct. She became sergeant in 2002 and remains the only female sergeant in the precinct. In 2006, Olsen became a Community Oriented Police Enforcement Sergeant.
In May 2014, Olsen was eating dinner with colleagues on picnic benches outside the station house when another police officer, Everett Wehr, came up behind her. He started to massage her neck and back. "While massaging her," the lawsuit claims, "Wehr pressed his genitals against her back and she told him to stop, while stating, 'Is this supposed to be a massage? I can feel your genitals.'"
Afterward, someone laughed awkwardly and Wehr left. Olsen said she later turned over the other officers' names to detectives.
A month later, Olsen was preparing a presentation when Wehr walked into her office at about 6 p.m.
"All of a sudden, as Cindy looked up from her work, Wehr exposed himself and put his erect penis over Cindy's shoulder at mouth level," the suit says. "He was holding his penis and pointing it at her."
Frightened, she covered her eyes and hoped he would leave, the suit says.
Instead, Wehr grabbed her wrist. She fought him and Wehr let go and stood there until "he suddenly lunged forward and reached down and grabbed her right wrist violently," the suit claims.
"He then slammed the back of her hand against his penis and forcibly held her hand there," the suit claims.
He eventually let go of her hand but lingered. As he left, he said: "'I'm coming back. I'll be back. I'll visit,'" according to the suit.
"You're kind of just sitting there not knowing what's going to happen next.... You're terrified," Olsen tells Newsweek. "I was in shock and I shut down."
Olsen told Gary Thompson, who represents her subordinate officers in a police union, about the alleged attack in July 2014. She said "that something had happened with Wehr, that there was an incident in which he had done something inappropriate to her, indicating it was serious and of a sexual nature."
She says he responded by saying: "'Oh, no. What did he do now?!'" and threw his hands up in the air, according to the suit. He later added: "Nevermind. I don't want to know, I have to play golf with him later this week."
Olsen says she told two other department members about the incident in September, but didn't mention Wehr's name.
After several colleagues told her male Captain Jan Rios that Olsen wasn't acting like herself, he approached her and she told him about the alleged assault. According to the lawsuit, he said: "Why didn't you scream?... You're a supervisor!... You didn't yell at him?!... Why did you wait until now to report it?!"
"It made me feel awful," Olsen said of these questions. "It's victim-blaming."
The captain is not named as a defendant in the lawsuit and the police department did not comment on his actions.
Olsen asked Rios not to report the incident until she was ready. Although he encouraged her to come forward, the suit says, he advised her that "there would be backlash against Cindy if and when she names her attacker."
In October, Olsen was stationed in front of another Suffolk County Police Department Officer's house, as this officer was attending his son's funeral. She told her captain she was worried about running into her attacker, the suit says. Wehr did show up, and he beeped his horn and steered his car back and forth to scare her, she says.
On October 8, Detective Lieutenant Frank Catalina was discussing sexual assault victims during a weekly staff meeting, and he said that "instead of police officers bringing them to the hospital, they should be brought straight to the station because advocates are known to put ideas in victims' heads and then victims lie." Olsen says she went into the bathroom and broke down into tears.
"I couldn't bear it anymore," she said. "He kept saying victims lie."
Her captain and Deputy Inspector Gerard McCarthy responded by taking her gun away, and she alleges she told them Wehr attacked her. According to department policy, a member of the department must apprise supervisors of any harassment of which they become aware.
Although Olsen met with union delegates and special victims detectives, the suit claims she did not then receive a harassment complaint form from delegates or the department, as required by department rules. In December, she received a form from Suffolk County's director of labor relations after apprising her of the incident. In April 2015, one of the SVU detectives asked her to fill out the same complaint form she completed in December. Olsen did so but never heard back about it, the suit says.
Meanwhile, rumors circulated in the department that "there had to be more to the story" and that Wehr was telling people they had a sexual relationship, the suit says.
"It's very painful," Olsen reflects. "I've never had any discussions with him that involved anything with him on a social level."
Asked about the suit, the department, speaking on behalf of Wehr, said in a statement: "The Suffolk County Police Department does not comment on pending litigation." The county, also named as a defendant, also does not comment on pending litigation, a spokeswoman told Newsweek.
Jamie Haar, Olsen's lawyer, said the allegations are troubling considering they involve a police department employee attacking another cop.
"How are you supposed to get protection when the police are your employer and this happened to a police officer?" says Haar, of the firm White, Ricotta & Marks, P.C.
Olsen has been on leave since October 2014 for PTSD that is said to be related to the alleged incident. She is seeking unspecified damages.
"I was a uniformed sergeant. I was on duty, and I was in a precinct, I was sexually assaulted," she said. "And if you're not safe there you're not safe anywhere."
The case Docket No. is 15-4064.
Suit Claims Sexual Assault by Suffolk County Police Officer | U.S.