'Suits' Finale: Meghan Markle Wasn't Asked to Appear in Last Ever Episode
USA Network's hit legal drama Suits bowed out Wednesday night after nine seasons with a nostalgia-filled series finale. But fans hoping to catch one final cameo by former co-star Meghan Markle as Rachel Zane were left disappointed.
There's a good reason Rachel didn't appear in the episode: Markle wasn't asked.
Suits creator Aaron Korsh revealed to Deadline that while he considered approaching Markle, who is now a member of the British royal family and a new mother, he ultimately decided against it.
"I thought about asking, and I thought about even using audio footage ... that we have to come up with something," explained Korsh.
"In the end I didn't ask, and I just thought: 'I'm going to respect her new life and not put her in the position of having to ask.' We decided not to put her in that position so I never asked."
Markle's Rachel does appear in a montage of flashbacks in the final episode, but the scene may not have happened as Korsh says he was unsure about including the montage.
"I wrote that thing into the script. I am a nostalgic person," said Korsh. "We talked about it. We weren't sure it would work, and we weren't sure how much to put in. There were certain people that thought we shouldn't do it. I was open to hearing that maybe we shouldn't do it, because we did have a lot of endings. All those people, when they actually saw it, decided they wanted it in, they liked it."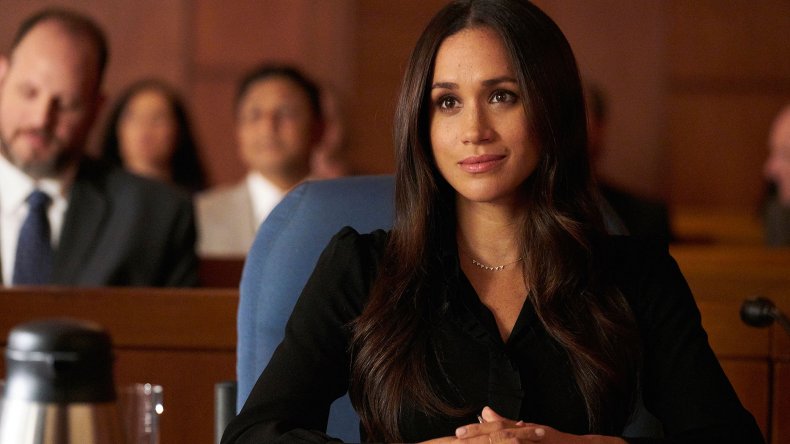 Markle appeared in Suits as paralegal Rachel for seven seasons, before retiring from acting and moving to the U.K. to marry Prince Harry in 2017. The couple wed in May 2018 and Markle gave birth to the couple's first child, Archie, in May this year.
In Suits canon, Rachel and series co-lead Mike Ross (played by Patrick J. Adams) got married in Season 7 and moved to Seattle. Adams reprised his role as Mike for a handful of episodes for the show's final season.
In the last episode, Mike and long-time friend and colleague Harvey Specter (Gabriel Macht) got a happy ending when Harvey and love interest Donna (Sarah Rafferty) decided to move to Seattle from New York, too.
Markle's former co-star Adams marked the end of Suits by sharing several candid pictures on Instagram from the show's set, including pictures of the Duchess of Sussex.