Russian Fighter Jet Accidentally Shot down by Friendly Fire in Military Exercise
A Russian fighter jet was accidentally shot down out of the sky during military exercises by a pilot who did not know their plane had cannons which had not been disarmed, according to reports.
Russian media have been speculating about the fate of the Russian air force Sukhoi Su-30 during a military exercise in the Kuvshinsky district of the Tver region, north east of the capital Moscow on Tuesday.
The official version given by Russia's western military district was that the plane had crashed during a planned training flight, the crew safely ejected before the aircraft hit the ground in a forest area and no one was injured on the ground.
"To establish the causes and circumstances of the incident, a commission from the Western Military District has been sent to the scene of the accident," the military's press service said, according to state news agency Interfax.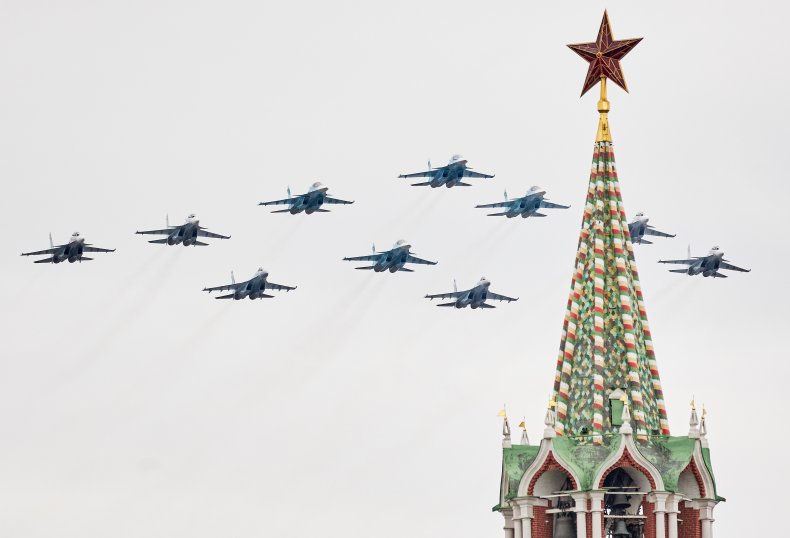 A military channel on the social media platform Telegram said that the aircraft had actually been attacked in a training battle by the next generation Sukhoi SU-35S fighter, which even though it was not carrying missiles, had its cannons still loaded.
While trying to simulate a "kill" on its gun camera, the Su-35S pilot accidentally fired the cannon in an account of the incident that was reported in Russian mainstream media outlets.
"The Su-35S and Su-30 practiced aerial combat, the Su-35S was supposed to perform photographic shooting, but instead fired a real volley from a cannon at the Su-30," according to a Russian military blog, reported by Defense World.
Kommersant reported the Su-35S pilot will have to face criminal proceedings for the incident under Art. 347 of the Russian Criminal Code of the Russian Federation for the damage or destruction of military property by negligence.
Victor Zabolotsky, a decorated Russian test pilot, told Life News that the pilot would not have expected the cannons to be loaded.
"During training events, everything is done in the same way as in combat conditions, everything is tied to the combat button, only without combat weapons. Thank God that no one was killed, of course, but the ground services and the armed men will now be shaken," he said.
There have been other recent friendly fire incidents in Russia's military. In April 2017, a Mig-31 from Russia's eastern military district was brought down in the Buryatia republic by another MiG-31 whose pilot had mistakenly fired an air-to-air missile.