Remembering K-Pop Star Sulli: 'La Cha Ta,' Pinocchio' and More Top Songs
Korean pop star Sulli was found dead at her home in Seongnam on Monday. She was 25 years old.
Sulli, whose birth name Choi Jin-ri, rose to fame as a singer with the popular girl group f(x), which debuted with the hit single "La Ch Ta" in September 2009. In addition to Sulli, the five-member group, managed by S.M. Entertainment, included members Krystal Jung Amber Liu, Victoria Song and Luna. The group skyrocketed to superstardom thanks to their catchy dance tunes and emotional ballads.
Their first official project, an extended play album titled, Nu Abo, was released in May 2010. The EP was followed by their first studio album, Pinocchio, which topped the Korean music charts in 2011. The album included one of f(x)'s biggest songs to date, "Pinocchio (Danger)," which was also the group's first song to reach the number one spot on the Korean music chart, Gaon Digital Chart.
Nearly a year later, (fx) made waves with their second EP, Electric Shock, in June 2012. The music video for the lead single off the project, similarly dubbed "Electric Shock," won the girls their first award for Best And Performance at the 2012 Mnet Asian Music Awards. Meanwhile, two singles from the album, "Electric Shock" and "Jet," were nominated for awards at the 10th annual Korean Music Awards in 2013.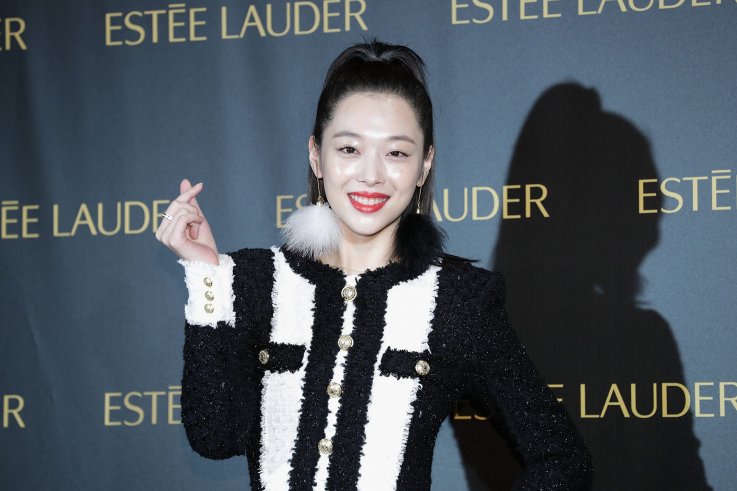 That same year, Sulli and her bandmates gained success in the U.S. with their second studio album, Pink Tape. The lead single "Pum Pum Pum" was an instant hit with fans in Asia and overseas, and the overall album received critical acclaim, landing on Fuse's '41 Best Albums of 2013. Meanwhile, another track from the album, "Airplane," reached No. 3 on Billboard's 20 Best K-Pop Songs of 2013.
The group went on to release, Red Light, in 2014 and received similar acclaim.
Sulli departed from the group to focus on her acting career in 2015. Sulli was a child star long before joining the group and was known mostly for her role as Princess Seonhwa of Silla, in the drama Ballad of Seodong, which aired on the Korean broadcast network SBS in 2005. While performing with f(x), Sulli appeared in a few roles including To the Beautiful You. Following her departure from the band, she starred in comedy film Fashion King and the 2017 drama Real.
Just months before her death Sulli made her return back to music with the release of her first solo single, "Goblin," in June.
Remembering K-Pop Star Sulli: 'La Cha Ta,' Pinocchio' and More Top Songs | Culture