Sulli Fan Memorial Details Announced by SM Entertainment After K-Pop Star's Death
Fans of K-pop star Sulli, who died at the age of 25 on Monday, have been invited to a public memorial to the singer on Tuesday and Wednesday, her talent agency announced.
SM Entertainment said that fans can their respects to Sulli—real name Cho Jin-ri—between 4 p.m. and 9 p.m. local time on Tuesday and 12 p.m. to 9 p.m. on Wednesday.
Sulli's family has arranged a public space for fans to gather at the funeral home at Severance Hospital in Sinchon, Seoul, South Korea.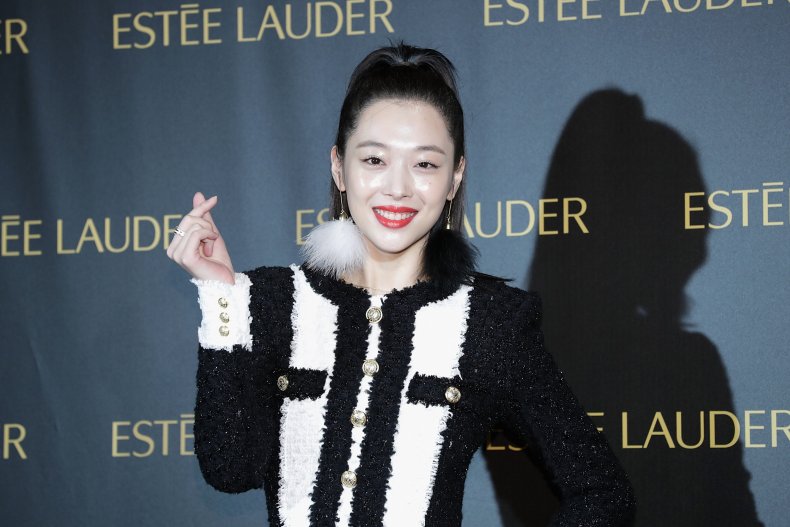 SM Entertainment said in a statement Tuesday: "On behalf of SM Entertainment, we are devastated to deliver the sudden news that Sulli has left us.
"According to the wishes of her family, a public space has been arranged at the funeral home of the Severance Hospital in the Sinchon neighbourhood of Seoul, which will be available at the following hours below, in order for you—her devoted fans— to be able to pay your respects:
"15 October (from 4 p.m. to 9 p.m.) and 16 October (from noon to 9 p.m.)"
Sulli, a former member of K-pop group f(x), was discovered dead at an apartment in Seongnam, in the Gyeonggi province, on Monday. Her agent discovered her body at 3:21 p.m. local time after becoming concerned that he couldn't reach her following their last phone conversation on Sunday evening.
Local police suspect that the singer-and-actress died by suicide. "Choi seemed to have lived alone in the house. It seems that she took her own life but we are also looking into other possibilities," a police official said.
On Monday, SM Entertainment said in a statement: "We are sorry to tell everyone the sorrowful and sad news. Sulli has left us. We cannot believe the situation and we are simply in a state of grief.
"Please refrain from spreading speculative articles or rumors in respect of the bereaved's family who are saddened by the sudden tragedy. We express our deepest condolences to the deceased, who went on their final path."
Sulli began her career as an actress on the television drama Ballad of Seodong in 2005. She joined SM Entertainment's K-pop girl group f(x) in 2009, but left the band in 2015.
Sulli's former f(x) bandmate Amber Liu said on Monday that she was suspending all her "upcoming activities" following news of Sulli's death.
"Due to recent events i'll be putting on hold my upcoming activities. Sorry everyone," said Liu. "Thank you for your thoughts."
Before her death, Sulli had appeared as a co-host on the variety show The Night of Hate Comments, in which celebrities tackled mean comments posted about them on social media.
Sulli—who has six million followers on Instagram—was often scrutinized on social media for her provocative posts. On the first episode of Night of Hate Comments, Sulli said she wished people could accept that people can be different and noted that "there are so many unique types of people in this country with so much talent and I feel like they're wasting it by putting their energy into critiquing others like this online."
Additional reporting by Soo Kim.