Summer Solstice 2018: Thousands Welcome Longest Day at Stonehenge and Avebury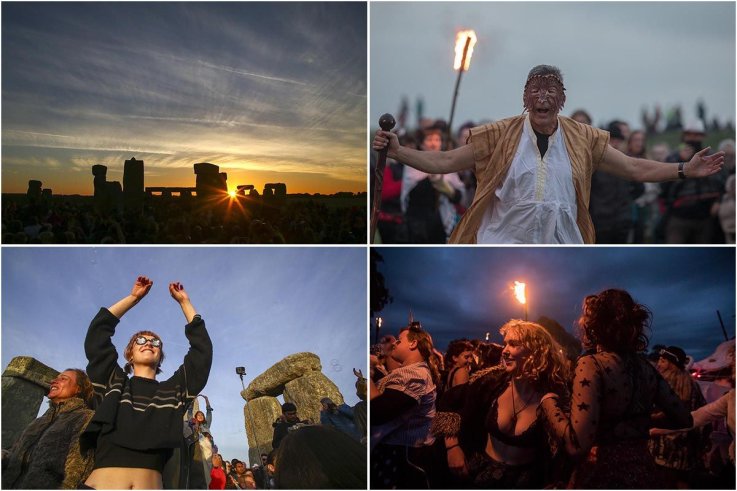 The summer solstice is the day of the year with the most sunlight, when the Sun reaches its highest point in the sky, falling on June 21 this year in the northern hemisphere. The celestial event has been marked since ancient times by celebration, and various cultures across the world have their own way of welcoming the summer solstice.
In Finland, bonfires are burned next to lakes and seas, and birch branches are placed by doors to welcome visitors. Traditionally a potent time for folk magic, Finnish women to this day place flowers under their pillows to dream of their future husbands.
In Latvia, where pagan roots remain strong, midsummer is a national holiday, with people eating cheese and drinking beer while wearing wreaths of flowers and oak leaves.
The U.K. also has a long history of solstice traditions, although many have been banned or co-opted by the Christian church over the years.
The country's most popular solstice celebration takes place at Stonehenge, the ring of prehistoric standing stones that some believe were constructed as far back as 3,000 B.C.
Nobody is quite sure why the monument was built, but many of the stones are are aligned to the sunset of the winter solstice and the opposing sunrise of the summer solstice.
Although the stones are now roped off from visitors, they're open during the summer and winter solstices so that people can practice the tradition of gathering at the site overnight to watch the Sun set and rise over the stones. In 2017 around 13,000 people attended Stonehenge for the summer solstice.
Read more: U.N. International Day of Yoga 2018: Mass Sessions Around the World to Salute the Summer Solstice Sun
Moving photos from this year show celebrants singing and dancing around the stones, as well as those at a similar neolithic site in nearby Avebury. From hula-hoopers to young lovers, these are the best photos from the U.K's solstice celebrations.