Summer 2022 TV Preview: 15 Shows to Get Excited About
Summer is usually a dead zone for TV shows, but the streaming wars have super-charged the selection of series.
Netflix, Prime Video, HBO, Hulu, Disney+ and others all have some major shows for viewers to look forward to. Stranger Things and Better Call Saul are wrapping up already dramatic seasons, while shows like Ms. Marvel, Becoming Elizabeth and The Sandman make their debuts.
TV reboots and spin-offs, of course, are unavoidable on the TV calendar. In August, we return to the world of Game of Thrones for House of the Dragon, while Peacock is bringing back Queer as Folk in time for Pride Month.
Here's what TV shows are coming up in June, July and August 2022.
The Boys Season 3
From June 3 on Prime Video
After becoming Prime Video's breakout show, The Boys is back for Season 3 – and things are set to get as crazy and violent as ever over at Vought this time.
At the start of Season 3, everyone is at a good point in their lives. However, that peace won't last for long, as showrunner Eric Kripke hinted to Newsweek: "Butcher hates all of this happiness. He's miserable. He's hungry for his shot at Homelander. Spoiler alert: he's gonna get it. As for the Seven, Maeve and Starlight are successfully blackmailing Homelander, so he's behaving. Starlight is now the most popular Superhero in the nation.
"Things are looking bright. But Homelander is miserable, and hungry for his shot at Butcher. Spoiler alert: he's gonna get it."
One of the ways in which things get turned upside down is with the introduction of a new character, played by Jensen Ackles. The Supernatural alum joins the cast as Soldier Boy, a character who means big trouble for Homelander and the rest of the cast. "He was the very first Superhero, from World War II," Kripke said of the new addition. "He was Homelander before Homelander, the most popular hero for decades. Until he mysteriously vanished in the '80s, presumed dead.
"So, when Butcher discovers that his best chance to kill Homelander is wrapped up in this Soldier Boy mystery, he begins to hunt it down, with gory results for everybody."
– Interview by Roxy Simons
Ms. Marvel
From June 8 on Disney+
The Marvel train rolls on. Just weeks after the release of Multiverse of Madness comes the latest installment of the Marvel Cinematic Universe.
Thinking to yourself, "I might just miss the TV shows and stick with the movies?" Well tough, because this show is going to lead straight into the film The Marvels, which will see Captain Marvel superfan Kamala Khan (Iman Vellani) team up with the woman herself (Brie Larson).
Before that, though, Khan gets her own starring vehicle, in which she is an ordinary high school girl who suddenly gets powers.
The show also makes history, with Ms. Marvel set to be the MCU's first Muslim superhero.
Queer as Folk
From June 9 on Peacock
The 1999 U.K. original of Queer as Folk was a watermark moment in how gay people were seen on screen. The U.S. remake was mostly trashy fun.
Which will the new Queer as Folk follow in the footsteps of? Viewers can find out this summer as the show follows The L Word in getting the Gen Z reboot treatment.
The Peacock version offers a more diverse and inclusive cast than the very white originals, and also finds a place in its cast for both Juliette Lewis and Kim Cattrall.
Creator Stephen Dunn told the press: "Our new Queer as Folk is set in New Orleans — one of the most unique queer communities in North America...In the true spirit of the original, our show doesn't shy away from the harsh realities of our community, but above all else, the series is about people who live vibrant, vital, unapologetically queer lives."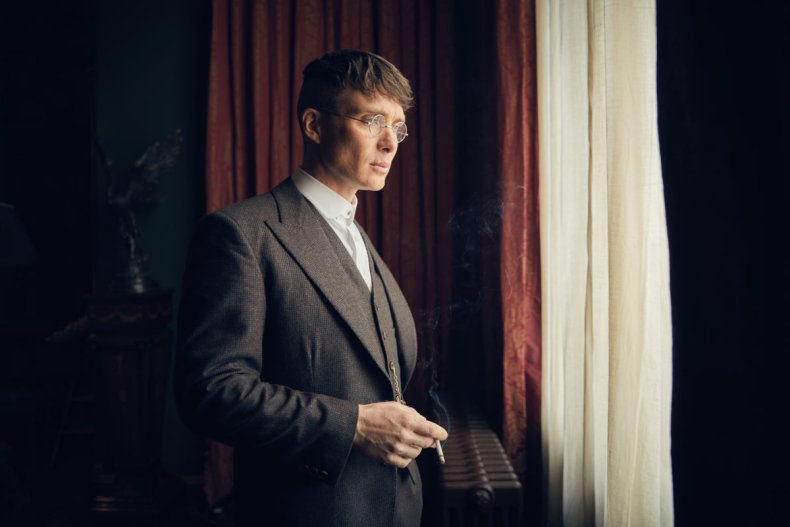 Peaky Blinders Season 6
From June 10 on Netflix

It's been a long three years, but the sixth and final season of Peaky Blinders is finally making its way to Netflix on Friday, June 10.
The final installment in the Birmingham-based gangster drama will pick up from the gripping fifth season that saw Tommy Shelby (Cillian Murphy) come inches away from assassinating fascist MP, Sir Oswald Mosley (Sam Claflin).
Season 6 of Peaky Blinders is sure to unmask the 'black cat' within the Peaky Blinders ranks who sabotaged Tommy's plans that led to the bloodbath at the end of Season 5, as well as see him face the brewing war between Tommy and his cousin Michael Gray (Finn Cole).
As the sixth and final season, the last installment is sure to be bigger and badder than ever as World War II is on the horizon. And after that? Show creator Steven Knight has been teasing a movie, telling the press: "I know what's going to happen in those stories and it's about a sort of untold story that happened in the Second World War, which Peakys are going to be involved in."
Becoming Elizabeth
From Sunday, June 12 on Starz
If you are a fan of The Crown, The Spanish Princess and The Great, you will not want to miss Becoming Elizabeth on Starz.
The eight-part series will drop every Sunday on Starz from June 12 and will tell the story of a young Elizabeth Tudor (Alicia von Rittberg) and her place in the power vacuum left behind following the death of King Henry VIII.
The short synopsis for Becoming Elizabeth teases: "The death of King Henry VIII sees his 9-year-old son Edward, played by Oliver Zetterström (The Midnight Gang), take the throne and sets into motion a dangerous scramble for power when Elizabeth, Edward and their sister Mary, played by Romola Garai (The Hour), find themselves pawns in a game between the great families of England and the powers of Europe who vie for control of the country."
Joining Alicia von Rittberg in Becoming Elizabeth are The Last Kingdom's Jamie Blackley, Tulip Fever's Alexandra Gilbreath, 1917's Jamie Parker, and Game of Thrones star Bella Ramsey.
Von Rittberg said in a FandomWire interview: "I actually thought it was a joke, when I got it, because I am German ... I could never imagine that they would give me the role...I was allowed to learn horse riding, calligraphy, play the virginals, and ancient Greek, dancing...the whole world felt so real, it really didn't take that much imagination to dive into it."
The Summer I Turned Pretty
From Friday, June 17 on Prime Video
If Euphoria's Cassie-Nate-and-Maddy love triangle was not enough, things are about to get seriously complicated in Amazon Prime's The Summer I Turned Pretty between Belly (Lola Tung) and her love interests who happen to be brothers.
Based on the best-selling novel by Jenny Han—who was also behind the much-loved Netflix series To All the Boys I Loved Before—The Summer I Turned Pretty explores the ever-evolving nature of romantic relationships and the power of strong, female friendships from the perspective of teenager Belly.
Han also serves as an executive producer and co-showrunner of the screen adaptation.
She told Newsweek she hopes adult viewers will "remember what it felt like to be young and in love for the first time" and younger viewers will "feel seen" in "some small way."
Describing the series, Han teased: "It's summer escapism—viewers can imagine it's them in this beautiful house on the beach, falling asleep with wet hair in their comfiest big T-shirt, with their first love asleep in the room next door."
– Interview by Molli Mitchell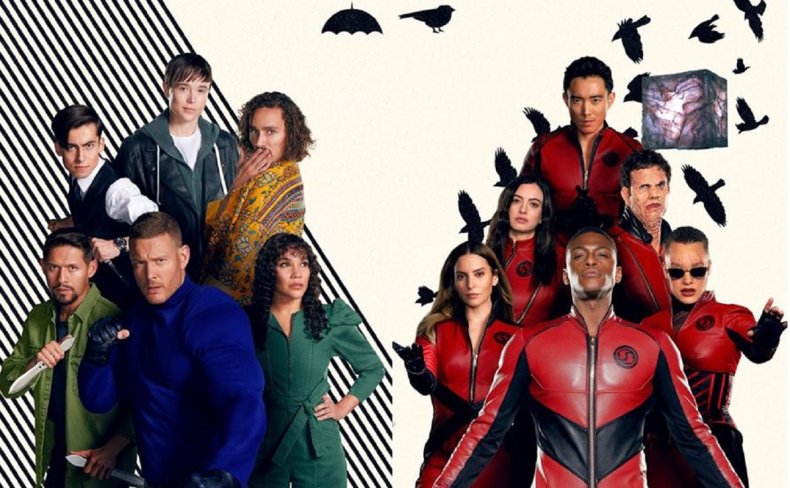 The Umbrella Academy Season 3
June 22 on Netflix
The Umbrella Academy is back for its long-anticipated third season, finally revealing what happens after the previous season ended with the titular group of superheroes meeting their replacements, the Sparrow Academy — complete with a living, breathing iteration of their late brother Ben (Justin H. Min).
Sharing what fans can expect this season, creator and showrunner Steve Blackman told Newsweek: "We find our Umbrella Academy exactly where we left them at the end of Season 2.
"Something obviously has gone wrong, because [Reginald] Hargreeves (Colm Feore) is also there... Hargreeves is dead in their timeline and Ben is also dead in their timeline, but both appear to be standing there in the flesh.
"This year they have a much more sort of personal foe to deal with in the fact that there's the Sparrow Academy. in other seasons they were doing more of their own stories and coming together at certain times, this season I really wanted them to see how they could work together against a common foe."
One aspect of the story fans are also no doubt interested in seeing is how Elliot Page's character will transition into Viktor in the show, mirroring his own real-life coming-out journey. Of this storyline, Blackman shared: "I'm very proud to have a cast led by one of the most prominent trans actors of his generation, Elliot Page. It's always an honor to work alongside him to tell this story that is, to me, so relatable, and so personal to so many.
"I think the story we told was very honest. I was lucky enough to be able to consult with Nick Adams at GLAAD who helped me enlist a writer named Thomas Page McBee who was really my guide, [and] had a lot of expertise about the trans community and transitioning. And of course, I have Elliot to ensure the storyline was really authentic and the right sensitivity."
– Interview by Roxy Simons
Money Heist: Korea - Joint Economic Area
From Friday, June 24 on Netflix
If you are missing Money Heist (La Casa De Papel) not to worry, the Korean version Money Heist: Korea – Joint Economic Area is coming to Netflix on Friday, June 24.
Original Money Heist creator Alex Pina serves as an executive producer on Money Heist: Korea - Joint Economic Area, which is set against the backdrop of the reunification of North Korea and South Korea.
Similar to the original, Money Heist: Korea follows the Professor (Yoo Ji-Tae), who lures Tokyo (Jun Jong-Seo) into his power with a plan to steal 4 trillion won from the Korea Unified Mint.
If the original series is anything to go by, the elaborate heists come with a whole load of risks, and sometimes, somebody's life ends up on the line.
Squid Game star Park Hae-soo stars in the series as Berlin alongside Jeon Jong-seo as Tokyo, Yoo Ji-tae as the Professor, Lee Hyun-woo as Rio, and Jang Yoon-ju as Nairobi.
Only Murders in the Building Season 2
From Tuesday, June 28 on Hulu and Disney+
Who knew Selena Gomez, Martin Short, and Steve Martin were the crime-solving trio we needed?
Only Murders in the Building is back for Season 2 on Tuesday, June 28 on Hulu and Disney+ with a brand new mysterious murder for the true-crime enthusiasts to crack. However, this time around they find themselves as the main suspects.
Once again, fans can expect a whole lot of laughs, stellar acting, and a host of famous as some of the Arconia's new residents.
So far, Cara Delevingne, Amy Schumer and Michael Rapaport are just some of the famous faces confirmed to star in the second series.
Stranger Things Season 4, Part 2
July 1 on Netflix
The first part of Stranger Things Season 4 left many questions unanswered. Will Eleven (Millie Bobby Brown) finally be able to defeat Vecna? What will the implications of the Hawkins witch hunt be? Will anyone ever listen to a song on that Kate Bush tape that isn't "Running Up That Hill" (it's an album full of bangers, Max!)
All of these and more are set to be answered in the final two episodes of Netflix's hugest show. Fans might feel short-changed by the small number, but with both offering epic runtimes, there is still much more story to come.
Details are under wraps for now, but expect the streamer to start revealing things during their Netflix-geeked Stranger Things event on June 9.
The Terminal List
From Friday, July 1 on Prime Video
The Terminal List on Prime Video is based on the best-selling novel by Jack Carr and stars Chris Pratt as Navy SEAL James Reece.
Showrunner David DiGilio teased to Newsweek what fans can expect in The Terminal List on Prime.
He shared: "Really this show is about examining revenge and compulsion through the lens of unparalleled military authenticity. It's about what happens when we push one of our nation's most highly trained weapons — a Navy SEAL — to the point of no return.
"It's about what happens when the lines are blurred between right and wrong, between lies and truth. And it's ultimately about what happens when a special operator becomes an insurgent. That's why Jack Carr's books resonate so well. James Reece is a fascinating character study about a man dealing with grief and loss via the rules of engagement that have defined two decades of service. But he's also battling memory problems and internal demons that make him an unreliable narrator. The root of those psychological problems drives the mystery of Season 1."
DiGilio also teased viewers will see Chris Pratt like "they've never seen before."
He added: "Constance Wu steps into the role of Katie Buranek. She's tenacious as hell, constantly outwitting her opponents. Taylor Kitsch plays Chris Reece's best friend, Ben Edwards, in what will definitely be one of the most talked-about roles of the summer. And we just kept building from there. Jeanne Tripplehorn, Riley Keough, Jai Courtney, the list goes on and on and would make any studio feature jealous. "
– Interview by Molli Mitchell
Better Call Saul Season 6, Part 2
From July 11 on AMC
Better Call Saul Season 6, Part 1 ended on a very dramatic moment, with Lalo Salamanca (Tony Dalton) killing Howard Hamlin (Patrick Fabian) in cold blood in front of Jimmy McGill (Bob Odenkirk) and Kim Wexler (Rhea Seehorn).
The villain ominously told the couple that he wanted them to "talk," and show co-creator Peter Gould told Newsweek that the "big question" in the show's final episodes is why Lalo went to Jimmy and Kim in the first place. "There's so many questions yet to be resolved," he said. "Why did Lalo come to their apartment in the first place? What has he got in mind? I don't think he's just there to for a legal consultation, so what does this guy have in mind and what is that going to mean for Kim and Jimmy?"
As for Gustavo "Gus" Fring (Giancarlo Esposito) and Mike Ehrmantraut (Jonathan Banks), Gould said: "Oh boy! Well, you can expect a lot of fireworks. There's a lot of fireworks yet to come in between all these characters. I think Bob says —a little bit of tongue in cheek— that it's heart-stopping, but really there's so much drama of almost every kind, drama and actually eventually comedy coming your way."
Gould also spoke to Newsweek about Bryan Cranston and Aaron Paul's return as Walter White and Jesse Pinkman respectively from Breaking Bad. Though he would not reveal details of how they came back, he teased: "I think the way those two characters appear, feels right to me and feels surprising. And I think there's still more to learn about some of these relationships."
And as for the series finale? "I think it's the right thing for the characters, all of them, and I think we're definitely playing the same cards that we dealt to begin with. I think it's a very natural, rewarding ending. But how people are going to feel about it, I really couldn't say."
– Interview by Roxy Simons
What We Do in the Shadows Season 4
From July 12 on FX
What We Do in the Shadows Season 3 ended on a dramatic note, with the gang split up and Colin Robinson being reborn as a baby. But everyone's favorite vampire roommates won't be separated for long, showrunner Paul Simms told Newsweek.
"The big story that next season," he said, "is that they decide to open a vampire nightclub, by vampires and for vampires.
"Because we started talking about how all the modern vampire movies seem to have some elaborate vampire nightclub with blood sprinklers in the ceilings and industrial rock music and stuff, and we thought it would be funny [to see] what would happen if they tried to open a vampire nightclub."
Asked what has changed this season, he added: "They all sort of scattered to the four winds at the end of last season. And this season when they all return to Staten Island, the mansion that they've lived in has fallen into complete disrepair and is almost collapsing into a hole in the ground, because without Guillermo (Harvey Guillén) around to take care of everything, Laszlo (Matt Berry) is just letting it fall into complete decay.
"I will say in non-spoilery way that Nandor (Kayvan Novak) finally finds love this season, and I will also say Guillermo finds love this season." Baby Colin Robinson is also a highlight: "From the very first episode the little Colin Robinson I think is going to be something that people love, and this story goes to the whole season, but it is really weird."
– Interview by Roxy Simons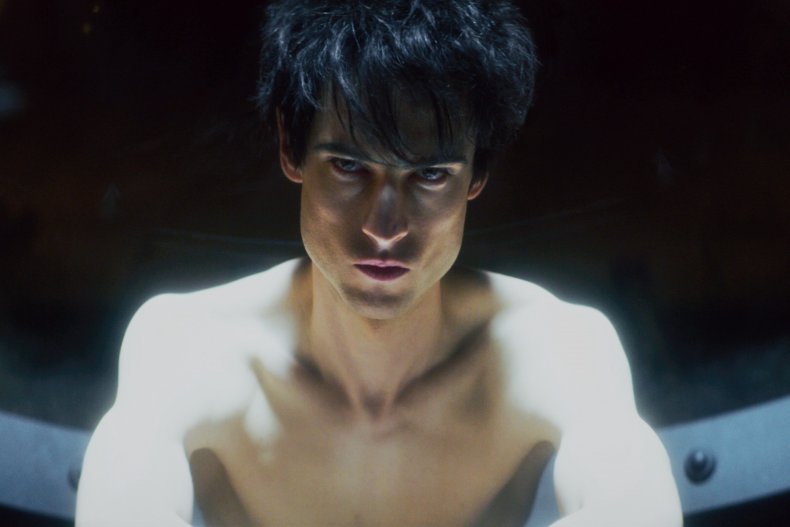 The Sandman
August 5 on Netflix
One of Netflix's most highly anticipated shows of the year is The Sandman, which adapts Neil Gaiman's iconic comic books for the small screen.
The show will follow Dream of the Endless, also known as Morpheus (played by Tom Sturridge), as he is captured and the subsequent travels he goes on in the aftermath of this experience.
Co-creators David S. Goyer and Allan Heinberg hope their love for the original will come through in the series. Goyer told Newsweek: "In the main, I believe fans will be shocked at how comic-faithful it is. The adaptation was crafted with love, by a team of people who devoured the comics when they were originally released."
Heinberg added: "We were very determined at the outset that doing a literal adaptation, literally putting the pages on screen, it wasn't going to be. We weren't going to be able, that way, to invoke the soul of what Neil's project was in the comics, and so we needed to really embody it and dramatize it."
Asked what fans who are not familiar with the source material have to look forward to, Goyer said: "The show is wildly creative. It's funny and touching and it celebrates humanity in all its messiness. I think it will enchant them and make them smile."
– Interview by Roxy Simons
House of the Dragon
From August 21 on HBO
Just as the collective memory of the Game of Thrones finale has become less radioactive, HBO is stepping back into the show's world for a new prequel.
House of the Dragon takes us back hundreds of years before the events of GoT and back into the history of the notorious Targaryens. We have heard plenty of stories about mad kings, and now we get to meet them for ourselves.
Olivia Cooke, Matt Smith and Paddy Considine are among those who have joined the cast of the show, which will tell the story of a Targaryen civil war.
Most other details have been kept under wraps for now, though more details are sure to emerge as the release date gets closer.