'I Can't Breathe' and Other Quotes of the Year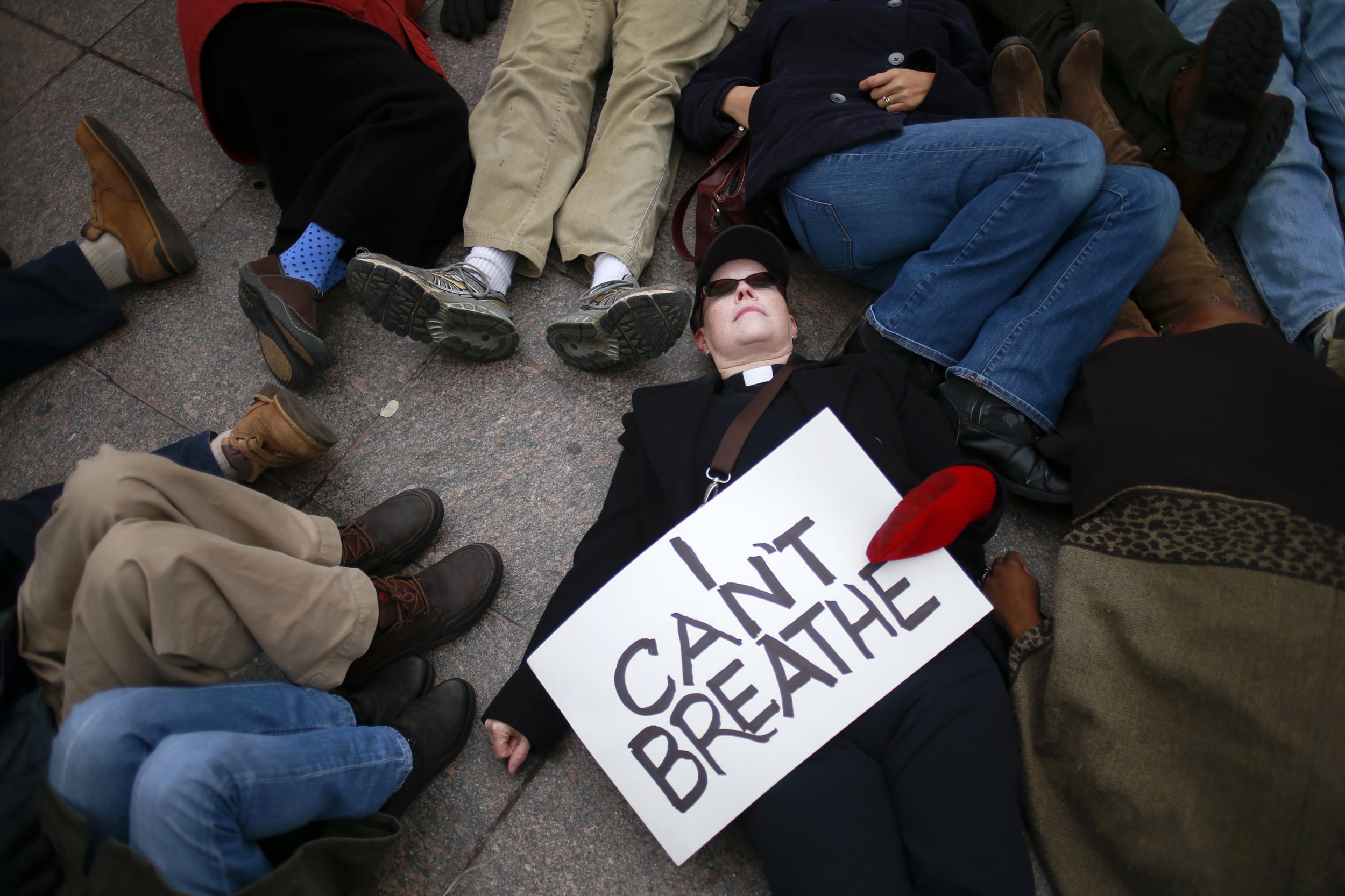 Fred Shapiro had already finalized his list of the 2014's top 10 notable quotes and sent it to the Associated Press for publication when he woke up to news that a grand jury would not indict a policeman in Eric Garner's case.
"I can't breathe," Eric Garner had said in a July video that captured footage of him in an apparent choke hold by the police.
"I saw that this quotation was all over the news, and I immediately realized that this might be a very important [one]," says Shapiro, a Yale Law School librarian and author of the Yale Book of Quotations. "I already had 'Hands up! Don't shoot!' but I felt that 'I can't breathe' was going to keep the issue alive."
Every year since he published the Yale Book of Quotations in 2006, Shapiro has put together an annual list of notable quotes as part of the process of updating his book and trying to capture the spirit of the times.
"A lot of the quotes are really ridiculous quotes or deplorable quotes, racist or sexist or quotes that are really offensive because that's where our culture is at nowadays," says Shapiro, who explains that unlike his book, a comprehensive volume full of literary and historical quotes, the annual notable quotes list tends toward politics and celebrities. "The list is focused more on the here and now."
Earlier this month, the AP published Shapiro's list for 2014, which he revised to include "I can't breathe" in the top spot, knocking Microsoft CEO Satya Nadella's comments about women ("It's not really about asking for the raise, but knowing and having faith that the system will actually give you the right raises as you go along.") out of the top 10.
Sandwiched between the two quotes from Eric Garner's and Michael Brown's cases, Shapiro placed one about the George Washington Bridge scandal published in January of this year: "Time for some traffic problems in Fort Lee," Bridget Anne Kelly, an aide to New Jersey Governor Chris Christie, wrote in an email at the time.
Shapiro keeps his eyes on the news, does research and solicits suggestions for quotes to include in his annual list. His choices are inherently subjective, he admits, but he does have a selection system that involves three main criteria: Is it famous? Is it important or influential? Does it reflect the big news stories of the year and the spirit of the times?
This year's list included what Shapiro feels is the most important domestic issue of the year: racial controversy. The quotes from the Brown and Garner cases are representative of the issue, as is as former L.A. Clippers owner Donald Sterling's now infamous comment to V. Stiviano, "It bothers me a lot that you want to broadcast that you're associating with black people."
But Shapiro says the two largest international stories, ISIS and Ebola, didn't make the list despite their importance because they happened not to generate the same kind of sticky sound bites.
In previous years the top quotes have included:
2006: "I'm the Decider." —George W. Bush
2008: "I can see Russia from my house." —Tina Fey impersonating Sarah Palin
2011: "We are the 99 percent." —Occupy Wall Street slogan
2012: "There are 47 percent of the people who will vote for the president no matter what…who are dependent upon government, who believe that they are victims.… These are people who pay no income tax…and so my job is not to worry about those people. I'll never convince them that they should take personal responsibility and care for their lives." —Mitt Romney
The law librarian's list comes in the midst of announcements by dictionaries of words of the year, part of the year-end slew of lists and awards. Last month the Oxford English Dictionary announced vape as its word of the year, with bae, budtender, contactless, indyref, normcore, and slacktivism as runners-up. Just a couple days later, Dictionary.com declared exposure as its word of the year.
Earlier this week, Merriam Webster released its word of the year: culture, along with a top 10 list that also included nostalgia, insidious, legacy, feminism, "je ne sais quoi," innovation, surreptitious, autonomy and morbidity.
Shapiro's yearly effort to compile and distill the American zeitgeist into a list of meaningful words is born of a lifelong interest. As an undergraduate, he majored in literature at a school widely known for its engineering programs, Massachusetts Institute of Technology, and edited a quotations column in the school newspaper. Later, he graduated from Harvard Law School, but instead of going on to practice law, he chose to become a law librarian, a role he's filled at Yale for nearly three decades. A second edition of his Yale Book of Quotations is in the works.
"I have a dilettantish mind. I'm interested in a lot of areas of culture and art and history and politics and science," he says. "Quotations appeal to that part of me. [They're] sound bites or snippets that offer a window into culture"—which, if you ask Merriam Webster, is the word of the year.
Here's Shapiro's full 2014 list, first published by the AP:
1. "I can't breathe!" — Eric Garner, videotaped exclamation while being held by a policeman in New York, July 17.

2. "Time for some traffic problems in Fort Lee." — Bridget Anne Kelly, an aide to New Jersey Gov. Chris Christie, in an email to David Wildstein quoted in The New York Times, Jan. 9.

3. "Hands up! Don't shoot!" — Chant of demonstrators protesting the shooting death of Michael Brown, Ferguson, Missouri, August.

4. "Mr. Commissioner, we found out by one phone call. You guys have a whole legal department. Can you explain that?" — TMZ reporter Adam Glyn questioning NFL Commissioner Roger Goodell on why the NFL had not been able to view video of the Ray Rice incident, at a news conference on Sept. 19.

5. "It bothers me a lot that you want to broadcast that you're associating with black people." — Los Angeles Clippers owner Donald Sterling, in a remark to V. Stiviano on an audio recording quoted in Los Angeles Times, April 27.

6. "We came out of the White House not only dead broke, but in debt." — Hillary Clinton, ABC News interview, June 9.

7. "I grew up castrating hogs on an Iowa farm, so when I come to Washington, I'll know how to cut pork." — Iowa Senatorial candidate Jodi Ernst, campaign advertisement quoted in National Journal, March 25.

8. "I would call attention to the parallels of fascist Nazi (Germany's) war on its 'one percent,' namely its Jews, to the progressive war on the American one percent, namely the 'rich.' ... I perceive a rising tide of hatred of the successful one percent." — Venture capitalist Tom Perkins, letter to the editor, Wall Street Journal, Jan. 24.

9. "We have always conducted our relationship privately, and we hope that as we consciously uncouple and coparent, we will be able to continue in the same manner." — Gwyneth Paltrow and Chris Martin, statement on Paltrow's website announcing their separation, March 25.

10. (tie) "Isn't it a bitch? I mean, ... this vice president thing?" — Joe Biden, response to student body vice president at Harvard College, Oct. 2.

10. (tie) "Great nations need organizing principles, and 'Don't do stupid stuff' is not an organizing principle." — Hillary Clinton, Atlantic Online interview, Aug. 10.

10. (tie) "Every time I get an opponent — I mean, every time I get a chance — I'm home." — Kansas Senator Pat Roberts responding to questioning about whether he actually resides in Kansas, KCMO radio interview, July 3.